In the past year, multiple global service providers have engaged in restructuring initiatives that will significantly alter their business model and fundamentally change the competitive landscape. Some of these restructurings include: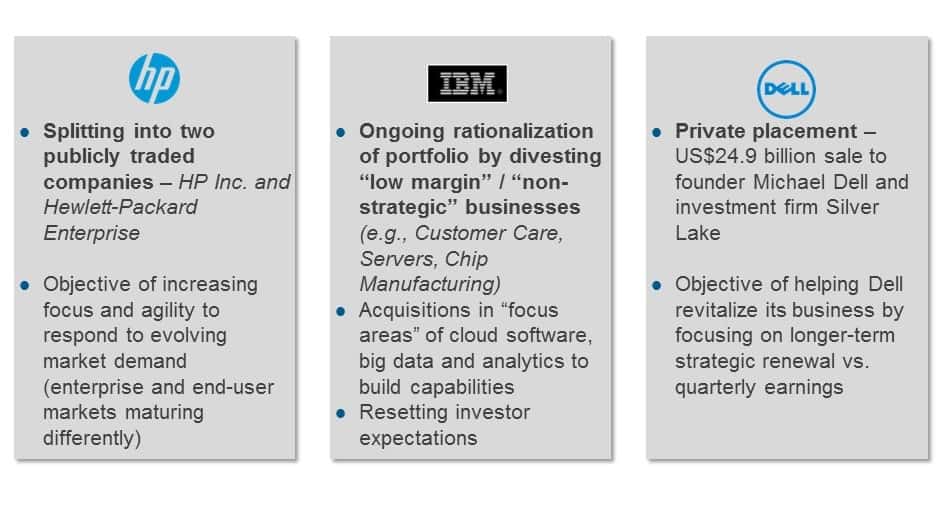 Numerous providers have also announced plans around changing operating and talent models. For example:
 Workforce rationalization

HP has announced ~55,000 job cuts since 2012 in a move toward workforce rationalization
IBM's company-wide employee count dropped in 2013 for the first time in a decade as a result of massive lay-offs

 Increased offshoring leverage, particularly in India

Capgemini plans to increase share of India to 50 percent of overall firm's headcount by 2016
Atos has announced plans to double its employee strength in India by 2016
While this is not the first instance of service provider restructuring, this time is unique because multiple firms have announced programs at essentially the same time. In addition, there is speculation that other global majors will launch business portfolio restructuring initiatives (i.e., carve-outs, leveraged buyouts).
Why is this happening now? The reasons are relatively straightforward. First, many global providers have experienced reduced profitability in traditional "non-core" businesses. This, coupled with increasing competitive intensity and the shifting competitive landscape is resulting in pricing pressures. Second, next generation capabilities (e.g., social media, SaaS, analytics, and cloud) are poised to become the next growth engines, and all leading players are channelizing their investments in these areas. Finally, most global players are moving toward rationalizing their portfolios for focused investments, due to strained management bandwidth and focus.
But these initiatives will create multiple impacts beyond the obvious strategic objectives. Consider this: over the last eight quarters, the operating margins of the leading global service providers (Accenture, Aon Hewitt, Convergys, CSC, HP Enterprise Services, IBM Global Services, Unisys, and Xerox Services) grew the most in Q2 2014. This restructuring trend will likely continue as some of the long-term benefits translate into improved profitability for global service providers.
Improved profitability of global majors will also impact buyers and other service providers. We anticipate increasing focus by offshore-centric service providers on inorganic growth by acquisitions. They are also likely to scout for more collaboration opportunities to build capabilities, particularly in next generation global services. We also foresee buyers aggressively monitoring provider investments to evaluate sourcing model decisions (i.e., build vs. buy).
Interestingly, one of the unintended after-effects of these restructurings is that the offshore-centric service providers have witnessed better revenue growth than the global majors, and thus have improved in their relative rankings by revenue. For example, TCS recently overtook CSC in terms of overall revenue. And other offshore-centric providers are also bridging the revenue gap with their global counterparts. While this ranking reshuffling has been occurring for some time, the global major' restructuring initiatives and focus on profitability (sometimes at the expense of revenue growth) has further accelerated this trend.
For more details on these restructuring initiatives and their impact on the global services industry, and other information on leading service providers, please refer to our Market Vista™ Q3 2014 report.