As most in the global services industry know, the acronym WITCH stemmed from the fact that the large, India-based, offshore-centric service providers – Wipro, Infosys, TCS, Cognizant, and HCL Technologies – had quite similar delivery models, sales strategies, risk appetite, and growth trajectories, which essentially placed them in a single bucket.
However, Everest Group's recently released annual assessment, "The Changing Pecking Order of the Indian IT Service Provider Landscape," revealed that the relevance of the collective term WITCH is fast diminishing as market conditions are forcing differentiation among these players.
Indeed, stark divergence among this group, as evidenced by Cognizant's capture of the number two spot away from Infosys (see chart below), is clearly emerging.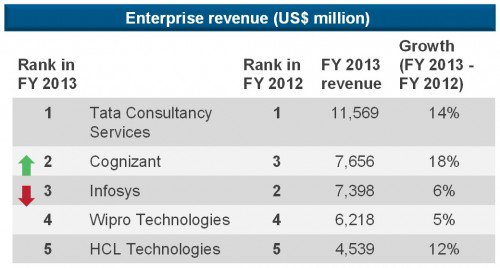 Per the latest financial results released by these offshore majors (ending March 31, 2013), TCS and Cognizant continued to outgrow their peers on a yearly basis – both in terms of size and growth – by adding revenue that was higher than, or almost at par with, the cumulative incremental revenue of Infosys, Wipro, and HCL. Their clear vision and strategic bets, as compared to the prevailing internal confusion of the other WITCH players, is paying off.
What is leading to this segregation within the WITCH group?
TCS is continuing to excel on the back of its broad-based growth and aggressive penetration in the European market
Cognizant's approach of keeping margins lower via a higher investment in sales and marketing spend is fetching  benefits
HCL is capitalizing well on the ongoing churn in the industry, and is exploiting the anti-incumbency against the traditional service providers. While this makes HCL's growth narrow and focused largely on infrastructure services, it's paying off for a short-term strategy
Infosys and Wipro are struggling with their internal, company-specific issues, (i.e., strategic confusion, weakening brand recognition, legal issues, and senior level exits).
The ultimate questions are:
Will the irrelevance of the collective WITCH term become more visible in the future? Will the different strategic gambles of each service provider lead to huge variances in their success rates?
Will the return of Infosys' retired co-founder and former chairman Narayana Murthy help it make a comeback to the levels of TCS and Cognizant?
To what extent will the ongoing challenges of a few of the WITCH group players create opportunities for mid-sized players – such as Genpact, one of the key players in the FAO space, and Tech Mahindra (the combined entity) which has credible enterprise applications and infrastructure management offerings – to capitalize on their niche capabilities?
We expect to witness further changes over the next few years in the pecking order in the overall industry, and the formation of new groups cannot be ruled out. This is likely to be driven by inorganic growth, key strategic investments, service provider consolidation, and aggressive sales strategies.
For drill-down data and insights into pecking order changes in the Indian IT Service Provider Landscape by size, verticals, and geographies, please see Everest Group's newly released viewpoint, "The Changing Pecking Order of the Indian IT Service Provider Landscape."