Everest Group Delivers Results of 2020 Financial Checkup on US Healthcare Providers
Everest Group has released its findings of a "financial checkup" conducted on the U.S. healthcare industry at the end of 2020, one of the industry's most challenging years in history. Everest Group reports that U.S. healthcare providers as a whole are well along the road to recovery, but their way of doing business has changed forever.
The U.S. healthcare industry responded to the onset of the COVID-19 crisis with sweeping changes with regards to who receives care, how they access it, and how healthcare organizations (healthcare providers, payers, and community resources) come together to meet the complex and accelerated demand for care. These changes put the industry on a course of healing, despite having sustained heavy financial injuries in the first half of the year.
In its newly published report, "Healthcare Provider Enterprise Insights Q42020 and Q12021," Everest Group provides a perspective on how providers performed in 2020 and Q1 2021. The report is based on the performance of 10 large healthcare provider systems, with a focus on industry- and account-level financial and Lines of Business (LoBs) performance, key business, and IT investment themes.
Key findings:
Financial Performance: At the onset of COVID-19, providers reported a significant drop in revenue due to deferment of non-emergent procedures. Net income and operating margin declined significantly due to additional costs incurred by the purchase of personal protective equipment and other supplies as well as higher expenditures for temporary staffing and premium pay. However, most of the U.S. providers experienced growth in the second half of 2020 owing to rebound in patient volumes, federal grants received under the CARES Act Providers Relief Fund, strong cost control measures, and implementation of alternate forms of care delivery.
Expansion of outpatient business & telehealth services: Due to the pandemic, the provider industry experienced an uptick in telehealth business as virtual care hesitancy diminished. Although the number of telehealth visits has decreased compared to what it was at the peak of the pandemic, the visits are still far higher than the pre-pandemic levels. Providers are utilizing telehealth services to not just increase access but also provide better quality of care via remote monitoring. In addition, providers remain focused on expanding their outpatient business to provide home care and long-term care opportunities to patients as well as delivering affordable care in remote locations.
Business Themes: The pandemic enabled providers to shift their focus on delivering virtual, home, integrated, and long-term care while investing significantly to reduce costs and improve operational efficiency to offset the impact of COVID-19. Providers are strongly focused on cost takeout measures to enhance the financial predictability of their organization.
IT Themes: In response to COVID-19, providers sought to future-proof their technology with patient care at the heart of the transformation by focusing on IT themes such as modernization, data analytics, cloud and automation.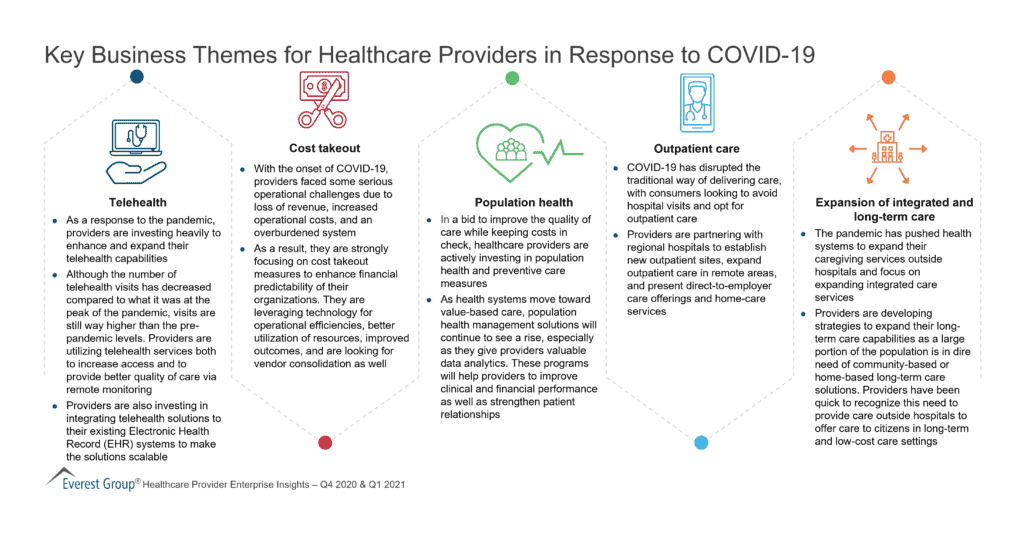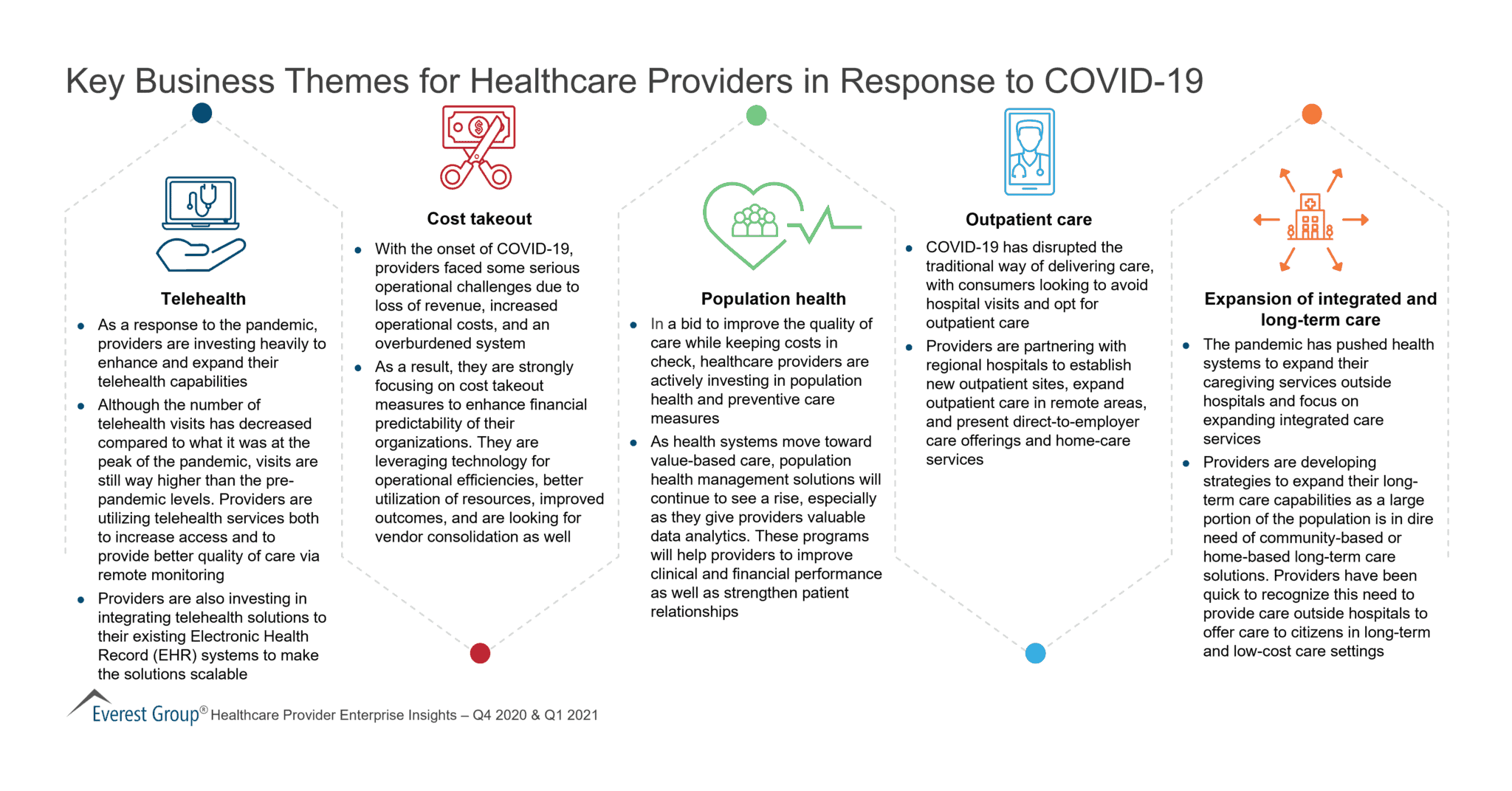 About Everest Group
Everest Group is a research firm focused on strategic IT, business services, engineering services, and sourcing. Our clients include leading global companies, service providers, and investors. Clients use our services to guide their journeys to achieve heightened operational and financial performance, accelerated value delivery, and high-impact business outcomes. Details and in-depth content are available at http://www.everestgrp.com