My most recent blog focused on why quality management (QM) is a critical contributor to enterprises' ability to take great products to market. Now, let's turn our attention to who can – indeed, perhaps should – perform product QM work for organizations.
Viewing QM activities as a core competency, enterprises have traditionally conducted them in-house. In some cases, they've engaged their global in-house centers (GICs) to handle some aspects of QM in order to reap the benefits of factors such as talent access and cost arbitrage, while still retaining control over issues such as IP protection and close integration with the parent entity, which is key for product design and development.
However, the advent of innovative engagement models (e.g., outcome-based pricing, collaborative IP, etc.), the pervasiveness of digital technologies, and advancements in data and IP security measures are instilling confidence among enterprises to partner with third-party service providers for their product QM activities. Recent investments by service providers in building IP and enhancing their capabilities in this space – spurred in part by slowing growth in more traditional ITO and BPO areas – is strengthening their case with enterprises. Indeed, Everest Group research shows that global sourcing in the QM space will grow at an impressive 16 to 18 percent through 2020 – higher than the growth expected in the global sourcing space for overall engineering services.
Following are some of the ways in which third-party service providers can deliver product QM value to clients.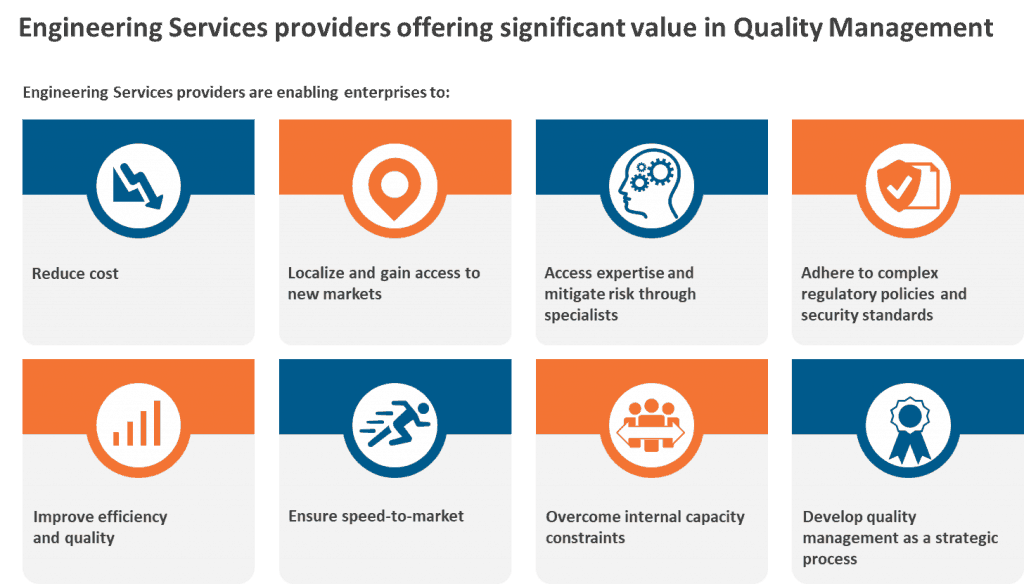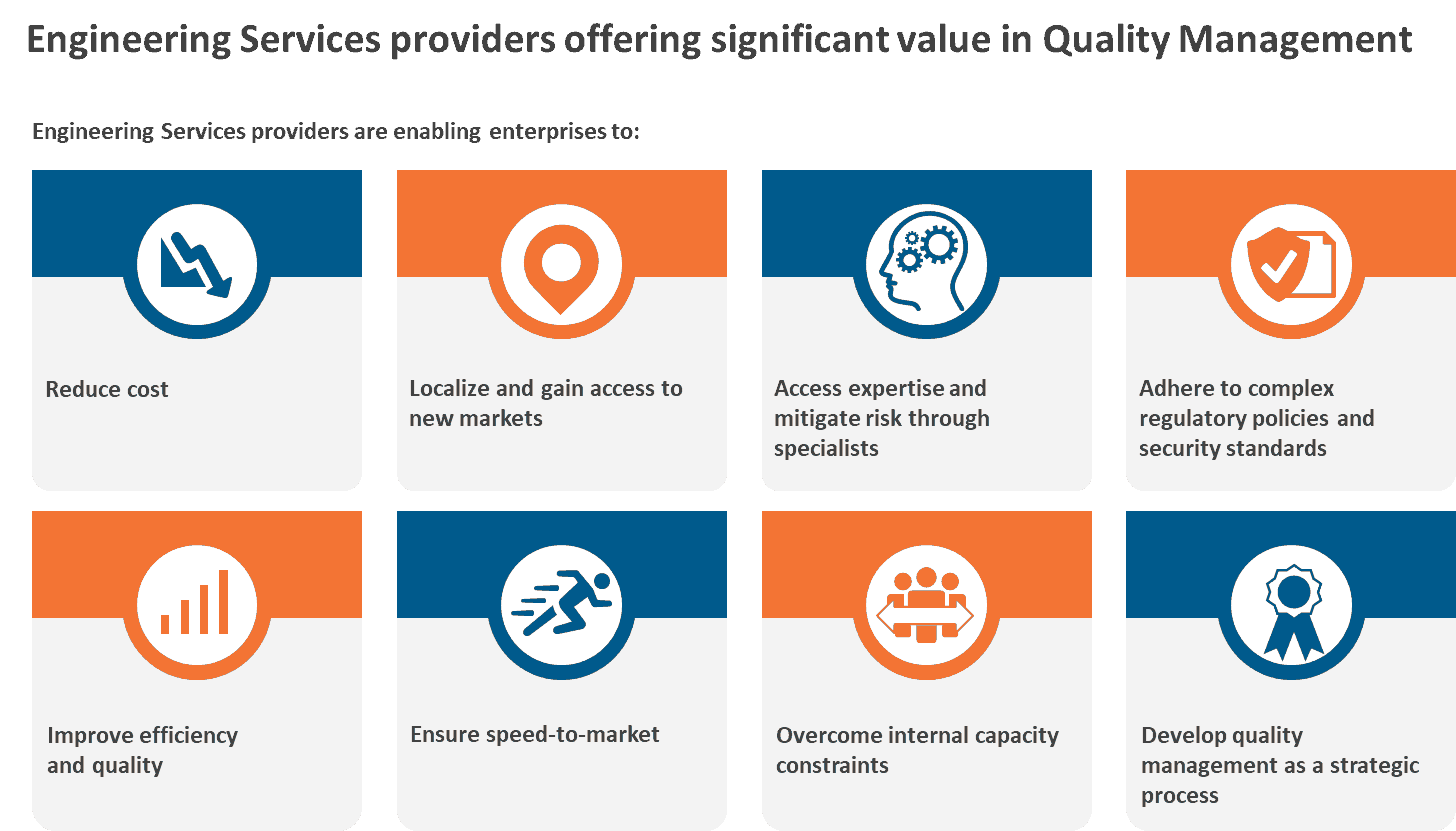 Of course, outsourcing product QM does come with risks and challenges. Factors that enterprises should consider when weighing a product QM outsourcing decision include:


When evaluating a particular outsourcing service provider for product QM work, enterprises should evaluate factors including talent availability, infrastructure availability, delivery capabilities, ability to scale up/down, innovation-focus, expertise in digital themes, inclination towards outcome-based business models, and client satisfaction.
Everest Group has conducted deep-dive research on the global sourcing landscape in the product engineering space, covering all the activities involved in the validation, verification, and testing of both hardware and software across the product lifecycle. We have studied twenty-three of the leading engineering service providers in the QM services space, and have analyzed them on parameters including capabilities, scale and scope of services, and IP/investments. Following is a sneak peek into our relative analysis of these players based on their engineering services play, revenue and revenue growth, and coverage of QM services.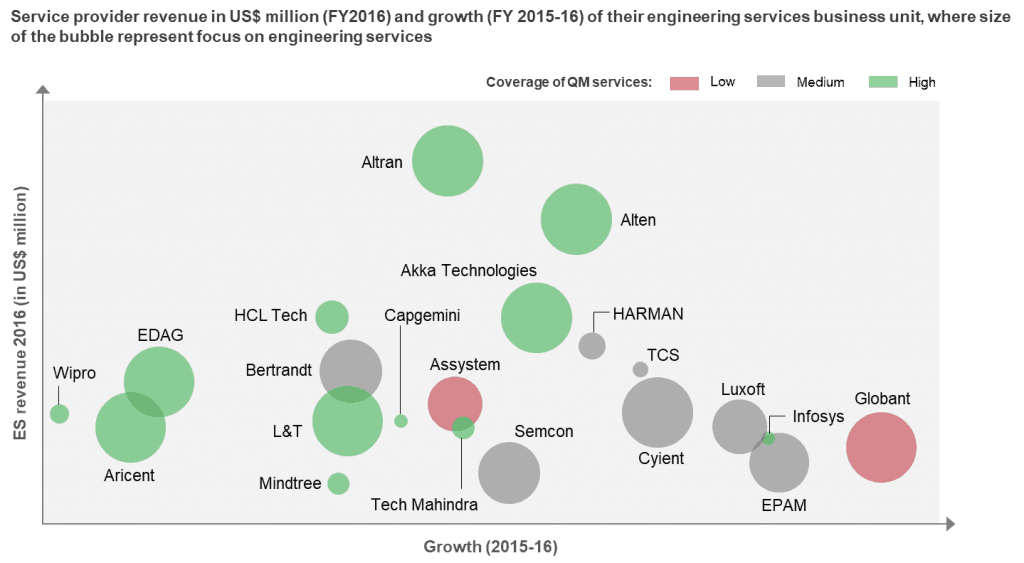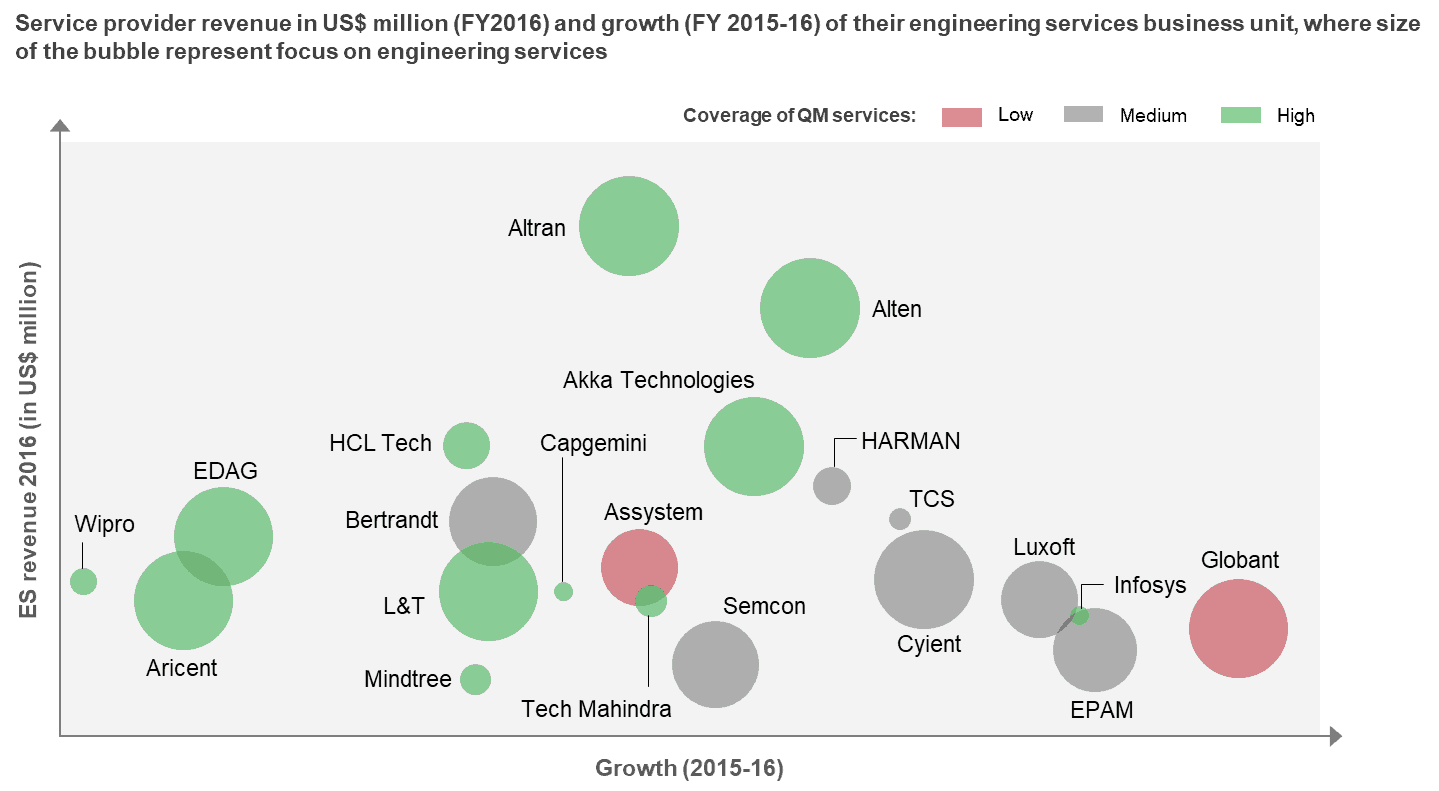 Please click here to read a preview of our report, "Identifying the Right Partners for Quality Management in the Engineering Services Industry – Service Provider Landscape."