While Brits eat biscuits and chips, Americans eat cookies and French fries. You take a lift in a multi-story UK building, but an elevator takes you to different stories in a building in the US. In the US, you get over-the-counter medications from a pharmacist; in the UK, from a chemist. But, in addition to vocabulary differences between the two countries, they both have very different global in-house center (GIC) adoption models. In the overall GIC landscape (with more than 1,900 in total) UK-based firms have an 11 percent share, which is second only to US-based firms (more than 50 percent). Over 35 percent of the Forbes 2000 UK-based firms have adopted the GIC model, as compared to just 29 percent of US companies. Why are the sourcing decisions in the two countries so different?
Among UK-based firms, BFSI is the dominant vertical (~44 percent), while the technology vertical leads the pack among the US-based companies (~41 percent.) The delivery requirements, regulatory obligations, and intellectual property are significantly different in the two sectors, which partly explains the contrast in their sourcing decisions.
GIC adoption among small and medium sized firms (parent revenue <US$ 10 billion) has been much higher (~50 percent) for US-based firms, while the GIC landscape of UK-based firms is dominated by large firms (revenue > US$ 10 billion) with a staggering 73 percent share. Significant disparity is also seen in the GIC adoption levels for emerging verticals such as consulting, professional services, and legal services, which constitute ~7 percent of UK-based firms as compared to ~3 percent of US-based firms.
There are also big differences in the business leadership style and risk averseness of UK versus US firms. Companies in the UK are much more averse to risk when making a sourcing decision, as evidenced by their choice of mostly tier-1 cities with proven delivery ecosystems, while US-based firms also adopt tier-2 and tier-3 locations to manage costs. Additionally, there's a lot of nearshore location activity by the UK-based buyers, primarily for contact center delivery, as you'll see in this Everest Group Nearshored GICs Experiencing Significant Growth among UK-based Buyers. This trend continues, with more and more UK-based buyers embracing CEE and nearshore UK locations.
The following sneak peek into our upcoming report on the GIC landscape among UK-based buyers demonstrates these firms' changing delivery location preference.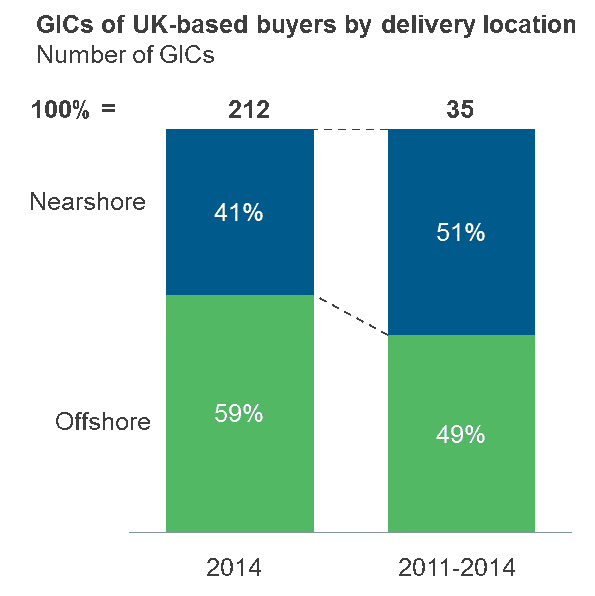 Stay tuned for the report, which provides more analysis of the GIC landscape among UK-based buyers, and differences in delivery trends by offshore and nearshore geographies. Our report will be published by end of June 2015.
---
Photo credit: Flickr