The rapid pace of digitalization has increased enterprise exposure to a diverse and evolved range of cyberattacks. However, many enterprises make security an afterthought rather than a part of their digital transformation journey. While they've always had a daunting task to make their business resilient, the COVID-19 pandemic has only added to their woes. A global shift toward remote working and the sudden expansion of the enterprise perimeter has contributed immensely toward enterprise challenges.
Here's a quick snapshot of some high-level security-related challenges that enterprises will continue to face in 2021: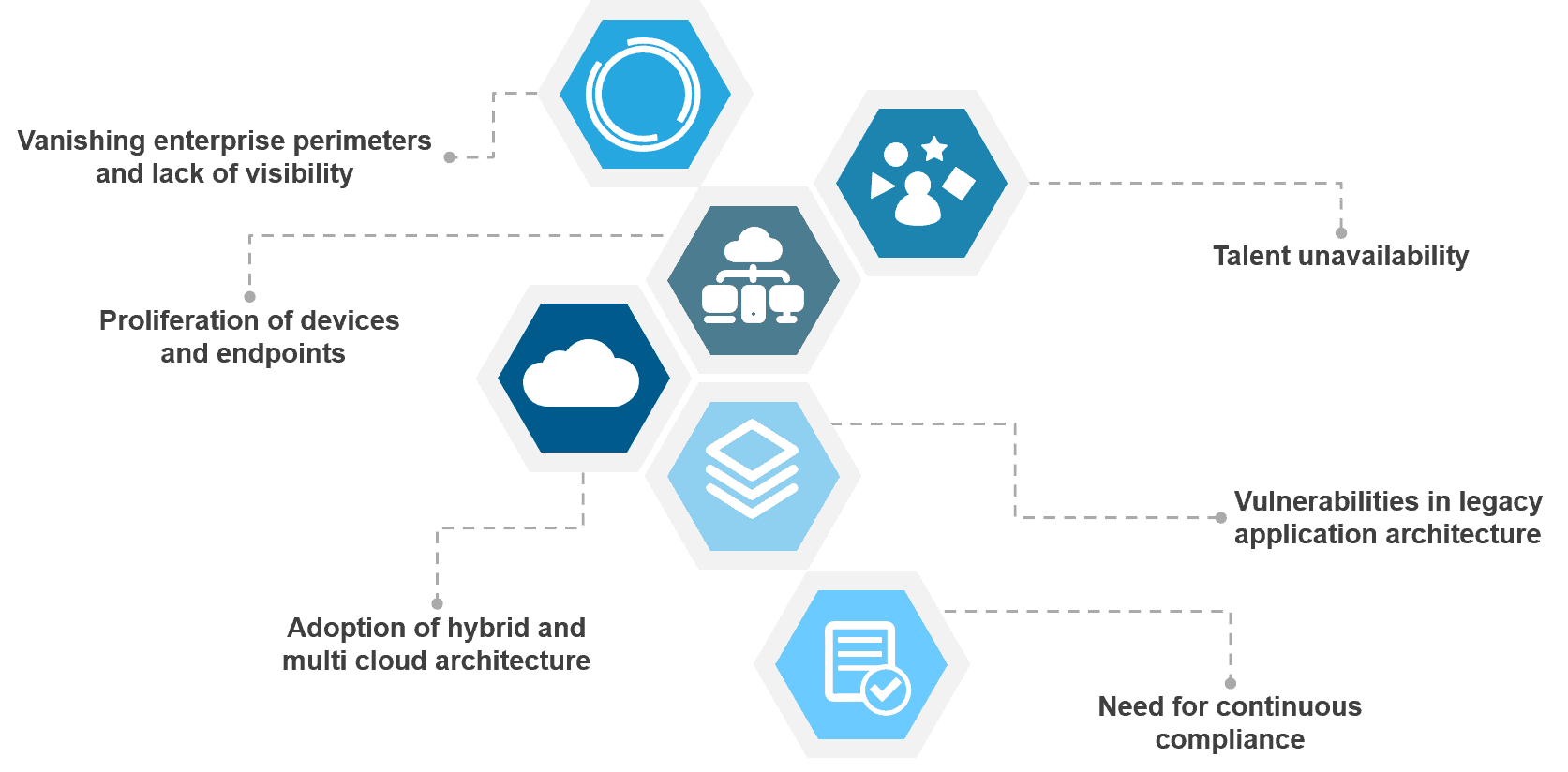 To overcome these challenges, which are associated with speed and scalability of security services delivery, enterprises rely on security operations centers (SOCs) to monitor systems and defend against breaches. As the frequency and severity of breaches continue to rise, traditional SOCs and Security Information and Event Management (SIEM) systems based on signatures and rule-based automation are quickly becoming obsolete, as they make it immensely difficult for security analysts to stay on top of internal and external threat-related data.
Consequently, SOCs need to transition to an "Aware" state that is underpinned by cognitive capabilities that help detect, prevent, and resolve incidents at scale to keep pace with evolving adversaries.
What is Aware SOC?
Simply put, an Aware SOC is underpinned by next-generation SIEM and cognitive technologies – AI and ML along with decision automation – to deliver intelligent security operations. The Aware SOC is built on a single platform that seamlessly integrates solutions from multiple vendors to augment existing capabilities. Designed to secure distributed enterprise architecture, an Aware SOC brings together the best of human + machine capabilities to help enterprises fight against the rising tide of sophisticated cyberattacks.
The table below shows how enterprises should think about an Aware SOC as an amalgamation of best-of-breed technology and talent:

Security operations done right: Moving to a platform-driven Aware SOC
The pandemic has been a major change agent for enterprises, significantly impacting their security operations. To incorporate speed and scalability in their security operations, enterprises are now re-thinking their SOC architecture. The platform that an enterprise chooses for its security operations has started to become a pivotal element of its overall security infrastructure, becoming the de facto operating system for other point-based security tools. The shift to a platformized cloud-first approach, underpinned by SaaS-based tools for monitoring, threat hunting, vulnerability assessment, and incident resolution is expected to be the springboard of security transformation for medium and large enterprises.
Here's our view of an architecture for a platform-driven Aware SOC: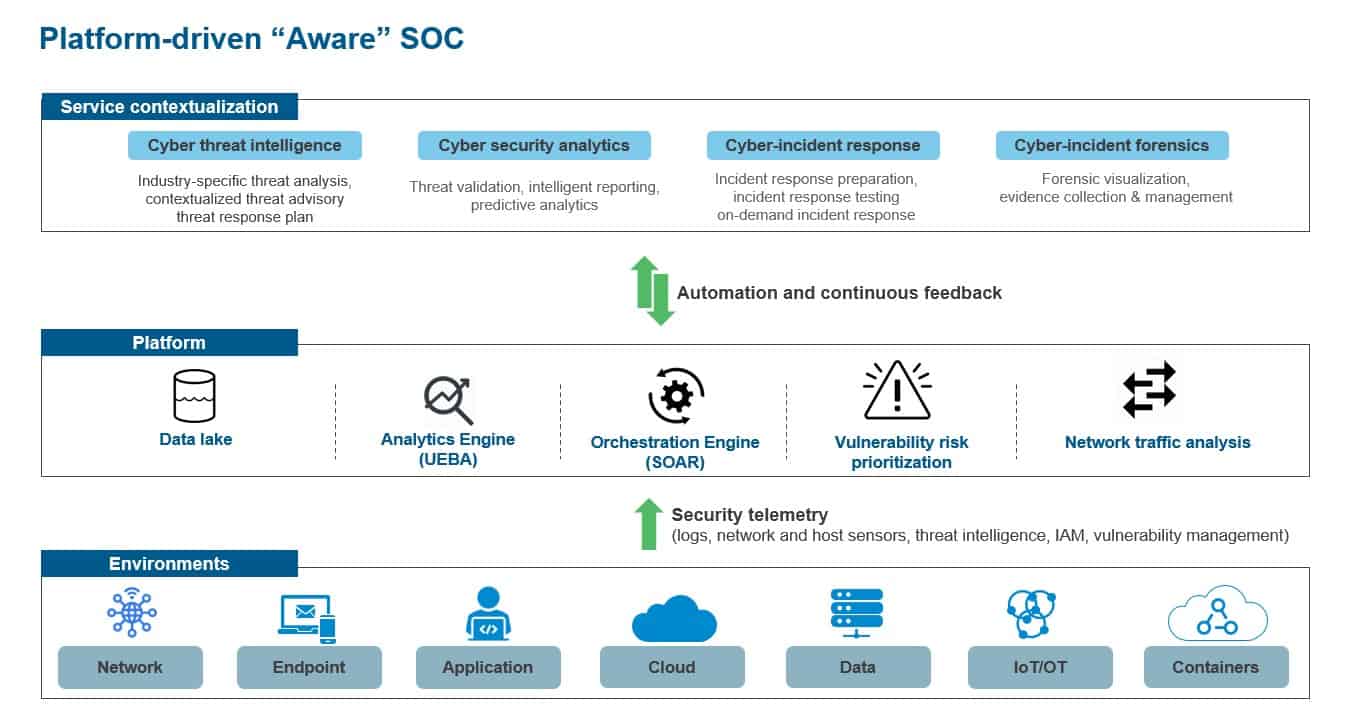 Enterprises can find significant value through platform-driven Aware SOC, where it can break systems down into building blocks and bring in modularity that allows them to scale and manage security controls across environments. The elements of platform, spanning data lake and network traffic analysis, also give enterprises enriched insights related to their existing and to-be security estates.
Advantages of investing in a platform-driven Aware SOC
Investing in an Aware SOC is a highly strategic decision. Beyond economic benefits, a platform-driven Aware SOC produces a number of other benefits, including speed, scalability, resiliency, and efficiency. The benefits discussed below are not an all-encompassing list but instead a starting point for exploring the benefits of investing in platform-driven Aware SOC:
Automated security across the enterprise IT estate – ingest alerts across multiple environments and execute automated workflows/playbooks to speed up incident response
Break team silos – playbooks for real-time collaboration capabilities that enable security teams to solve for existing and new threats and breaches
Expedite incident investigations – enables standardized response for high-quantity attacks such as DDoS attacks. Also helps security analysts adapt to sophisticated one-off attacks.
Whether an enterprise is thinking of outsourcing security operations or bolstering them internally, it needs to future-proof its overall cybersecurity strategy. While charting the broader cybersecurity strategy, an enterprise needs to keep a firm sight on its short-, mid-, and long-term business goals. This is where a platform-driven Aware SOC can help. A platformized approach to Aware SOC that stitches the entire security fabric together will go a long way in ensuring that the enterprise's cybersecurity strategy aligns with business goals such as speed, scalability, and resilience.
Follow this space for more blogs on cybersecurity. Meanwhile, please feel free to reach out to [email protected] and [email protected] to share your experiences and ask any questions you may have.