With technological developments and digital disruption driving changes across most facets of global enterprises, it comes as no surprise that talent strategy has evolved from an HR topic to a board room agenda item. Because of their evolving role in how they can best support their parent companies, talent strategy is a top concern for global in-house centers (GIC) as well.
Through our extensive research in the GIC space, we've identified several trends among GICs that have experimented with upskilling and reskilling their team members to prepare and enable them to address today's known and tomorrow's as yet unknown challenges.
Trend 1: Investments in Skilling Mid-level Employees have been Underwhelming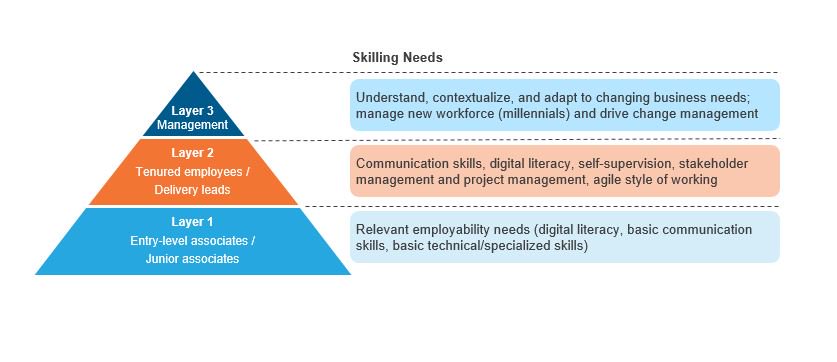 Most GICs have dedicated skilling programs for senior management (Layer 3) and programmatic hiring and training programs for entry-level talent (Layer 1), including partnerships with universities/agencies. But, interestingly, there's a big gap in GICs' skilling practices for mid-level/Layer 2 employees.
Because Layer 2 employees form the backbone of a GIC by providing strong domain and process expertise, and typically have deep organizational knowledge, GICs need to escalate the skilling initiatives targeted to them. The right skilling practices for these individuals will be critical to GIC's successful evolution and ability to sustainably deliver services in the future.
Trend 2: GICs are Experimenting – Starting Small across Multiple Areas, then Deciding Where to put Their Money
Because they're lacking clarity on areas to prioritize, GICs are piloting upskilling and reskilling initiatives across multiple functions. These are typically small-scale pilots of less than 50 team members for less than three months. After evaluating the success of the pilots, GICs plan to scale-up the initiatives across their broader employee segments and organizations.
These pilots will help GICs decide where to invest. But they must also consider their peers' best practices for upskilling/reskilling in the same or similar functions. This will help guide them in how to best avoid unproductive investments.
Trend 3: It's Largely an In-House Game
GICs are primarily using in-house teams to develop and run their reskilling and upskilling initiatives. They believe they can reduce risk with internal teams that have a strong context and understanding of the business. This approach also allows them to experiment more, given lack of clarity on exact requirements and end results.
However, they may benefit by making selective use of external specialist providers in areas where they lack internal capabilities, such as use of gamification and simulation for training, role mapping and employee suitability assessment exercises, and change management training.
Trend 4: It's Just a Part-Time, On-the-Job Affair
In most areas, GICs prefer part-time upskill/reskill training for their employees. Full-time training is limited to certain next gen skills, like digital, or across functions, e.g., of contact center employees in the use of analytics. When used, full-time training often occurs over just one to two weeks.
There's no clear cut, overarching answer on whether the   part-time or the full-time model is a better choice. GICs need to consider factors such as complexity of the new skills, employee time off their current jobs, and the rate of previous training successes to choose the appropriate model in each given situation.
We recently surveyed senior leaders from 80+ GICs across India, the Philippines, and Poland to assess the changing nature of skills/competencies needed for the future, and the roles GICs can play in addressing the changing skill requirements. Contact us here to see the results, and to exchange perspectives on evolving skills needs and approaches to future proof your talent strategy.
And keep your eyes peeled for our next blog on this topic, where we'll talk about best practices and how some GICs have upskilled and reskilled their team members.