Just days before 16-year old Qualtrics was due to launch its IPO, SAP announced its acquisition of the customer experience management company in an attempt to bolster its CRM portfolio. Qualtrics, one of the most anticipated tech IPOs of the year, and oversubscribed 13 times due to investor demand, adds to SAP's arsenal of cloud-based software vendor acquisitions.
Delving into SAP's Strategic Intent
Seeking transformational opportunities, the acquisition will allow SAP to sit atop the experience economy through the leverage of "X-data" (experience data) and "O-data" (operational data). Moreover, the acquisition will enable SAP to cash in on a rather untapped area that brings together customer, employee, product, and brand feedback to deliver a holistic and seamless customer experience.
SAP had multiple reasons to acquire Qualtrics:
First, it combines Qualtrics' experience data collection system with SAP's expertise in slicing and dicing operational data
Second, it sits conveniently within SAP's overarching strategy to push C/4 HANA, its cloud-based sales and marketing suite.
SAP's acquisition history makes it clear it seeks to achieve transformative growth by bolting in capabilities from the companies it acquires. It has garnered a fine reputation when it comes to onboarding acquired companies and realizing increasing gains out of the existing mutual synergies. Its unrelenting focuses on product portfolio/roadmap alignment, cultural integration, and GTM with acquired companies have been commendable.
Here is a look at its past cloud-based software company acquisitions:
SAP has taken a debt to finance the Qualtrics acquisition, making it imperative to show business gains from the move. With Qualtrics on board, it seems SAP's ambitious cloud growth target (€8.2-8.7 billion by 2020) will receive a shot in the arm. However, the acquisition is expected to close by H1 2019, implying that the investors will have to wait to see returns. Moreover, SAP's stock price in the past 12 months has dropped by 10.6 percent versus the S&P 500 Index rise of 3.4 percent. While SAP has seen revenue growth, its bottom-line results have been disappointing with a contraction in operating margins (cloud revenues have grown but tend to have a lower margin profile in the beginning.) This is likely to be further exacerbated given the enterprise multiple for this deal.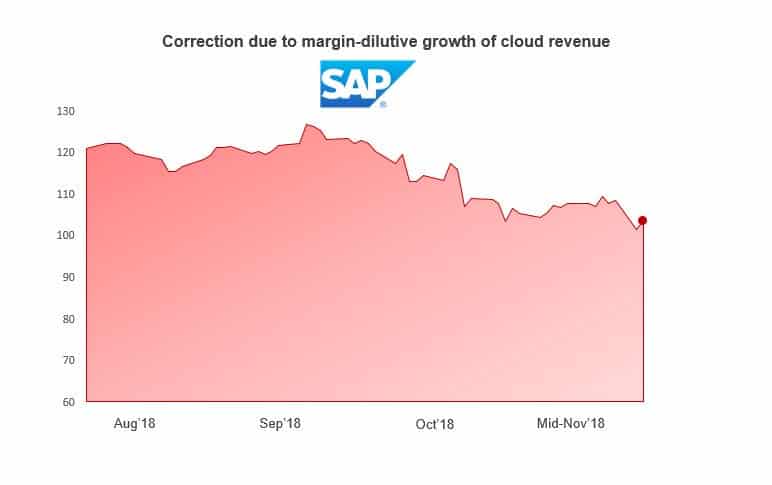 Fighting the Age-old Enterprise Challenge
Having said that, SAP sits in a solid location to win the war against the age-old enterprise conundrum of integrating back-, middle-, and front-office operations and recognize the operational linkages between the functions. Qualtrics' experience management platform, known for its predictive modeling capabilities, generating real-time insights, and decentralizing the decision-making process, will certainly augment SAP's value proposition and messaging for its C/4 HANA sales and marketing cloud. In fact, the mutual synergies between the two companies might put SAP at an equal footing with Salesforce in the CRM space.
While it may seem that SAP has arrived a bit early to the party, given that customer experience management is still a niche area, the market's expected growth rate and SAP's timely acquisition decision may allow it to leap-frog IBM and CA Technologies (now acquired by Broadcom), the current leaders in the space. Indeed, over the last couple of years, Qualtrics has pivoted beyond survey and other banal customer sentiment analysis methods to create a SaaS suite capable of:
Analyzing experience data to derive insights about employees, business partners, and end-customers
Democratizing and unifying analytics across the back-, middle-, and front-office operations
Delivering more proactive and predictive insights to alleviate experience inadequacy.
Cognitive Meets Customer Experience Management – The Road Ahead
SAP's Intelligent Enterprise strategic tenet, enabled by its intelligent cloud suite (S/4 HANA, Fiori), digital platform (SAP HANA, SAP Data Hub, SAP Cloud Platform), and intelligent systems (SAP Leonardo, SAP Analytics Cloud), has allowed customers to embed cutting edge technologies – conversational AI, ML foundation, and cloud platform for blockchain. SAP is already working towards the combination of machine learning and natural language query (NLQ) technology to augment human intelligence, with a vision to drive business agility. Embedding the experience management suite within next-generation Intelligent Enterprise tenet will play a key role in achieving the exponential growth targets by 2020.
Please share your thoughts on this acquisition with us at: [email protected] and [email protected].