Nearshoring and reshoring are becoming increasingly prevalent in the service delivery landscape. While this is primarily due to digital technology advancements and changing business requirements, "the high entropy regulatory space" is accelerating this trend.
Over the last two years, the global services market has witnessed introduction of new laws, revisions to incumbent laws, and national leaders checking their stance on cross-border trade of services. These changes are cutting across multiple themes including delivery locations, data protection mechanisms, location of data subjects, and legality of employee data collection. And the end-result is that they are fueling a shift of delivery portfolios towards nearshore and onshore locations.
Key Regulatory Changes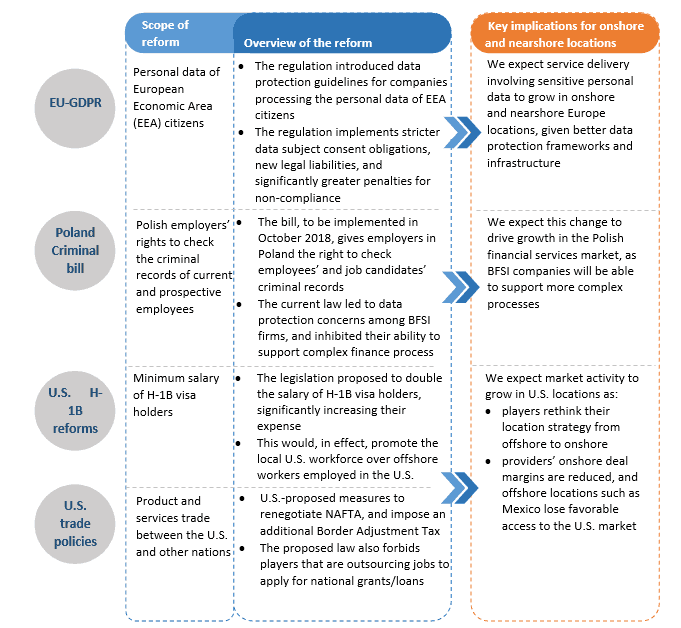 Beyond the regulations and reforms introduced in onshore and nearshore regions, multiple regulatory shifts in offshore locations are creating additional concerns.
Key Regulatory Changes in Offshore Regions
A new cybersecurity law in China requires network operators to store specific categories of data in China, and allows Chinese authorities to conduct spot checks on the stored data. With its ambiguous requirements and broadly defined terminology, the law raises concerns around data protection and intellectual property theft among foreign players.
The Philippines' Tax Reform for Acceleration and Inclusion (TRAIN) bill, which proposes to discontinue the preferential tax rates for setting up regional headquarters in the Philippines, will likely impact the value proposition of the country's IT/BPS sector.
Given the advent of these regulatory changes, we expect significant service delivery market activity growth in onshore and nearshore Europe locations. However, the regulation-led disruption forces multiple changes.
While it is evident that these regions will reach new levels of delivery maturity in the future, the players in these regions must work now on optimizing both their people and non-people costs. This is especially critical for offshore-based companies that have heavily leveraged their offshore centers and resources. They must ensure that their delivery pyramid is optimal, and that they efficiently deploy their delivery assets and capabilities. Additionally, they need to focus on improving productivity by nurturing innovation and ensuring better sharing of best practices across their delivery centers.
To learn more about other key emerging trends in the global services industry, please read our recently released Global Locations Annual Report 2018: Service Delivery Portfolios in a Disrupted World.