November 7, 2013, marked the start of devastatingly dark days in the Philippines, as Typhoon Haiyan battered certain areas with sustained wind speeds of 196 miles per hour. The typhoon crossed the Visayas Island group of the central Philippines, causing havoc on the eastern coast from northern Luzon to southern Mindanao. The worst affected region was the Leyte province, where most of its capital city, Tacloban, was destroyed (see the image below for Haiyan's path within the Philippines).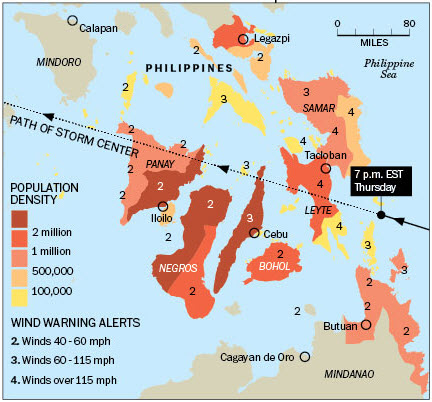 Source: United Nations OCHA and the Washington Post
While of course loss of life, suffering, and the need for all types of aid are top of mind concerns for citizens around the world, the severity of the typhoon's damage raised concerns regarding its impact on business operations and business continuity in the country, particularly in the global services sector.
The Philippines is a global leader in delivery of voice business processes (BP) and has a rapidly growing information technology and business process (IT-BP) industry. The country is also making strides in some of the niche BPO segments such as the healthcare sector, which alone offers an annual revenue potential of US$1 billion by 2016. Global buyers and service providers have built a strong presence in the Philippines, and typhoon threat is a geographical risk trade-off that companies have made in return for a good-quality English-speaking talent pool and notable cost arbitrage over U.S. cities.
Following is a list of the recent and deadliest typhoons in the Philippines:
| | | |
| --- | --- | --- |
| Name | Date of Impact | Casualties |
| Haiyan/Yolanda 2013 | November 7–8, 2013 | 1,774+ (accurate estimates yet to arrive) |
| Bopha/Pablo 2012 | December 2–9, 2012 | 1,146 |
| Washi/Sendong 2011 | December 16–17, 2011 | 1,268 |
| Fengshen/Frank 2008 | June 20–23, 2008 | 1,410 |
| Durian/Reming 2006 | November 29-December 1, 2006 | 1,399 |
Typhoon Haiyan is the 23rd typhoon to hit the Philippines this year and is unarguably the most severe natural calamity to affect the country in recent times. Although the devastation caused by Typhoon Haiyan was massive, it was concentrated in the central and eastern provinces, and metro Manila remained unharmed. Since the majority of IT-BP centers are located in metro Manila, the impact of the typhoon on the IT-BP industry was minimal.
However, it did affect IT-BP operations in the cities of Cebu, Iloilo, and Dumaguete, where work was suspended by the respective city mayors in preparation for the typhoon. Temporary power outages and disruption in telecommunications infrastructure led to higher absenteeism in these cities. Flight connectivity was hampered with the cancellation of a number of domestic and international flights. While there are no confirmed reports of damage to specific IT-BP delivery centers, some located in the path of the typhoon may have suffered infrastructural damage. These include a 200 FTE BP center in Pili, Camarines Sur province, and another 200 FTE BP center in Palo, Leyte province.
As the country deals with the devastation and destruction through rescue and relief operations, it is important for global services stakeholders to understand and review their service delivery presence in the Philippines. Players need to be mindful that choice of locations susceptible to natural hazards requires an efficient business continuity plan (BCP). Redundancy measures for critical business processes, which may suffer downtime caused by such incidents, should be in place to avoid disruption in business operations. Although acts of nature are highly unpredictable, their effects can be minimized by acknowledging the impact on business operations during evaluation of locations for global service delivery.