The Philippines, which is already giving competition in voice-based services to the leading offshoring destinations in Asia, is now eyeing to further up the ante. The country continues to see robust growth in its voice segment and credible activity in non-voice services.
Several positives…
With its sizeable graduate pool, low-cost of operations, and English language advantage, the Philippines offers an attractive proposition for organizations looking for destinations to offshore services. The Philippines IT-BPO industry registered US$11 billion in 2011 on the back of successful expansion in services and increased geographic diversity. The sector is generating 640,000 direct jobs and another 1.5 million indirect jobs. Given the robust growth, the Philippines is likely to achieve its target of US$25 billion in revenues and generate 1.3 million direct by 2016 as per the IT-BPO Road Map 2016 developed by Everest Group.
The country is also seeing an increase in the share of non-voice work (including IT/ESO) which now contributes about 30% to the industry and there is evidence of credible activity in complex processes, e.g., legal, analytics, although their scale remains small. This is largely because buyers are now looking to diversify their delivery operations beyond established markets and are witnessing satisfactory experience from country's non-voice services. Geographic diversification beyond the United States is also gaining traction and focus on multi-lingual services is increasing.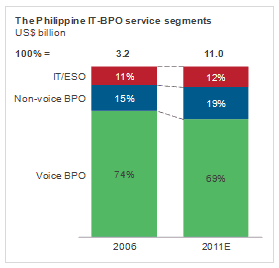 One of the key reasons behind this success is government's commitment to the sector which is working to position the country as an attractive destination for diversified services with the target to double share of revenue from other service lines. Continuing in this direction, the government and BPAP are initiating steps to enhance country's value proposition at segment level (e.g., ESO, animation), with a significant attention on non-voice services.
…however, some concerns remain
Activity in Next Wave CitiesTM is evolving at slow pace. Analysis of the delivery location pattern of top 20 service providers and Forbes 2000 companies reveals that of the 35 centers set-up in the Philippines in last three years, only three were located outside Metro Manila and Cebu. Clearly, Philippines has its task cut out in order to position these cities as alternative locations beyond Metro Manila and Cebu and widen the talent base to ease the supply of talent and address high attrition.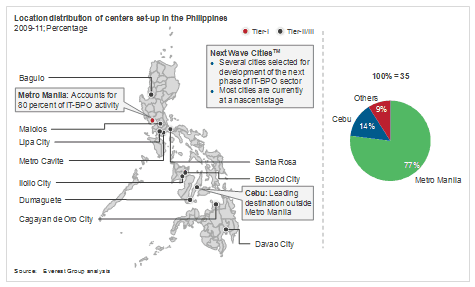 Moreover, ITO and Engineering Services are still not prevalent. The country also needs to continue to increase its alignment towards the United Kingdom and Europe, which are the biggest growth markets after United States. In addition, the country has a high risk of natural disasters. The most recent example is the typhoon activity in 2011, which led to power cuts and disruption of daily activity in Manila. Companies are, therefore, mindful of business continuity plans when they evaluate the Philippines for expansion of their delivery network.
While the government and industry associations are striving to enhance the attractiveness of Philippines IT-BPO sector, it remains to be seen how much the country can get players to think of itself for considerations beyond the arbitrage in voice-based services and more as a broad-based global sourcing destination.
For more details on the Philippines global sourcing market, refer to the recently released reports by Everest Group: