Over the last 18 months, we have seen a significant shift in the global in-house center (GIC) location strategy of UK-based firms, with many more embracing Central and Eastern Europe (CEE) over offshore countries for their GICs.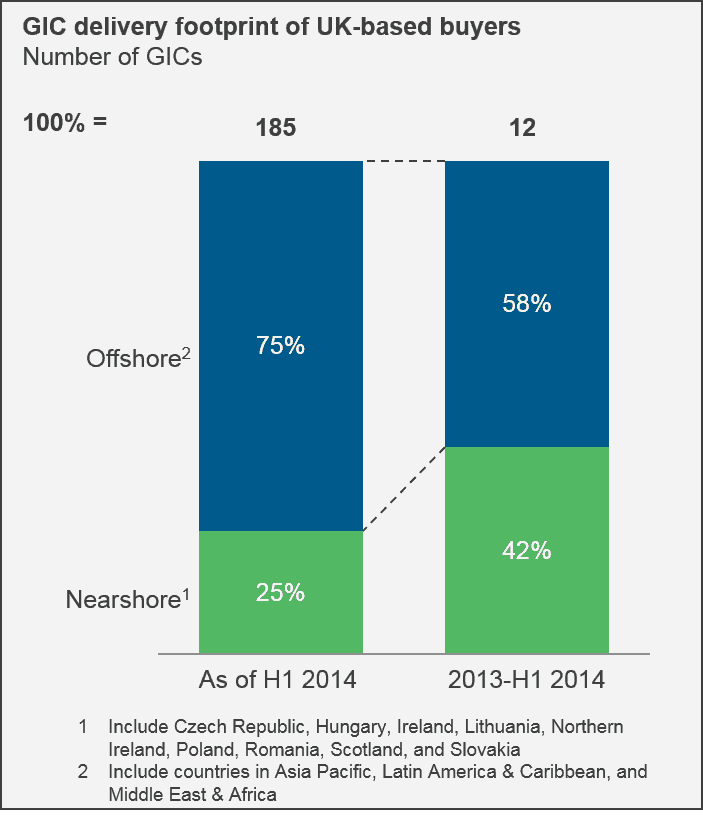 Factors driving the growth in nearshore locations include:
High attrition rates in offshore locations, and far more expensive talent in onshore regions, make nearshore locations a suitable alternative. Relatively lower-cost locations in CEE are equipped with skilled workforce with multi-lingual capabilities
Nearshore locations offer cultural and geographical affinity, and a favorable time zone
Concentration risk in offshore locations. Realizing the value of diversification, well-known companies such as Barclays, BP, HSBC, PwC, Rolls-Royce, and Vodafone have expanded their location portfolios beyond offshore in-house centers and established GICs in CEE
Some of the popular nearshore locations being leveraged for IT, F&A, and call center (CC) services are depicted in the diagram below: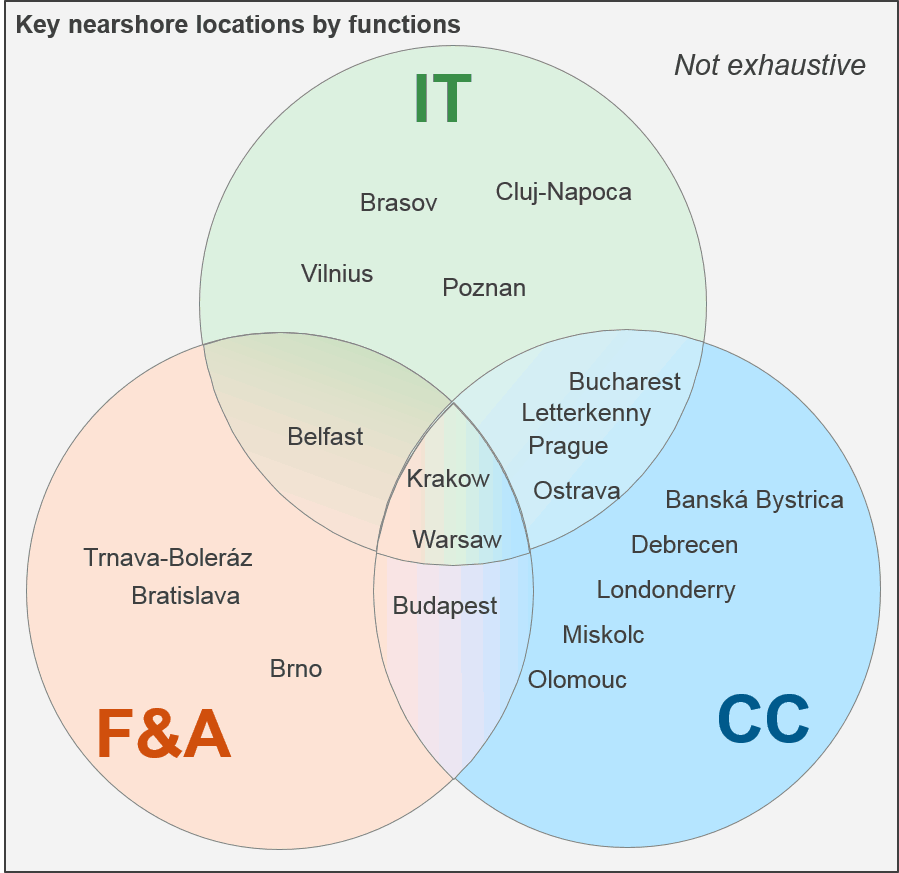 While some companies are leveraging their existing nearshore offices and expanding them into GICs, others are setting up greenfield centers. Recent examples of new GIC set-ups by UK firms in nearshore locations include:
Barclays opened a human resources service center in Lithuania
Vodafone opened a new shared services center in Bucharest, Romania, to cater to Germany, Ireland, Italy, Spain, and UK-based clients. The center will also provide IT services for the Vodafone Group headquarters in London
PwC opened a service center in Bratislava, Slovakia, to carry out its internal finance function for the CEE region
Toumaz Group opened a software development center in Timisoara, Romania, to develop IT-based solutions for Toumaz and Frontier Silicon, a Toumaz division.
What are the implications of this trend? Are we saying offshore locations will lose their draw for UK-based buyers? Certainly not! Although the CEE region will continue to maintain its growth momentum, several factors will still drive GIC activity in offshore geographies among UK buyers:
For first-time adopters of the GIC model, offshore locations (e.g., India, Philippines) offer a proven and established value proposition
For companies highly focused on cost savings, the arbitrage offered by offshore geographies remains unbeatable
Companies looking to set-up large scale centers (1,000+ FTEs) may not find many scalable options in nearshore regions, making offshore geographies more attractive
Several offshore locations are also becoming attractive for their domestic market opportunities. Thus, some organizations are leveraging offshore centers for dual purposes; for their UK operations and to tap into local sales prospects
Beyond the traditional offshore locations, there is increasing acceptance of South Africa, Egypt, and Mauritius as delivery locations for UK and other European buyers due to accent similarity and strong cultural affinity. But the battleground is now definitely becoming hotter between nearshore and offshore locations.
For more insights into the GIC space, please see the following additional Everest Group research:
---
Photo credit: Charles Clegg