The customer care industry is going through myriad changes, but none as far-reaching and impactful as the rise in the adoption of non-voice channels. Recognizing this shift in customer behavior, enterprises are working to ensure their customers have a seamless experience across the channels of their choice, in order to increase customer acquisition, retention, and loyalty. This change in buyer expectations is having its effect on the global Contact Center Outsourcing (CCO) market as well.
One of the key findings in Everest Group's Contact Center Outsourcing Annual Report 2015 is an almost 10 percent erosion between 2011 and 2014 in the voice channel's revenue share, even though it remained the dominant channel of customer interaction. While voice has grown at a sluggish pace (3 percent CAGR between 2011 and 2014), non-voice channels have witnessed robust growth, led by email, which experienced a handsome 22 percent CAGR revenue share growth between 2011 and 2014. Chat and social media account for smaller proportions of non-voice channel revenue, but grew at 43 percent and 53 percent, respectively, in the same period.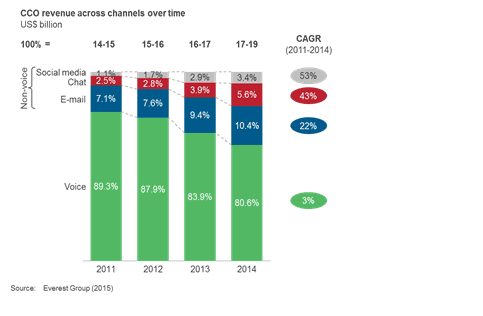 Increasing adoption of non-voice channels has also given rise to solutions specifically targeting multi-channel requirements. Everest Group research shows inclusion of channel management as a value-added service had almost tripled from 7 percent of the contracts signed in 2008-2010 to 19 percent in 2013-2014. In fact, multi-channel solutions have become so pervasive that growth opportunities for players supporting the voice channel predominantly are diminishing rapidly. Barring contracts focused on outbound sales services, 60 percent of new contracts focused on operational or value-added services have a non-voice component.  As discussed in our recently published viewpoint, it is becoming increasingly imperative for service providers to design solutions with a portfolio that combines value-added services and non-voice channels.
As service providers make investments to augment their capabilities and build expertise in managing non-voice channels, below are some implications they should keep in mind:
Outlining the right shoring strategy. Our research shows a clear move towards onshore delivery as CCO clients increasingly prefer agents closer to home, especially for the voice channel. The changing channel mix will dictate the direction in which the shoring strategies evolve in the future
Defining the right skill-sets. Non-voice channels provide productivity gains by allowing agents the opportunity to juggle multiple channels without impacting quality. Service providers must ensure agents are upskilled through the right set of training programs and hiring requirements, which are different from those for voice
Leveraging analytics. Non-voice channels are more digital-friendly by definition, and are suited for use of advanced analytics tools. Close alignment of analytics solutions to derive incremental insight and information from the data generated from non-voice channels will be critical
Using sophisticated pricing models. Non-voice channels align well with output- and outcome-based pricing models, and have witnessed higher adoption of these pricing models than the voice channel. As they build capabilities on the non-voice front, CCO service providers must also look at how to best align their processes and metrics around non-voice channels to support clients' desired business and customer experience outcomes. This essentially involves redefining CCO's value proposition beyond cost savings to include business performance
Supporting clients through the journey. CCO clients require guidance and clarity on where to begin the non-voice channel journey, and how to move forward with it. We have already seen consulting practices within BPO firms helping clients confidently undertake this transformative journey, and could be a very critical component in the successful adoption of non-voice channels.
In a heavily commoditized market, non-voice channels give service providers an opportunity to differentiate themselves and stand out from the crowd. While some providers have taken the lead and become front-runners in the multi-channel solutions race, others have more recently started augmenting their capabilities in this space through acquisitions and partnerships. Building capabilities is a key success factor, but as highlighted earlier there are other factors for service providers to consider to ensure they make the best use of these capabilities.