Today's consumers are mobile, self-reliant, and demand faster and more convenient access to information. Thus, it's not surprising that there was 50 percent growth in the number of contact center outsourcing (CCO) contracts signed in 2014-15 that include chat and social media support.
Tantamount to winning and retaining modern customers in today's digital world is delivering great customer service. Just think about the astounding success of new age companies such as Airbnb, Amazon, Facebook, and Uber, each of which has differentiated their products and services with an unwavering, unparalleled focus on providing a best-in-class customer experience.
Traditional enterprises are feeling the heat to catch up and transform themselves. As a result, buyers who once outsourced their contact centers solely for cost reduction have started to rethink their customer engagement strategy. Buyers also expect service providers to be a strategic partner in transforming their contact center operations, such as expansion into non-voice digital channels and new delivery models.
So, how can service providers optimize their current operating model to provide a superior customer experience? Insights on emerging, new age KPIs from buyer feedback surveys and interviews conducted by Everest Group during 2014-15 help frame the answer.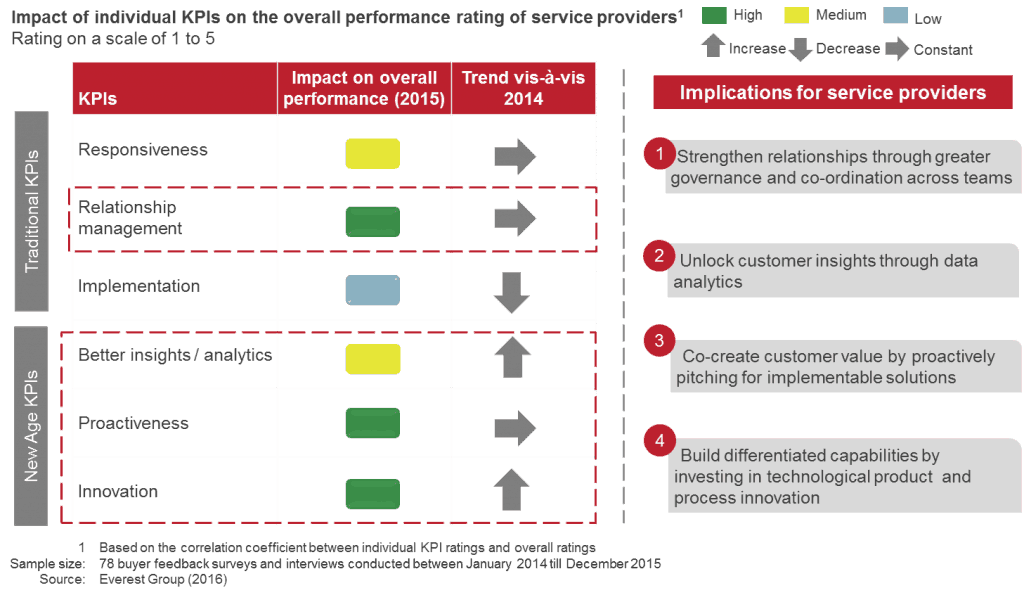 Unlike when traditional KPIs were used, buyer perception of service providers' overall performance today is heavily impacted by four KPIs: relationship management, better insights/analytics, proactiveness, and innovation. As the relevance of these has either increased from the previous year or remained high over the last two years, it's clear that buyers are increasingly evaluating service providers on new age KPIs. Against this backdrop, we recommend CCO service providers incorporate four action items into their operating model in order to remain competitive.
1. Strengthen relationships through greater governance and coordination across teams
Successful relationship management is the fundamental reason that larger deals have been signed during renewals over the past two years. Fostering strong relationships demands greater governance across buyer and service provider cross-functional teams. CCO providers that are deeply embedded in their client's business and operational processes are often well positioned to proactively identify undetected challenges and propose relevant solutions. This goes a long way in building mutual trust and transparency between the two parties.
2. Unlock customer insights through advanced data analytics
The ability to provide the right service to every unique customer is the key to building customer loyalty in a world of constant change. While most providers have invested in developing reporting and descriptive analytics solutions, buyers expect them to bring in advanced analytical tools that analyze volumes of unstructured data and provide actionable insights on customer needs and behavior, so they can deliver a personalized customer experience. To remain ahead of client expectations, service providers will need to offer predictive and prescriptive analytics capabilities to understand consumers' future behavior.
3. Co-create customer value by proactively pitching for implementable solutions
Buyers face an uphill battle to constantly evaluate and improve their business processes to respond to changing market forces. Many buyers with whom we have interacted have highlighted their desire for greater input in that effort from their CCO providers. In fact, clients cite greater proactiveness as one of the key areas of improvement for incumbent providers. As the customer-facing entity for enterprises, CCO providers can assist in identifying specific problems customers frequently encounter. And by leveraging their industry expertise, CCO providers can proactively suggest best practices to buyers and participate in business process improvement initiatives.
4. Build differentiated capabilities by investing in technological product and process innovation
Buyers need to constantly innovate their processes, products, and services in order to retain modern customers who now have a wider range of choices and low loyalty thresholds. Therefore, they expect service providers to bring in technological and process-driven innovation to enable a better customer experience. In order to stand out in the market, CCO providers must invest in building innovative, forward-looking capabilities such as cognitive learning technology and AI-powered assisted automation.
We expect the move toward digital contact centers will prove challenging for some providers and empowering for others. The market has already seen a flow of mergers, acquisitions, and commercial investments in the CCO market in the past year. In order to stay ahead of this wave, service providers must act swiftly to transform their contact centers in order to match the challenging needs of buyers and digital consumers.
For more information on the changing buyer requirements in CCO and their expectations from service providers, please see Everest Group's Contact Center Outsourcing Annual Report 2016 .