ChatGPT, the advanced Artificial Intelligence (AI) chatbot that's taken the world by storm, can potentially accelerate various stages in the Software Development Lifecycle (SDLC), from gathering requirements to design and testing, and also enhance developers' productivity, among other benefits. But it still has limitations. Read on to learn more.   
ChatGPT made headlines when it reached 1 million users in just five days after being unveiled in November 2022. Not only was the tech community awed, but it also has interested a wider audience, from students to industry veterans, and attracted more than 100 million users by the end of January 2023.
ChatGPT and other AI chatbots, such as DALL-E, are poised to radically disrupt multiple professions, including education and healthcare. In our ongoing coverage of this trending topic, we'll explore how these recent developments may rapidly advance the application development process.
What is ChatGPT, and why is it creating major upheaval?
ChatGPT (Chat Generative Pre-Trained Transformer) is a chatbot built by AI firm OpenAI. It is based on Generative Pre-Trained Transformer (GPT-3) architecture, a neural network Machine Learning (ML) model that generates human-like responses to natural language text inputs. Its ability to converse like a human, answer follow-up queries, and reject inappropriate queries makes it more special than its predecessors. Its capabilities include language translation, text summarization, and text generation.
We tried our hands on ChatGPT and asked it to write a blog on itself, and the results amazed us. See the exhibit below for the blog that ChatGPT generated.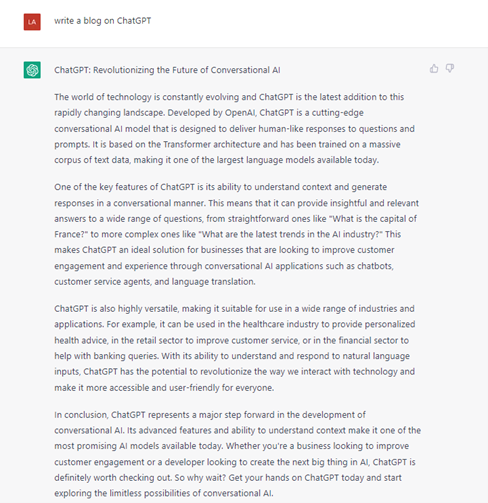 Next, let's explore in more detail how ChatGPT could be embedded in the Software Development Lifecycle (SDLC) to create applications and the associated benefits.
The avant-garde movement in application development
While low-code/no-code and AI-assisted application development made leaps and bounds in this field, ChatGPT has the potential to step up the game even further. This potent AI tool can be used to accelerate different processes at various phases of the SDLC, leading to faster development cycles, enhanced productivity of developers, and quicker value delivery to enterprises.
Here are the potential benefits of each phase:
Requirements gathering: ChatGPT can significantly simplify the requirements gathering phase by building quick prototypes of complex applications. It also can minimize the risks of miscommunication in the process since the analyst and customer can align on the prototype before proceeding to the build phase
Design: DALL-E, another deep learning model developed by OpenAI to generate digital images from natural language descriptions, can contribute to the design of applications. In addition to providing user interface (UI) templates for common use cases, it also may eventually be deployed to ensure that the design of a given application meets regulatory criteria such as accessibility
Build: ChatGPT has the capability to generate code in different languages. It could be used to supplement developers by writing small components of code, thus enhancing the productivity of developers and software quality. It even can enable citizen developers to write code without the knowledge of programming language
Test: ChatGPT has a major role in the testing phase. It can be used to generate various test cases and to test the application just by giving prompts in natural language. It can be leveraged to fix any vulnerabilities that could be identified through processes such as Dynamic Code Analysis (DCA) and perform chaos testing to simulate worst-case scenarios to test the integrity of the application in a faster and cost-effective way.
Maintenance: ChatGPT can significantly improve First Contact Resolution (FCR) by helping clients with basic queries. In the process, it ensures that issue resolution times are significantly reduced while also freeing up service personnel to focus their attention selectively on more complex cases.
While ChatGPT has an important role to play in automating more cognitive tasks in the SDLC, users must be aware that security and privacy concerns with the current version still need to be properly addressed.
Now let's cover a few issues with the tool.
 Five possible roadblocks to ChatGPT adoption
Privacy and security – Privacy and security are concerns with the current tool. As it learns from each query, keying in any sensitive data would have drastic repercussions on enterprises. Amazon has reportedly warned employees to not put confidential data on ChatGPT, fearing security concerns
Limited knowledge – ChatGPT currently is not connected to the internet and has limited knowledge of the world and events after 2021, meaning the code it generates will not be in line with the latest security patches
Potential Bias – While OpenAI has added guardrails against bias in responses, users can occasionally get around this by rephrasing their questions or asking the program to ignore its guardrails
Inaccurate responses – ChatGPT responds to queries based on the patterns it learned from the training dataset and also can generate fictitious responses that cannot be verified for accuracy. Although the tool is still evolving, inaccuracy in responses can be a major hindrance to its adoption
Energy Consumption – As an advanced AI-based tool, ChatGPT takes a huge amount of computing power to process the information, leading to high energy consumption and carbon emissions. With environmental, social, and governance (ESG) becoming a key mandate across geographies, enterprises may be apprehensive about large-scale adoption
The way forward
ChatGPT is seeing rampant adoption among the developer community, and as it gains further traction, enterprises need to ensure suitable governance models are in place. Service providers need to collaborate with tech players like OpenAI and DeepMind to proactively shape the market and build capabilities for efficient application development.
As details unfold on how this technology will revolutionize the application development process, enterprises and service providers need to closely monitor this space and make proactive investments – clearly, the cost of missing out is too great.
For our other recent blogs on how ChatGPT will impact various industry sectors, see Can BFSI Benefit from an Intelligent Conversation Friend in the Long Term and ChatGPT Trends – A Bot's Perspective on How the Promising Technology will Impact BPS.
We'll investigate the implications of ChatGPT for the technology services industry in more detail in a follow-up blog.
To discuss how ChatGPT will impact the application development process, please reach out to [email protected], [email protected], or [email protected].