With the advent of chatbots reaching human-like sentience and mannerisms, and banks being at the forefront of adopting conversational Artificial Intelligence (AI), the question arises whether ChatGPT threatens the likes of Google, other AI platforms, and the non-critical workforce in the technology and services industries. While its promise remains high, will the banking, financial services, and insurance (BFSI) sector unearth ChatGPT's full potential?  Read on to find out.
ChatGPT has taken the internet by storm and has become a trending sensation overnight. This AI-powered innovative chatbot has taken the world for a spin and is generating a big buzz among millions of professional users experimenting with it. Microsoft has also invested billions in the tool.
But what is ChatGPT? Developed by OpenAI, it is a generative language model that has been trained over large volumes of text to generate human-like responses. Like a search engine, it curates answers for queries but is designed to answer in a more conversational flow that goes beyond chat and delivers a richer experience with an intelligent chatbot. The AI engine generates solutions for all sorts of queries, including R, Python, and VBA codes.
Let's explore ChatGPT's potential to impact the future of AI and its usage in the technology and services industry, particularly by financial institutions, banks, and insurers.
What makes ChatGPT approachable and different to use?
The amount of data used to train the GPT model
Human-like interaction
Versatility and variety of responses
Low data input requirements
Highly scalable
Adjustable coherence and adaptability
What does it mean for banking and financial services?
Banks can use ChatGPT in several ways to enhance their operations and customer experience. Here are a few examples:
Assistive chatbots: ChatGPT can be used to build natural language-based chatbots that can assist customers with common inquiries, such as account balances, transaction history, and bill payments. The chatbot also can guide customers through more complex processes like applying for a loan or a credit card. It also could help increase agent efficiency by aggregating requests by type to the appropriate departments
Automation of simple and repetitive tasks: ChatGPT, along with other conversational AI models, can be used to automate simple and repetitive tasks, such as customer service interactions, order processing, and data entry. This can increase efficiency and lower costs for service providers and their clients
Customer service: ChatGPT can assist the human agent in answering customer questions, improving efficiency and response time, and providing more accurate and detailed information. This can improve customer service and satisfaction and employee onboarding
Marketing: Banks can use ChatGPT to analyze customer data and build personalized marketing campaigns that target specific customer segments. It also can generate personalized responses to customer inquiries by fine-tuning the model to a specific client, enabling it to generate tailored responses to their needs
Decision Making: With the right database connections and integrations, ChatGPT can be used to analyze data to generate insights that can be used in decision making
Learning and development: ChatGPT can be used as a learning and development tool. It can be trained with a company's pre-existing data to create learning tools and modules and as an onboarding tool for new employees
Current mapping of ChatGPT to the BFS BPS value chain


Current use cases of ChatGPT in banking and financial services (BFS) and business process services (BPS) operations are limited. Building capabilities around conversational AI and incorporating ChatGPT into offering portfolios can help BFS and BPS firms unlock innovation. Enterprises such as Microsoft, AWS, and Meta are developing their capabilities internally or through partnerships with conversation AI specialists.
Industries leading in innovation investments are becoming early adopters of ChatGPT. Microsoft is reportedly investing US$10 billion in OpenAI and plans to introduce it along with its Azure OpenAI service bundle in the Bing search engine. This furthers Microsoft's stake in the market, where it already has a working partnership with OneReach.ai, one of the market's leading conversation AI providers, since 2019.
Current capabilities still have hurdles to overcome
Although ChatGPT appears to have multiple uses and strengths, some limitations include:
Biased and inconsistent output: Content generated by ChatGPT depends on the trained data, making it prone to biases. It is difficult to achieve the same level of consistency in output generated. Cases requiring more context and complexities may lead to biased and inconsistent output. When training for complex operations such as trade reconciliation, exception management, and know your customer (KYC) remediation, the subject matter experts (SMEs) must be well-versed with minute details, which can't be guaranteed when using ChatGPT
Standardized data requirement: ChatGPT cannot process different file types or extract information from them. A lot of consumer data is often received in varied file types and formats that require intelligent operations to skim through and sort, which is beyond ChatGPT's current text-based data capabilities
Largely text driven: Its text-based generated content can fall short of expectations for the coming generation of users that desire more visual stimulation. Dashboards and descriptive analytics have become a basic requirement of all transaction-intensive industries that ChatGPT cannot fulfill
Limited ability to handle sensitive customer information: ChatGPT may not have the necessary security and privacy measures to handle sensitive customer information, such as account numbers or personal identification numbers. With the ever-evolving compliance norms varying across industries, it doesn't yet have the capability or the secure framework to process, analyze, and interpret KYC or transaction data
Outdated information: ChatGPT's information database is limited to data up until 2021 and can result in outdated opinions and facts. Deals, news, and updates in recent years aren't recorded. For a constantly-evolving industry like BFS, where new deals and contracts dictate the capital markets, this makes the source of information unreliable
Ethical concerns: As artificial intelligence improves, the lack of proper credit for AI-generated content is becoming more widespread. The distinction between content created by AI and content created by humans is becoming less clear, causing confusion, mistrust, and ethical dilemmas
System Integration issues: Incorporating new technology with outdated systems can be difficult due to potential incompatibilities and differing protocols or data formats. This can decrease efficiency, add complexity, and impair interoperability
 Where will the future take ChatGPT?
While ChatGPT's future looks promising, it is too early to say the product will revolutionize banking and financial services. Before it gets integrated into banking products, it needs to overcome several hurdles, including:
Responding to competition from rising financial technology (FinTech), regulatory technology (RegTechs), and other AI/Machine Learning (ML) service providers
Meeting regulatory, compliance, and cybersecurity requirements
Catering first to front-office requirements for low-critical queries and then for more complex queries and back-office operations that have not yet been explored
Maintaining high operational efficiency, accuracy, and customer satisfaction
Expanding variation in output categories
Overcoming the lack of recent factual data
Though ChatGPT use cases are promising, it is still a machine learning model that needs modifications to be used in real-world applications. The model would have to consume specific industry data to build domain depth and be programmed to manage contextual nuances for various tasks. Its ultimate success would depend on end customers' user experiences.
While the road is being paved for innovation, ChatGPT still has a long way to go before making strides into banking and financial services.
To further illustrate the nature of results and drill down on the capacity of ChatGPT, below are some screenshots for financial crime and compliance queries (platforms, codes, advisory):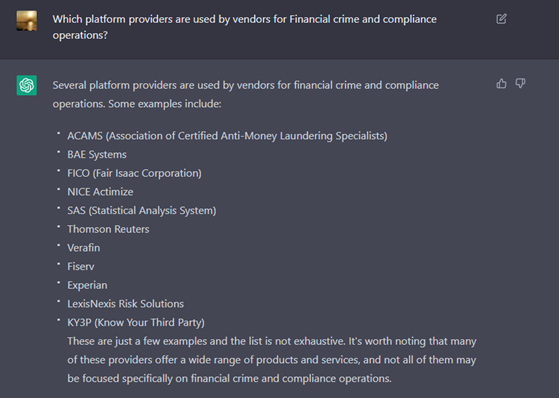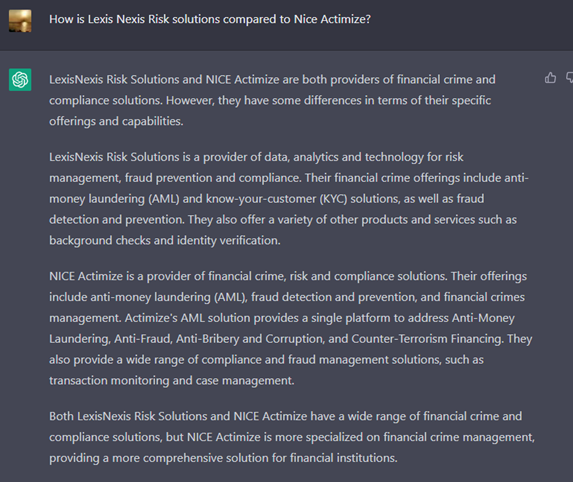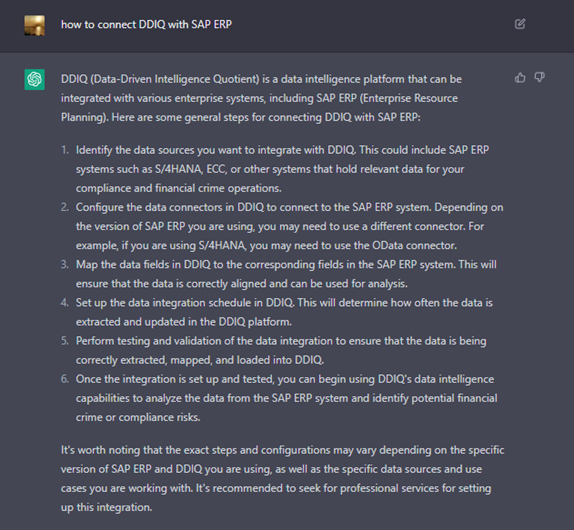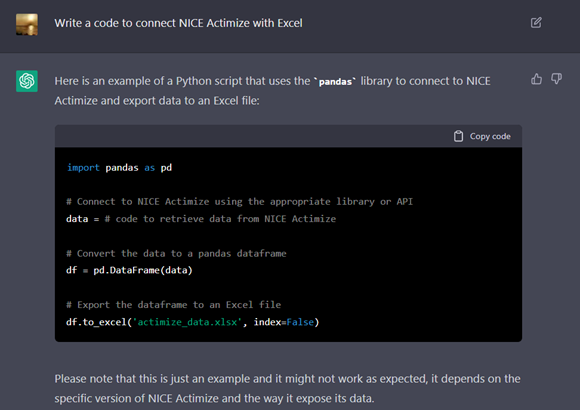 If you have questions about banking and financial services trends or would like to discuss developments in this space, reach out to [email protected], [email protected], and [email protected].
Also, download our Navigating the Regulatory Tightrope via End-to-End Solutions – Financial Crime and Compliance (FCC) State of the Market 2022 report to explore key trends. Stay updated by following the latest research on Banking and Financial Business Process Services.