IT infrastructure services automation is evolving rapidly as the objective function shifts from efficiency gains to service resiliency and agility. IT infrastructure processes have become dynamic and complex, and traditional automation strategies, characterized by siloed initiatives and reactive script-based automation techniques, are becoming increasingly obsolete.
Autonomics holds the key to the "as-a-service" world…
Autonomics is poised to disrupt the automation space, and lay the foundation for business-aligned infrastructure services delivery. The self-learning and self-healing capabilities offered by the technology can help enterprises drive significant efficiencies and control within complex and judgement-intensive IT operations (think availability management or capacity management.) Efficient management of such processes, driven by autonomics, will be a critical enabler of the shift in IT service delivery towards the consumption-based/as-a-service paradigm.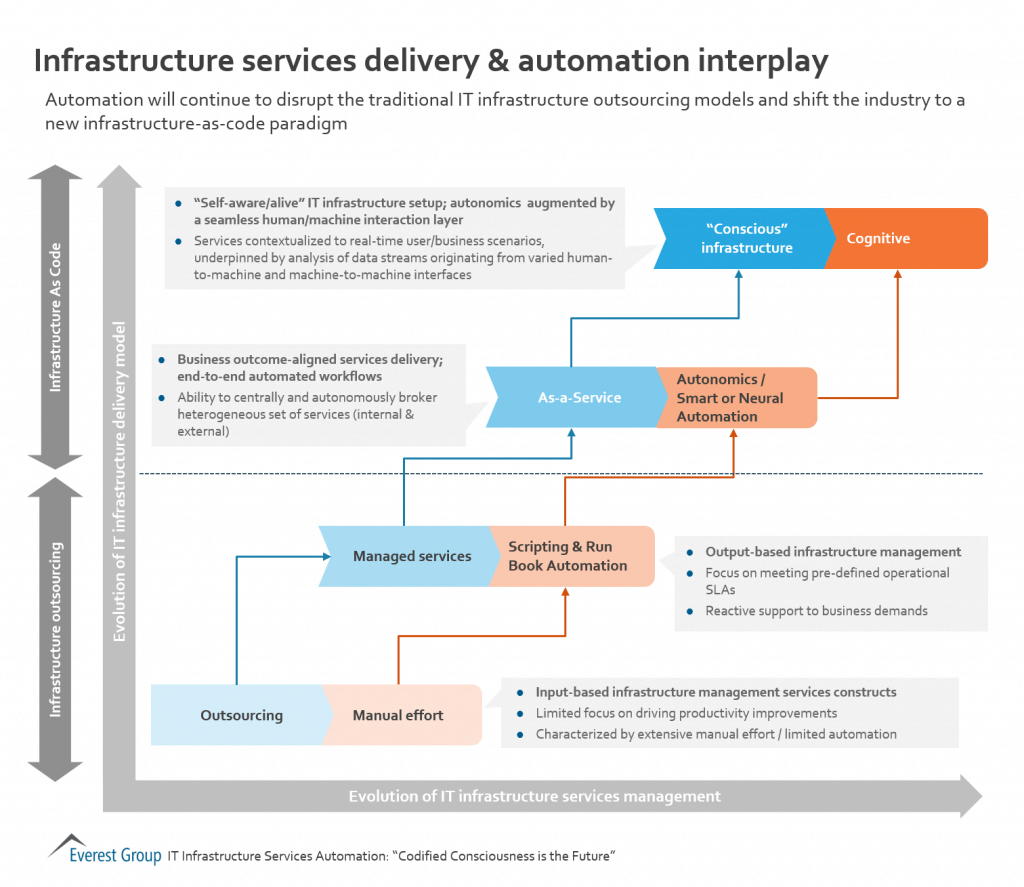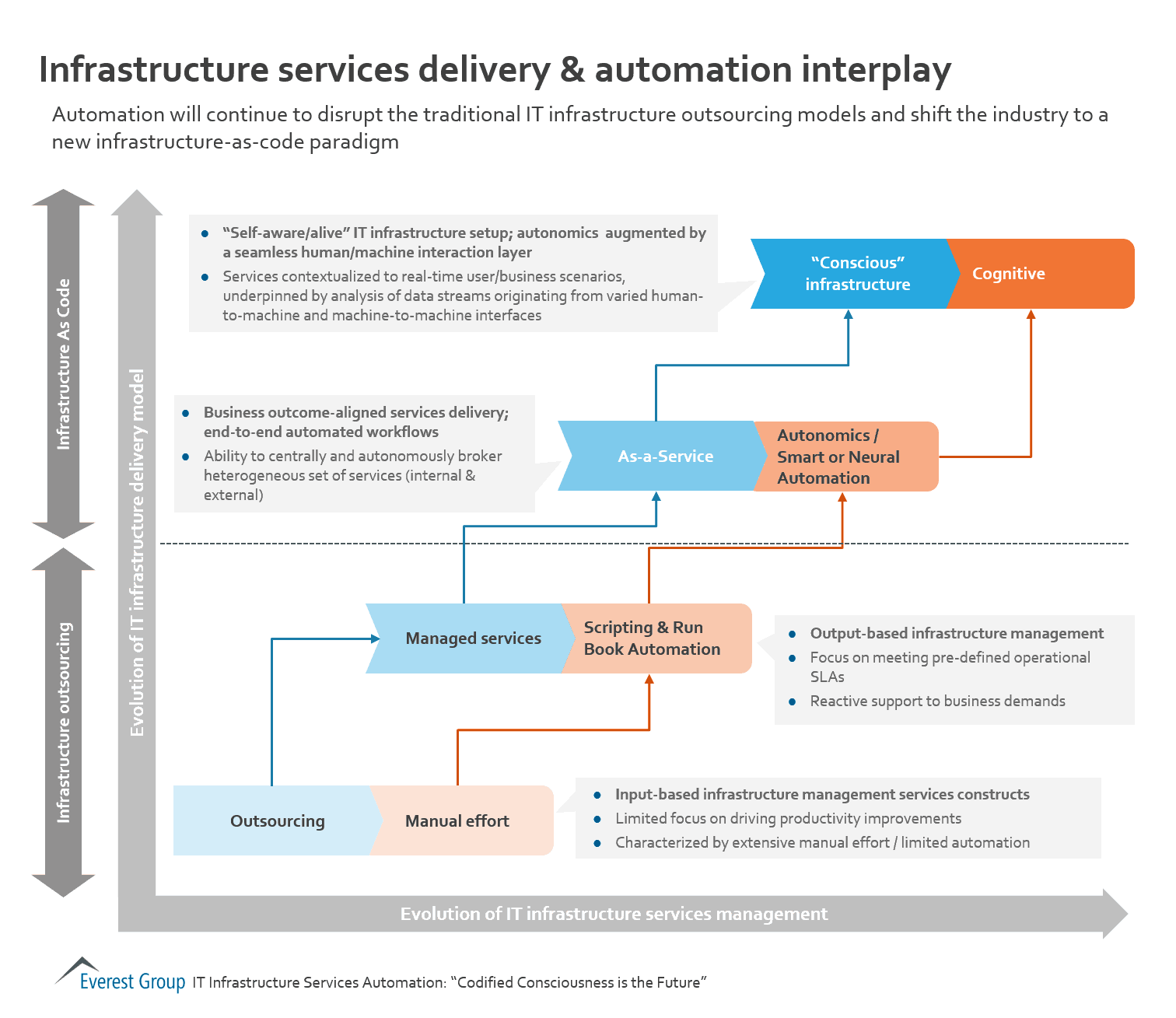 We believe that the nirvana state of the IT infrastructure delivery-automation interplay, though a fair distance away, will involve the leverage of cognitive computing to create a "self-aware/alive" IT infrastructure model. Such a model will help deliver services contextualized to real-time user/business needs leveraging data from human-to-machine and machine-to-machine interfaces – i.e., making infrastructure "truly conscious."
What is the best mode of automation adoption?
We observe three broad adoption modes for automation within enterprises:
Tools-based approach: This primarily focuses on automating low-end, high-volume tasks with the key objective being cost/FTE headcount reduction. While suitable for processes that are extremely well-defined and static, this approach does not unlock the full value of automation. Initiatives are siloed and lack business context, leading to accumulation of legacy portfolio with poor integration.
Adoption embedded within managed services constructs: Here, the focus of automation is on streamlining operational processes (i.e. balancing cost reduction and operational efficiency gains.) This model is being increasingly adopted by enterprises with significant outsourcing experience. Although well-understood, it is reactive, and cannot drive business innovation. Additionally, the focus on generating new use cases and creating common standards and best practices across the enterprise remains limited.
CoE-based adoption: A centrally-driven initiative with a strategic view to harmonize adoption benefits across each layer of the IT infrastructure stack, this approach helps drive long-term innovation by proactively identifying new use cases/scenarios, acting as a conduit for business enablement. That said, this model requires extensive upfront planning, seamless between business-IT collaboration, and a strong change appetite. Enterprises also need to brace for a significant gestation period before business benefits (commensurate to investment levels) are realized.
While each of these models offers varied levels of benefits, we observe that the eventual mode of automation adoption chosen is highly dependent on enterprise imperatives/mindset and pre-existing service models, and rightly so.
Our recommendation to enterprises…
Traditional automation within IT infrastructure services has been around for ages, but is simply not designed to deal with today's dynamic environments. It is time that enterprises took a coherent, business-context-aligned approach to IT infrastructure automation. Such a strategy should:
Focus on what automation can achieve for delivering services in an agile and resilient manner, not on technical sophistication alone
Involve a pragmatic and phased adoption approach with a clear roadmap to scaling, taking into account organizational change constructs
Keep in mind that automation is not a one-shot affair – it needs process improvement as pre-work, and downstream maintenance and harmonization with new and changing business requirements
Balance the trade-off to protect existing tool investments against the need to avoid lock-in.
For drill-down and detailed insights into the latest trends in the IT infrastructure services automation space, please see Everest Group's newly released report, "IT Infrastructure Services Automation – Codified Consciousness is the Future."