2016 will unquestionably be recorded in the history books as one of the most turbulent years in modern times. Geopolitical, socio-economic, and technological volatility hit global service providers and enterprises alike particularly hard, leaving them in a state of uncertainty never seen before in the services industry.
Everest Group's recently-published Market Vista™ – 2016 Year in Review report took a deep-dive look at these and other key trends and drivers impacting GICs, offshore/nearshore locations, service providers, and outsourcing transactions.
Here's a snapshot view into some of the most interesting developments of 2016:
Digital takes center stage in outsourcing deals
While the volume of BPO deals had surpassed that of traditional IT services (e.g., application development and infrastructure services) in the previous decade, the pendulum has swung back to IT – now in a digital form. Several factors are driving this change, including increasing maturity of traditional services, the need for a personalized customer strategy, the need for increasing operational efficiency, and the protectionism wave. Indeed, the number of inked digital deals increased by 175 percent between 2014 and 2016.
Outsourcing deal sizes are decreasing – but not for everyone!
Higher maturity and increasing customer expectations continue to drive comparatively smaller or unbundled deals, particularly in the U.K. and North America, where a significant portion of deals are incremental or outcome-based. However, many enterprises, are signing larger deals as they invest in infrastructure and supporting platforms in order to build digital capabilities in the near future.
New technology, but different implementation strategy
Although large buyers have the capabilities to insource digital services delivery, dearth of talent and investment size and complexity forced smaller buyers to outsource delivery of their digital services.
Concentration in leading geographies
With digital services talent availability increasing in some global services destinations, the share of activity is being redistributed. Share of top-10 locations increased from 60 percent in 2015 to 70 percent in 2016. Locations recording a >50 percent increase in activity in 2016 were Ireland, Malaysia, Poland, Romania, and Singapore.
Surging wave of protectionism
A growing set of countries, including the U.S., U.K., Australia, and Singapore are adopting an "our country first" stance. This has manifested into a series of inward looking protectionist steps and safeguarding regulations, such as Brexit, the recent change in visa regulations in Singapore and Australia, and proposed immigration changes in the U.S. While these had limited impact in 2016, as most of them came into effect in early 2017, it will be interesting to see how players' location activity evolves going forward.
Following are the five key trends we believe will define the global services industry in 2017: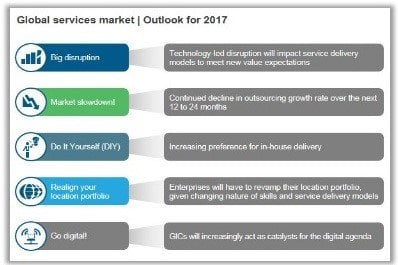 To learn more about Everest Group's take on 2016's key trends, developments, and associated drivers – and how these will impact what happens in the global services industry in 2017 – please refer to Everest Group's report titled Market Vista™: 2016 Year in Review: Global Services Industry Facing "Winds of Change."