Even though the Department of Justice (DOJ) sued to block the merger between AT&T and T-Mobile, it is likely that AT&T, Deutsche Telekom, and T-Mobile will fight that move in the courts. AT&T has other viable alternatives, and this merger is not as necessary as AT&T would like everyone to believe. Rather, this is an attempt to opportunistically acquire T-Mobile's AWS (1.7/2.1GHz) and PCS (1.9GHz) spectrum.
First, let's examine the documents AT&T filed with FCC the about this deal. According to the documentation:
AT&T is facing a network spectrum and capacity strain due to exploding demand for mobile data in certain markets.

Source: AT&T

Performance of its Global System for Mobile Telecommunications (GSM) and Universal Mobile Telecommunications System (UMTS) networks has begun to degrade.
It is unable to deploy new UMTS carriers in certain markets to meet demand.
Its continued support of three generations of network technologies and allocation of spectrum is a challenge. This is preventing it from repurposing existing spectrum for many years.
Its efforts, such as additional spectrum purchases, improvements to UMTS networks, upgrade to Evolved High-Speed Packet Access (HSPA+), tiered data plans, cell splitting, and network offloading are not enough to keep pace with customer demand.
Construction of new cell sites is becoming increasingly lengthy due to bureaucracy approvals and lack of availability of prime locations in which to build them.
It lacks sufficient 700MHz and AWS spectrum in certain markets to deploy 3GPP Long-Term Evolution (LTE) in all markets.
Migration to LTE will bring more demand to its network, and it will face capacity issues with LTE within a few years.
For these reasons, AT&T believes its customers are facing increased numbers of dropped/blocked calls, network congestion, and performance issues. These issues are detrimental to its customers and shareholders. AT&T thinks that acquiring T-Mobile (its network assets and spectrum, in particular) is the best and most efficient way to overcome the challenges it is facing in the near term. It believes that:
Due to the complementary nature of its and T-Mobile's technologies, a combination will yield network and spectrum usage efficiency, e.g., by increased cell density and efficient network utilization.
The combination will enable it to gain spectrum to handle incremental growth in UMTS/GSM networks, as it eventually migrates to more efficient LTE networks. AT&T will eventually repurpose the existing GSM and UMTS spectrum towards LTE usage.
The combination of the companies' spectrum will add 4.8-10 MHz of spectrum in each market through elimination of GSM control channels.
The combined spectrum will enable pooling of channels, which will increase peak capacity.
The acquisition will enable AT&T to increase LTE coverage from 80 percent to 97 percent across the U.S.
The company will gain access to some prime T-Mobile cell sites, to which it would otherwise not have.
Let's face it: AT&T – indeed all carriers – did not fully anticipate the rapid growth of smart phones and the associated exploding mobile data needs to their 3G networks. With demand on the rise, AT&T is looking to acquire as much spectrum it can for now and the future, as it realizes that whatever company controls the spectrum could control its competition and the industry by limiting the bandwidth available to others to improve or expand new products or services.
However, it appears that AT&T does not face an immediate shortage of spectrum. In fact, it is one of the largest holders of spectrum (including the prime 700MHz spectrum) within the United States.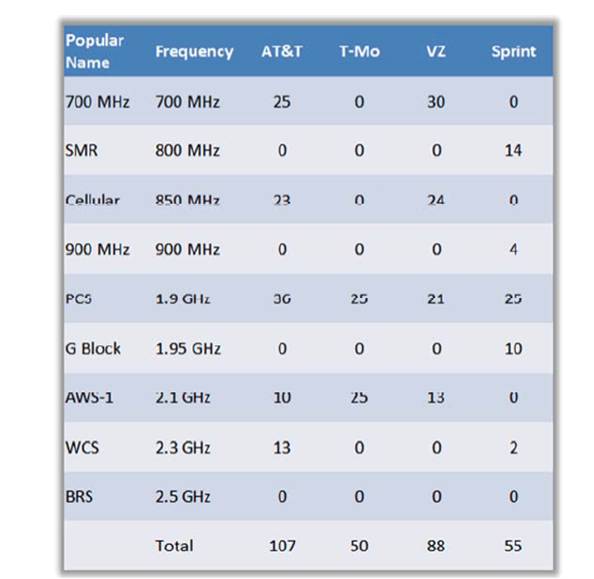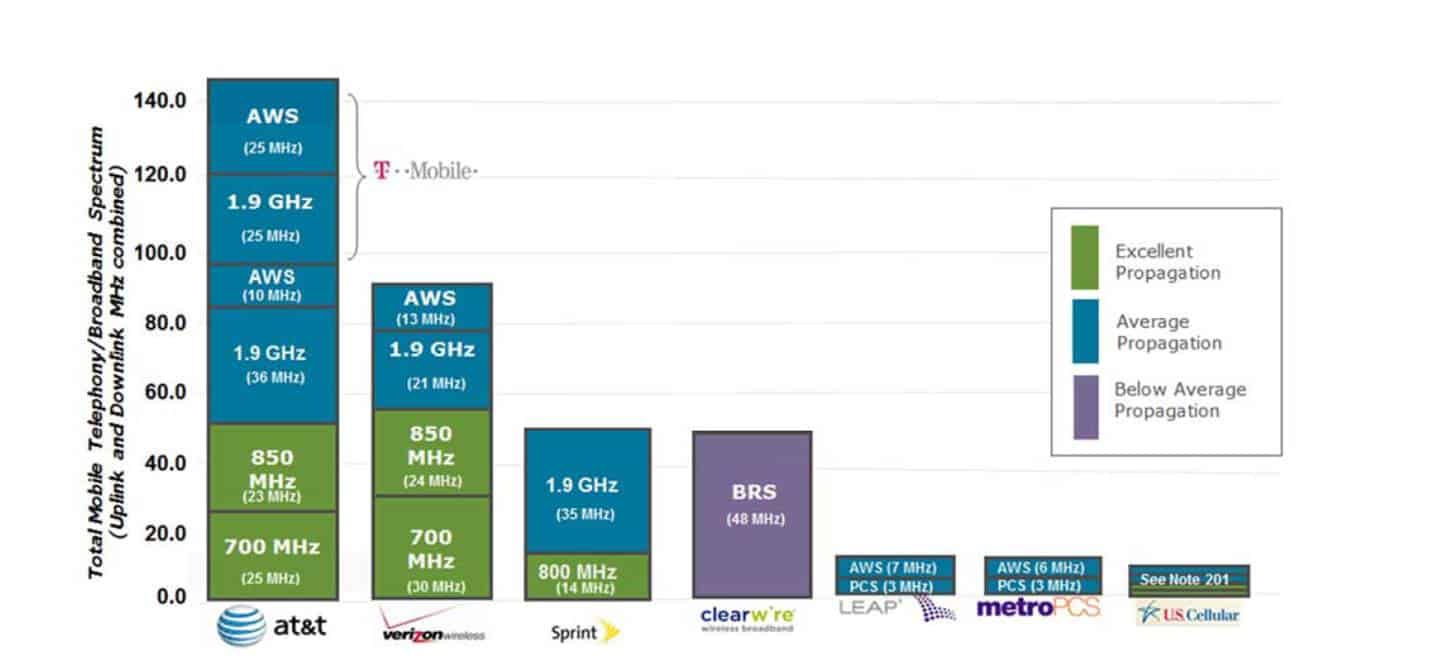 AT&T has currently warehoused 40 MHz of its 700MHz, AWS, and WSC spectrum for future LTE customers (2013 onwards). And Verizon has stated it has spectrum needs up to 2015 from what it possesses today. For $US33 billion (excluding the $6 billion break up fees resulting from the acquisition of T-Mobile), its competitors, such as Sprint, believe AT&T could implement the following to optimize its spectrum utilization:
Manage consumer behavior and usage beyond using tiered pricing, throttling, etc.
Rather than keeping customers and still allowing new subscribers to sign onto plans and use devices utilizing older 2G technology – which is a waste of spectrum resources – incentivize subscribers to move to newer generation technologies. Doing so would enable AT&T to repurpose spectrum used for existing 2G technologies to more efficient 3 and 4G technologies, thus increasing its spectrum usage efficiency. AT&T should look to migrate iPhone users to the newer IPhone5 that uses the more efficient HSPA+.
Use a portion of the 850MHz or 1900 MHz spectrum it already has in certain markets for 700MHz and AWS spectrum for LTE that it currently lacks. This would enable it to meet its target of reaching 97 percent of U.S. markets.
Use its warehoused spectrum to alleviate supply constraints.
Adopt software-defined radio, and move toward increased heterogeneous networks and small cell technology.
Increase the percentage of network data being offloaded. The bulk of usage is still when subscribers are within buildings, and necessarily on the go. Increasing Wi-Fi access in more than the current locations could alleviate its congestion and capacity constraints.
Except in major markets, new cell approvals are not as lengthy or bureaucratic as AT&T claims. Instead of owning cell towers, AT&T could increase leases from tower companies that still have excess capacity.
AT&T could also reach buy/sharing agreements with T-Mobile with respect to T-Mobile's prime cell towers. This could inject cash into T-Mobile.
When the H, J, AWS-3 blocks of spectrum are auctioned by the government, AT&T will have the opportunity to purchase spectrum. If giving up some of T-Mobile's prime spectrum is required for this acquisition to go through, I expect AT&T to walk away from the deal or pay substantially less than the current $US39 billion offer price.
Bottom line, AT&T should first consider reorganizing and/or more efficiently using space in its present home before rushing out to buy a new house.