If I had a penny for every time Artificial Intelligence was mentioned during the recent NASSCOM India Leadership Forum, I could buy a lot of Bitcoins. Both hype and hope abound around AI and its impact on different industries' business models.
Let's take a look at AI the healthcare industry. Adoption is increasing, helping solve a number of problems for patients, doctors, and the industry overall. AI engines are helping doctors identify patterns in patient symptoms with data and analytics, improve diagnoses, pick the right treatments, and monitor care.
For instance, physicians can now plug diagnoses into IBM's Watson for Oncology and receive treatment suggestions based on historical patient data and information from medical journals. Face2Gene combines facial recognition software with machine learning to identify facial dysmorphic features, helping clinicians diagnose rare genetic diseases.
Mental health treatment: Can AI be the cure?
Using AI to treat mental health issues is particularly fascinating. So far, AI has only been viewed as a means to help healthcare professionals provide better care. But can it eliminate a patient's need to consult with a doctor altogether for mental health-focused moral counseling and empathetic support?
Consider this: AI engines today have the ability to listen, interpret, learn, plan, and problem solve. Early identification of mental health issues is possible through the analysis of a person's facial features, writing patterns, tone of voice, word choice, and phrase length.
These are all decisive cues in learning what's going on in a person's mind, and can be used to predict or detect and monitor mental conditions such as psychosis, schizophrenia, mania, and depression.
AI as a panacea for mental health
The idea of end-to-end mental health treatment through AI with no human intervention is quite viable, and the prospect becomes even more enticing when you consider how the following factors could drive acceptance among patients: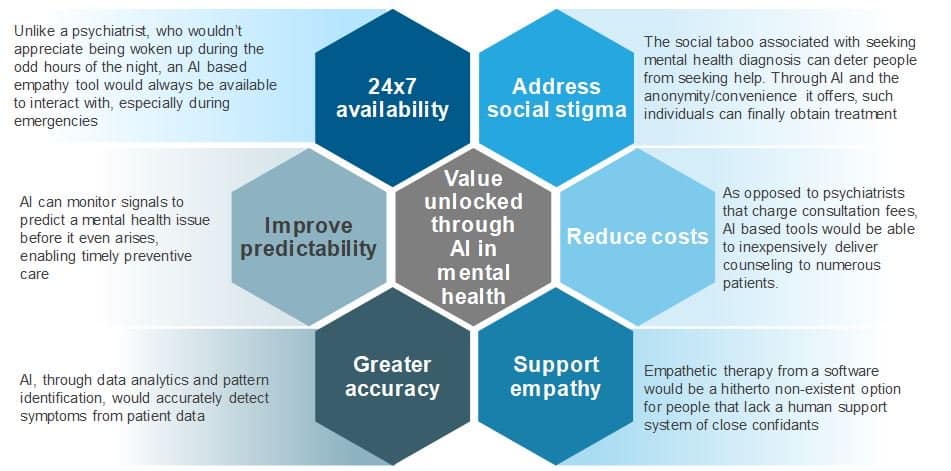 Thus, it's not surprising that a few players have already begun to delve into this space. Woebot is a software chatbot that delivers a mood management program based on Cognitive Behavior Therapy (CBT). AI luminary Andrew Ng is on the company's board of directors. Randomized controlled trials at Stanford University have shown that Woebot can help reduce symptoms of depression and anxiety in two weeks.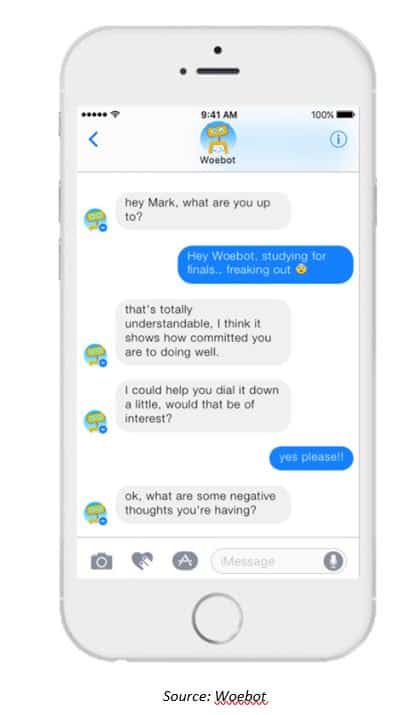 Another example is Tess, a psychological AI that communicates via text, administers highly personalized psychotherapy, psycho-education, and delivers on-demand health-related reminders, when and where a mental health professional isn't available. It can hold conversations with the patient through a variety of existing technology-based communications, including SMS, WhatsApp, and web browsers. More recently, Facebook started using AI to help predict when users may be suicidal.
There are even cases of highly specialized products:
An app called Karim counsels Syrian refugee children
Emma helps Dutch speakers with mild anxiety
MindBloom allows users to support and motivate each other
Are robo-doctors just around the corner?
While the hype crowd might have you believe that your next appointment will be with a droid, several open questions warrant healthy skepticism of mainstream AI adoption in mental healthcare:
There are privacy issues, with the possibility of user data being shared with various parties seeking to profit from it
Could training AI systems with biased data lead to them make biased decisions?
Will users even take advice from software as seriously as they would from a qualified professional?
Can the technology successfully cater to a universal population?
The ecosystem is trying to solve for these and other questions. While it might be too early to say that AI-based mental health treatment options can become mainstream currency, they clearly create significant value. As healthcare organizations and patients experiment with these use cases, there's a sizable opportunity to reimagine the workflow and treatment paradigm.