Earlier this year, Everest Group and The Rockefeller Foundation partnered on research in support of the Foundation's Digital Jobs in Africa (DJA) initiative, the goal for which is to demonstrate the value of impact sourcing and promote its adoption in South Africa and beyond.
Impact sourcing is a business process service delivery model that provides employment opportunities to previously unemployed individuals who have not been meaningfully engaged in the formal economy. Generally, the individuals who are employed via impact sourcing belong to economically and/or socially disadvantaged backgrounds, or are differently-abled.
An overview of the impact sourcing market in South Africa in 2016
50 to 55 percent of the ~ 235,000 FTEs in the South Africa BPO market qualify as impact workers. This high share is because there is no, or limited, difference in the profile of impact and traditional workers hired in normal course of operations, meaning that although companies hire impact workers, they do not claim it to be impact sourcing.
Value proposition of impact sourcing in South Africa
As part of the 2016 engagement with The Rockefeller Foundation, our detailed business case included identification of six key elements to the impact sourcing value proposition in South Africa: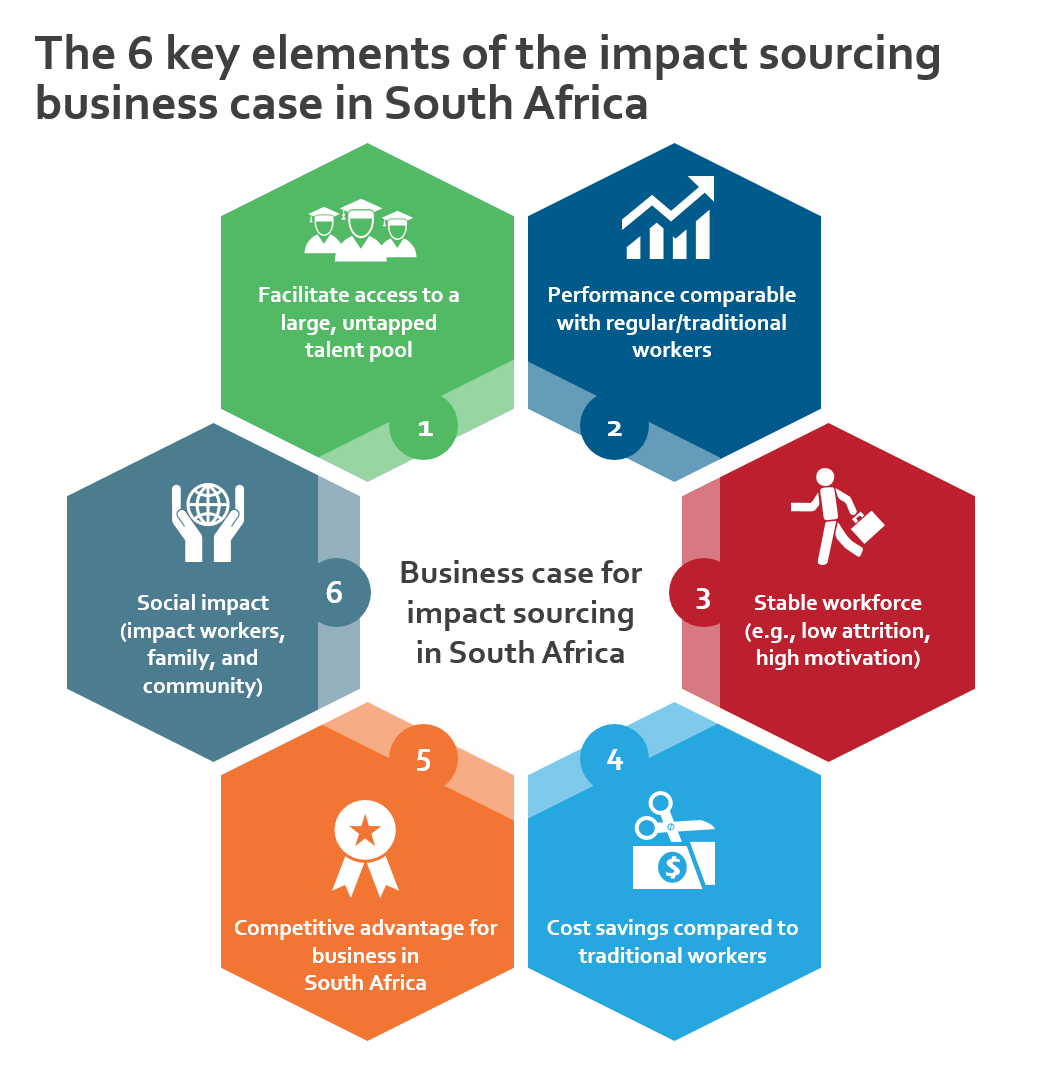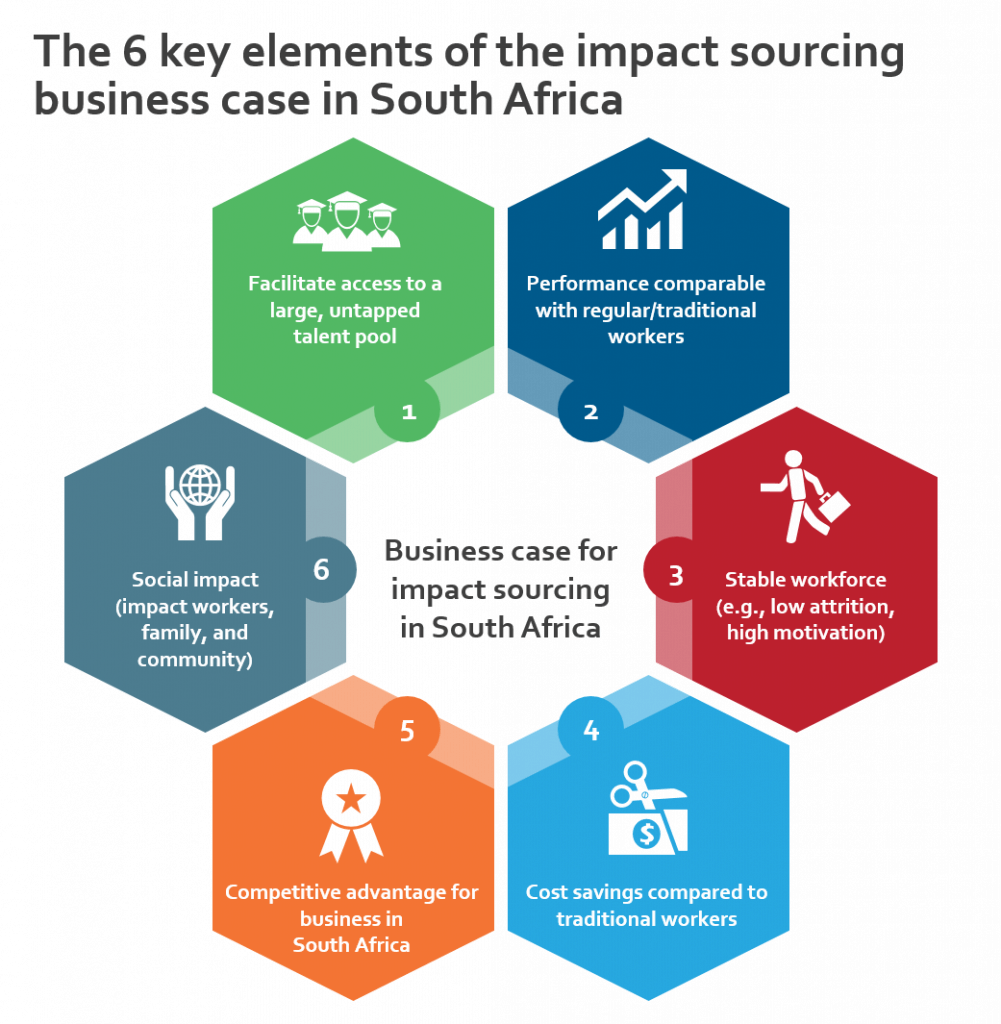 During our research, companies indicated that impact workers, especially those who have gone through training programs, exhibit better behavioral characteristics. These include higher adherence to timetable, lower absenteeism, higher motivation level, and lower attrition. In fact, as it relates to workforce stability, which is a critical component of the value proposition, the companies indicated almost 50 percent lower attrition among impact workers as compared to traditional workers.
Impact sourcing ecosystem in South Africa
A unique feature about impact sourcing in South Africa is the presence of a robust ecosystem comprised of BPO service providers, buyers, training academies, and government/industry associations. The presence of impact sourcing-focused training academies is a key element of this ecosystem.
These academies, such as Careerbox, Harambee, and Maharishi Institute, help buyers and service providers identify, screen, and train entry-level candidates through job readiness training or learnership programs. The thrust of these programs is on intentional talent development to ensure impact workers are employment ready. These programs include training on technical skills (e.g., computer literacy and language) and soft skills (e.g., adapting to a corporate environment, dealing with stress, and the benefits of stable employment).
In fact, providers including Aegis, CCI, and WNS have established their own in-house learnership programs as part of their intentional focus on impact sourcing.
What has changed since 2014?
Since our last study in 2014, there have been some significant positive developments in the impact sourcing market landscape in South Africa.
Perhaps the most important is the higher level of maturity exhibited by companies in understanding the benefits and challenges associated with impact sourcing, thereby, enhancing intentional adoption. Moreover, there has been a shift in the value proposition toward "accessing relevant talent" rather than just "cost savings." In the past, companies had expressed concerns related to higher upfront training and the administration cost of impact sourcing programs. But our research established that the total cost of ownership (TCO) for impact sourcing is 3-10 percent lower than that of traditional sourcing. Finally, companies are increasingly adopting impact sourcing for the many different types of value it provides. For example, significantly lower attrition among impact workers not only contributes to improvement of the work culture of the organization, but also translates into better service delivery.
Outlook
As there is an intrinsic link between adoption of impact sourcing in South Africa and the expansion of the BPO market in the country, there are understandably concerns around security risks, the impact of automation technologies, etc. Nevertheless, our study shows that the desire to intentionally adopt impact sourcing in the country has increased, and that the model is expected to grow, albeit gradually.
For more details on impact sourcing see our additional insight infographic.