The IT services industry has been abuzz since iGATE's January 10, 2011 announcement of its definitive agreement to acquire Patni. And we, along with all those who felt they had at least two cents to share, chimed in with their initial reactions to the announcement (see our January 10, 2011 blog, "On and Off is Finally On…iGATE to Acquire Patni." )
But to gain deeper dive insights into the acquisition, we tasked our research team to analyze the implications of the acquisition. Here goes:
The acquisition will help iGATE shed the "small provider" moniker and catapult it into the mainstream of the Indian IT service provider landscape. This is particularly important in an environment in which buyers want/need to rationalize their provider portfolio, and a threshold of US$1 billion in revenues is fast becoming table stakes for consideration in large deals. The increased scale, enhanced talent pool, client base, and breadth of capability should enable the combined entity to qualify for larger deals that were previously out of reach. Further, limited client overlap and a broader suite of industry experiences give the combined entity a renewed opportunity to capture additional volumes from existing clients, and the new financial partners (let's talk Royal Bank of Canada and Apax Partners) could potentially help drive new business.
However, while the acquisition creates a more credible, scaled and potentially hungrier competitor, it does not create a fundamentally differentiated service provider or alter the pecking order in the Indian IT services landscape. Indeed, as depicted in the graphic below, the combined entity retains Patni's original position behind MphasiS, per revenue reports as of the 12 months ended September  2010. Further, inexperience in large deal pursuits (which will be especially pronounced versus the larger and more sophisticated competition) and the distractions related to the complex integration could be inhibitors in kick-starting growth in the early years.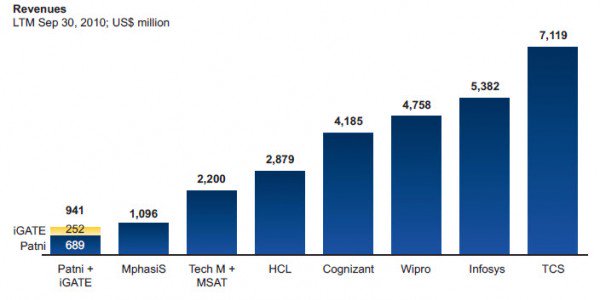 As it relates to the future of the Tier-2 Indian IT service provider landscape, the iGATE-Patni deal provides a glimpse (see graphic below.) Sustained growth in this segment lies in the ability to create a differentiated market focus that extends beyond the previous generalist approach adopted by most Indian service providers. If the two acquisitions in this segment (Hitachi Consulting acquired Sierra Atlantic on January 4) in just the first ten days of 2011 are anything to go by, we are witnessing the beginning of a consolidation wave that will sweep the Tier-2 IT services landscape in the near future.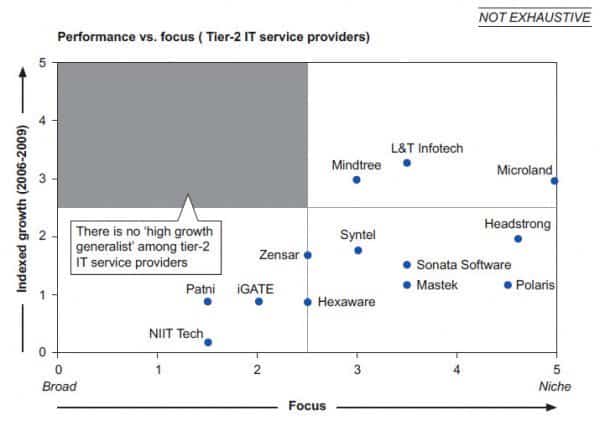 For more details and analysis of the iGATE-Patni merger and the Indian IT services market, please see Everest Research Institute's: "iGATE Acquires Patni, Finally!"