How often does security or privacy cross your mind when you install a smart bulb or purchase a smart fridge? What about when you hear about examples of Alexa eavesdropping on private conversations? And these are examples from consumer IoT; we can only imagine the scale of IoT's impact – and its lapses – in an enterprise setting!
The accelerating IoT security threat
Every device that is added to the IoT network without proper security measures in place increases the risk of a cyberattack. Given the exponential increase in smart devices, IoT has become an invisible omnipresent layer, in both the digital and physical worlds. This combined ubiquitousness and lack of visibility makes us oblivious to the plethora of connected devices around us at all times that capture minute details in real time, leaving one exposed to risk. Examples of breaches are abundant and often surprising, such as the time hackers accessed data about a casino's high-paying customers via the casino's aquarium's smart thermostat.
Because of these challenges, enterprises, big tech firms, and even governments have prioritized IoT security.
Gaps to address
Security, in terms of network and device security and data privacy, is a big concern given the significant risk it poses to an organization and its clients. One of the biggest challenges that organizations face in establishing IoT security practices is the lack of universal standards and specifications for devices, which leaves devices with substandard compliance and undiscovered vulnerabilities.
Exhibit 1 highlights the key challenges organizations face when securing their IoT ecosystems.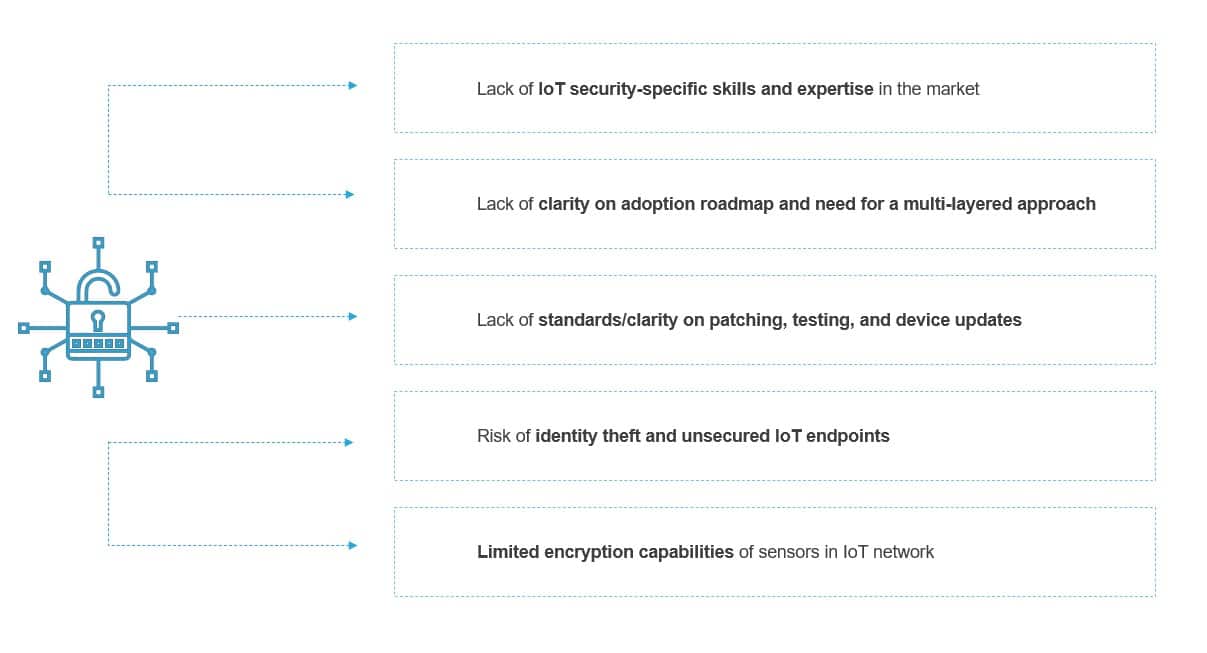 Some industries are more vulnerable than others
IoT security is a major concern across all industries, particularly manufacturing, energy & utilities, and healthcare, which have more convergence of IT and OT than other industries. For them, security is crucial for several reasons:
Operationally, IT and OT are different domains, and, thus, replicating the security practices and architecture of IT in OT is challenging
The IT-OT integration results in a significant amount of sensitive OT data on the network, which is vulnerable to security threats
The talent required to mitigate OT security challenges needs to be developed
The IT-OT convergence is exposed to several supply chain and third-party vendor risks
A closer look at healthcare shows that the COVID-19 pandemic has accelerated toward digital healthcare, with IoT playing a critical role in enabling remote patient data monitoring, smart sensing, and remote patient interactions. In this scenario:
The proliferation of IoT-based networks that capture health outcomes and the Internet of Medical Things (IoMT), which connects medical devices to the internet, exposes enterprises to phishing attacks
IoT devices that capture critical patient health data, including newer endpoints such as wearables, in-home devices, and smart implants, can lead to potential data breaches due to inadequate security measures
Hackers can exploit IoT networks to extract sensitive patient information and gain unwanted access to organizations' data and devices, with severe consequences
Therefore, now more than ever, the need to resolve data security challenges to ensure all stakeholders' safety and privacy is urgent.
Maneuvering the security challenge
While keeping pace with increasing IoT adoption, organizations need to rapidly ramp up their security measures, and, in so doing, ensure certain security and risk mitigation features, as illustrated in Exhibit 2.
Exhibit 2: Initiatives enterprises should undertake to ensure a secure IoT implementation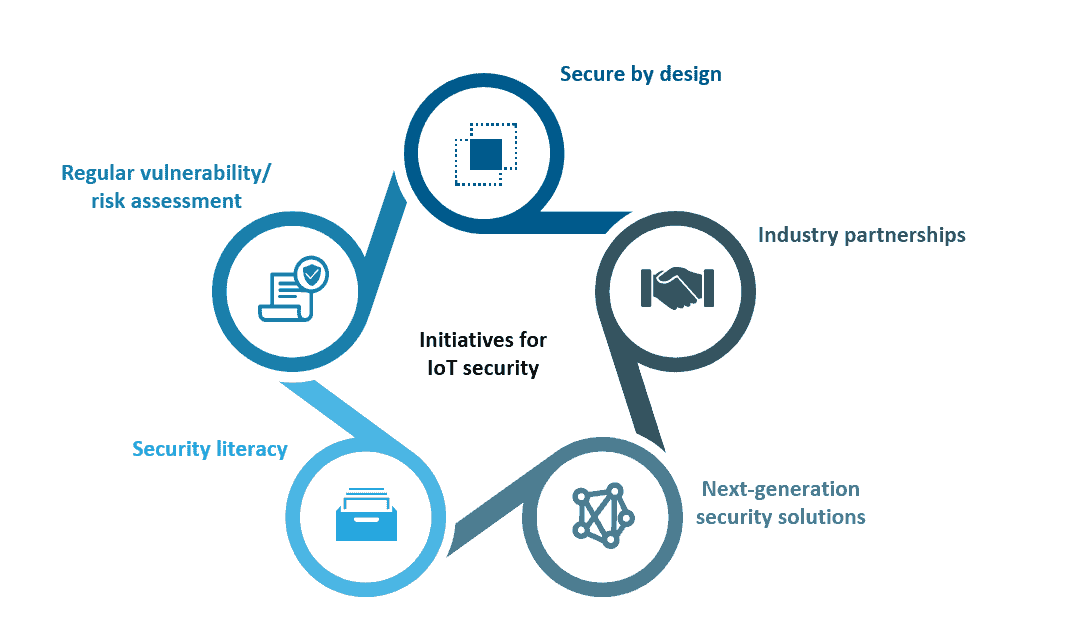 Let's take a closer look at each of these components.
Ensure security by design: Organizations need to start factoring in security as a vital aspect of their implementations, not as an afterthought after scaling their IoT implementations. This means making parallel investments and setting up dedicated units to manage security and data protection
Invest in security literacy to create awareness: Enterprises need to create a security awareness program that educates employees about best practices to avoid breaches and reduce exposure, and it needs to a regular exercise to keep the employees updated on compliance and related policies
Perform regular vulnerability/risk assessments: Enterprises need to assess their risk profiles on a regular basis to identify any vulnerabilities and take preemptive action. They should continually test their systems and connected devices to ensure robustness
Invest in next-generation technology-based security solutions: Organizations should leverage unique and innovative solutions that leverage next-generation technologies such as blockchain, deep automation, and machine learning for connected devices to make them more secure
Engage in industry partnerships: Companies should forge partnerships with device manufacturers to build more robust devices with embedded security features that make them less vulnerable to attack. They should also form alliances with other companies and industry consortia to develop uniform specification standards and provide certification programs for devices
Only an all-round focus on security, along with partnerships with different stakeholders active in IoT, digital, and digital security, will help ward off security threats and thrive in a digital-first environment. As organizations take big strides in IoT implementation and maturity, they stand to gain if they equally emphasize security.
What has your experience been with IoT implementation and security? Please share your experiences and thoughts with us at [email protected] and [email protected].