In our earlier blogs on sovereign cloud and GAIA-X Summit 2020, we talked about the increasing relevance of sovereign cloud and the expanding impact of the GAIA-X initiative on Europe's IT services environment. In this blog, we will explore the state of enterprise cloud adoption in France, government policies and IT market dynamics, the impact on enterprises, and the approach enterprises can take while adopting cloud technology.
While slower to adopt cloud technology than other parts of Europe and the Americas, COVID-19 has changed the outlook in France and is now picking up speed. Driven by the pandemic's unpredictable business demand and shift in operating models, enterprises in France are embracing more scalable, agile, and reliable cloud infrastructure and service providers.
With the accelerated demand for cloud adoption, regulations to ensure data privacy have increased. Can France overcome the factors that have held it back in the past of its conservative political outlook, stringent regulations and compliances, cultural resistance to change, and inherent trust in regional technology providers? To find out, read on.
What Measures are the French government taking?    
Data privacy concerns, coupled with the CLOUD Act of 2018, which permitted the US government to access data stored in servers of US-headquartered cloud providers, prompted the French government to launch initiatives to reduce France's dependency on foreign cloud providers and protect digital sovereignty. The GAIA-X initiative launched in 2019 and cloud doctrine or "Cloud de Confidence" unveiled in 2021 mandates data to be processed and stored in France, operations to be run by French employees, and cloud providers to be certified by French authorities.
The French government's evident push for native hybrid cloud providers such as Dassault Systèmes, Equinix, and OVHcloud through these initiatives is an attempt to slash the dominance of the US cloud providers.
Soon after the government's announcement in May 2021, Capgemini and Orange joined forces to create "Bleu," a French hyperscale cloud powered by Microsoft Azure to meet the privacy, sovereignty, governance, and transparency requirements of the French government.
While these developments are intended to support native French players and protect citizen's privacy, they do raise some key questions: Are GAIA-X and "Cloud de Confidence," as currently described, aimed to form a European cloud provider ecosystem for setting rules and regulations or is the French government planning to position these as European alternatives to the US-headquartered cloud providers? Given that such initiatives of "French cloud" or "sovereign cloud" by the French government have been short-lived in the past, how much substance will these hold?
While these questions will be better answered with time, let's take a look at how different stakeholders are reacting to these developments, the impact these issues will have on the digital growth of enterprises, and how French enterprises should proceed.
France IT market dynamics
Amid these developments, IT stakeholders are adopting the following aggressive strategies to penetrate and establish a foothold in France:
Regional cloud infrastructure providers: Equinix, OVHcloud, and Dassault Systèmes have realized the importance of partnering with hyperscalers to build global hybrid cloud capabilities. During the political and legal developments, many French-American alliances have prevailed. Equinix and OVHcloud continue to invest in strategic alliances with AWS and Google Cloud
Europe-based global service providers: Capgemini, Orange, Atos, and Sopra Steria are investing in partnerships with hyperscalers to develop robust cloud strategies. These partnerships have gathered momentum, despite recent developments by the French government
Niche service providers: Claranet France, Sfeir, Onepoint, and Devoteam Revolve are putting a uniform focus on local private cloud providers and global hyperscalers to build a holistic cloud services portfolio
Indian heritage players: Accenture and HCL are strengthening their position in the French market by opening new offices and delivery centers in France, introducing Europe-native leadership, developing partnerships with local technology and service providers in areas of cloud management and cybersecurity, and acquiring French headquartered public cloud service partners and consultancy experts such as Gekko, Cirruseo, and Sentelis
Hyperscalers: Amazon Web Services (AWS), Google Cloud Platform (GCP), and Microsoft Azure have shown interest in playing an important role in the GAIA-X initiative and cloud doctrine chartered by the French government. They are working with government authorities as policy contributors and partnering with regional cloud infrastructure and service providers
Impact on enterprises' digital growth
While service providers are adopting aggressive strategies for the French market, there are many obstacles to overcome. Market dynamics will most likely increase the cost of technology, reduce the speed of digitalization, hamper innovation and growth, hinder technology competitiveness, restrict vendor options, and inhibit access to global technologies, standards, and talent for enterprises.
How will enterprises overcome the biggest challenges?
French enterprises face major challenges related to data security, privacy regulations, resistance to change, and talent incompetence.
Challenge
Challenge description
Mitigation strategy
Data security and privacy regulations

As cloud adoption increases and the IT ecosystem continues to expand, enterprises in France still have concerns with data privacy and security
With restrictions and regulations around storage and usage of data, enterprises feel stuck and oblivious

Enterprises should work with technology providers, service providers, regulators, risk and compliance consultants, and auditors to draft a cloud adoption roadmap

Resistance to change

One of the most pressing internal challenges faced by French enterprises is cultural resistance to the adoption of new technology
The digital transformation is not purely technology change, it requires a shift in mindset, organizational culture, and operating model. Hence, enterprise leaders continue to face slowed transition and cloud adoption

An organization mindset shift in favor of new technology adoption is needed
Leadership needs to drive these initiatives and align employees on this vision
Investments in organizational change management and clear articulation of the company's vision may prove effective

Talent Incompetence

Since digital transformation was reactive rather than a proactive measure in France, enterprises are struggling to keep up with the talent requirements of digital transformation and evolving technology and service landscape

Training on the latest trends and new technological know-how can help gain employee confidence and make them more comfortable with change. Both in-house talent development and a talent outsourcing strategy should be adopted
Taking note of the above challenges, French enterprises should choose what is best for them and transform at a pace that is appropriate to their current maturity level and envisioned target state.
What approach can enterprises take across various dimensions for cloud adoption?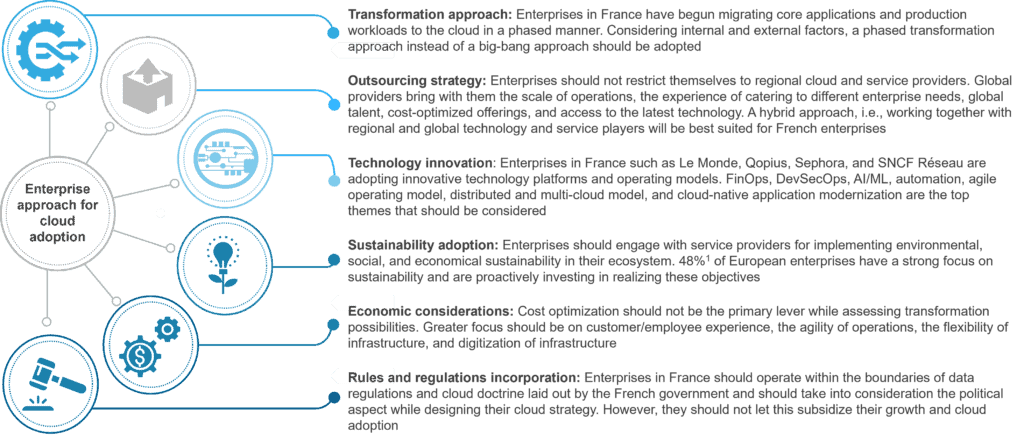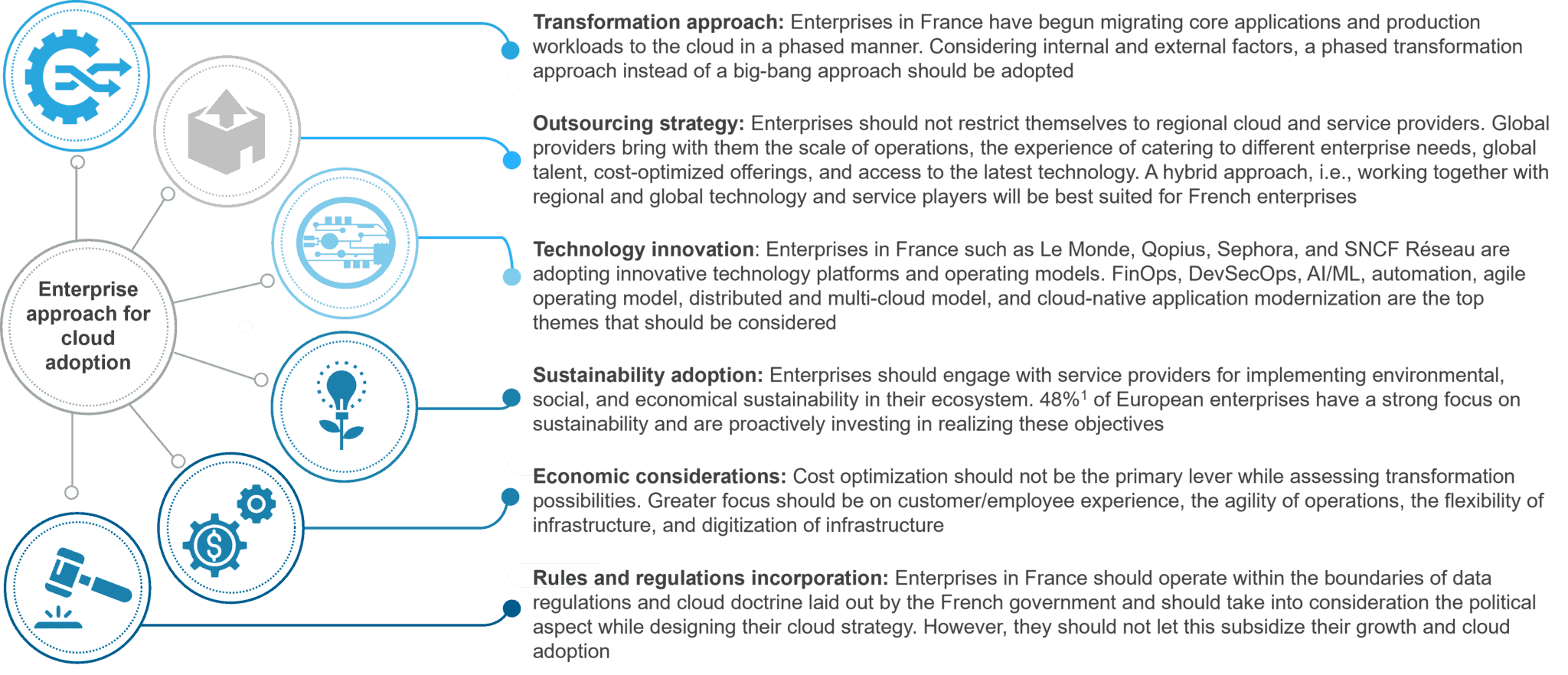 Despite the concerns and restrictions, the outlook for cloud adoption in France looks favorable. Hyperscalers and global service providers will maneuver their way to operate in the French market. Outsourcing and partner options for enterprises also will increase, creating opportunities for accelerated digital transformation.
To learn more about our insights in France and other European markets, please reach out to [email protected] or [email protected].