How do Amazon, Apple, and Tesla keep innovating? What do they do differently than many others do not, or cannot, do? And how many industry leaders can say their organization is truly innovative?
To get answers to these and other pressing questions, we conducted a focused research study with more than 100 application service executives – approximately 50 percent of whom were CXOs – in North America-based enterprises engaged in IT outsourcing programs. The research revealed startling insights. For example, only 30 percent of study participants felt their companies were somewhat innovative, even though all of them realized the importance of innovation and had made strategic investments in it.
And from defining it and its objectives, to funding it, to defining and institutionalizing the process to drive it, innovation has remained an elusive concept both for enterprises and service providers.
The study also busted innumerable myths associated with IT innovation. Let's look at the top five.
IT Innovation Myth 1: Innovation is abstract and cannot be measured
But, over 75 percent of the study participants already have a highly effective mechanism to measure the impact of innovation. Linking the investment made to measurable results and desired benefits has enabled them to devise a formal approach for impact assessment.
IT Innovation Myth 2: Innovation should result in a disruptive idea
In reality, this is the last priority for executives of best in class enterprises! A siloed disruptive idea that does not impact the business model or enhance customer experience is the least appreciated outcome, and does little to serve the purpose of innovation. Instead, transformation is the primary lever deployed by enterprises to identify disruptive innovation. Moreover, the overall approach to it and the returns derived from it are considered more significant for driving innovation than the idea itself.
IT Innovation Myth 3: Episodic initiatives such as "idea of the month" and "innovation events" can deliver innovative results
Unfortunately, such sporadic investments have a probability of less than 10 percent to deliver innovative outcomes. Though used by most service providers, these are the least preferred approach to innovation from the enterprise executive's perspective. Continuous innovation with prototyping and demonstrations/MVPs are far more likely to deliver on customers' expectations.
IT Innovation Myth 4: Large scale investment is required from the enterprise or service provider to fund innovation
Though investment is required, 65 percent of the study participants with high satisfaction with their innovation program believe in shared responsibility and co-funding. Their belief is that shared responsibility spreads the risk involved, and reduces the investment required, thereby attracting the best-in-class capabilities from both sides.
IT Innovation Myth 5: A dedicated centralized team/CoE should be set up to drive innovation
Rather, best-in-class innovative businesses embed a culture of innovation across their enterprises to encourage the concept of continuous and crowdsourced innovation.
To enable enterprises to adopt a systematized innovation approach and achieve their desired outcome, Everest Group designed a unique framework on which to base their innovation strategy. We also used the framework to identify the 14 most innovative service providers in the industry.
Application Services IT Innovation Maturity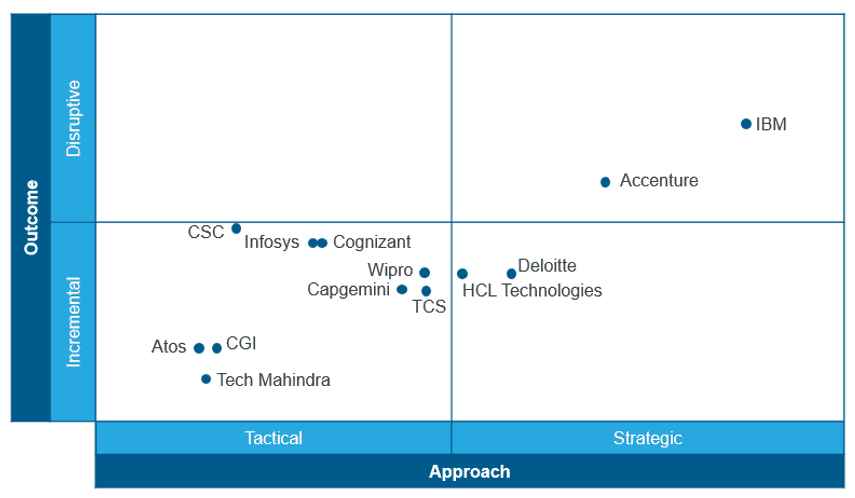 For more information and insights on this research, please refer to our reports, "How to innovate – A Comprehensive Guide to Innovation in Application Services," and "Cracking the IT Innovation Code."