Today's large, global companies face an ever-growing need for talented resources to manage their increasingly complex global services delivery organizations. The requirements extend far beyond traditional models that often found firms simply assigning the "folks who have performed the service for the past 20 years" into various leadership roles. While that was never a best practice, in today's world, it can be catastrophic.
Global services delivery leaders of today must navigate a complicated mix of internal and external delivery engines while forecasting supply versus demand and keeping clients happy across diverse regions and cultures. To meet these demands, leading global services organizations are increasingly adopting highly integrated cross-business leadership teams sponsored at the most senior levels of the corporation.
The graphic below illustrates this concept in a hypothetical global organization.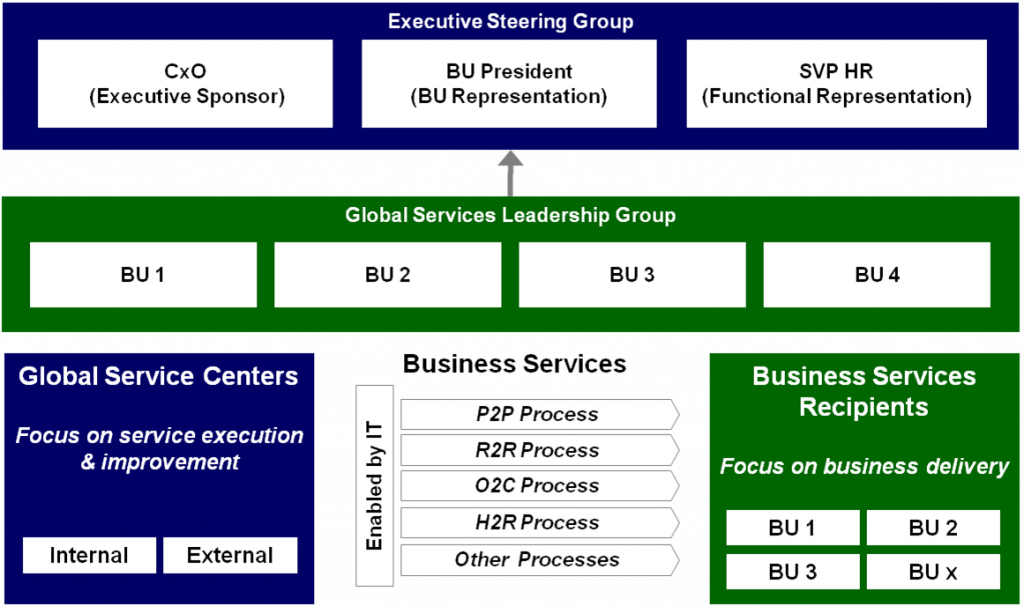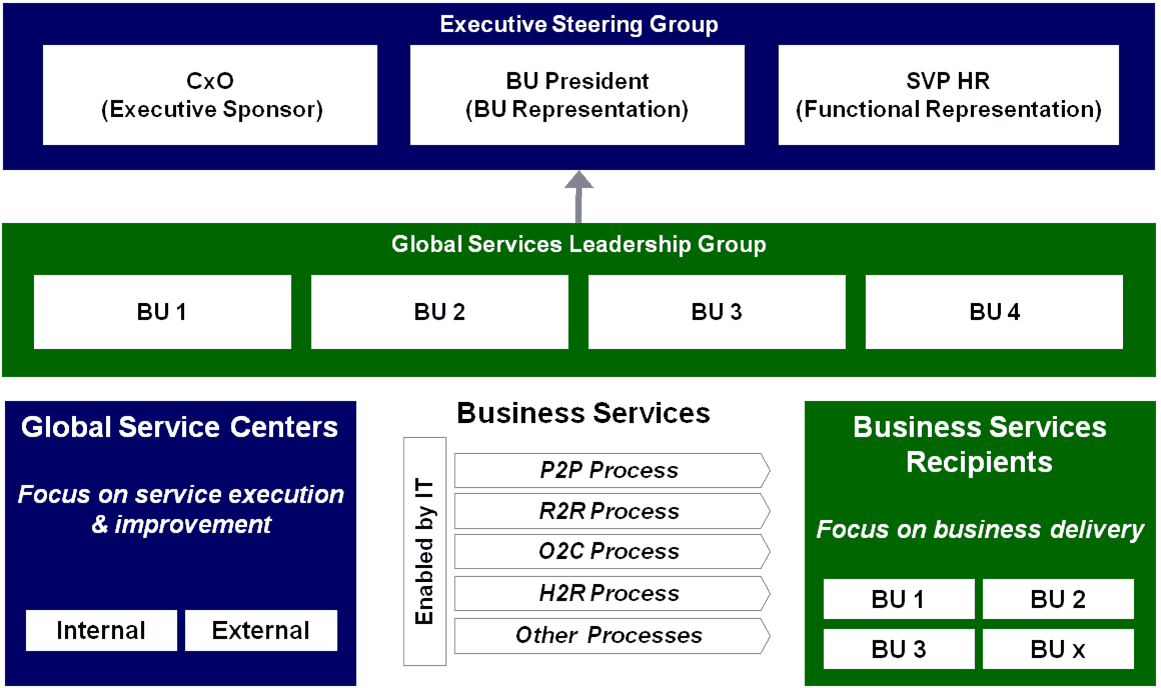 Organizations seeking to build a robust team to deliver their services globally into the next generation should consider the following best practices as observed by Everest Group in working with many of the world's leading organizations:
Global governance structures should be aligned with corporate strategy and chaired by a senior leader at the appropriate level in the organization
The governance structure should include an Executive Steering Committee and have formal dedicated roles for key global functions
The structure should have responsibility for global strategy, planning, design authority, reporting, delivery, talent development, and innovation
The structure should have global process leaders who are responsible for the design, implementation, and compliance of standardized processes across the enterprise, with appropriate representation and input from all lines of business
Increasingly, business services are maturing from a legacy functional approach (Finance, Procurement, Tax, Human Resources, etc.) to an end-to-end approach (e.g., Purchase-to-Pay, Record-to-Report-to-File, Order-to-Cash, Hire-to-Retire, etc.).  Appropriate transition and transformation teams must be deployed to manage this migration
The structure should also ensure the effective management and integration of all delivery centers
Above all, Everest Group's experience suggests that companies must treat global services management as a vital business unit with appropriate priority given to recruiting and retaining the talent necessary to execute with excellence and deliver the next generation of value from global services.