On November 13, Google announced that it will partner with Citigroup and a credit union at Stanford University to launch a checking account that will be linked to Google Pay.
Citi and the credit union will be taking care of the financial and compliance aspects, while Google will ensure that customers can access their accounts via the Google Pay app. This partnership is similar to others – like Apple's co-branded credit cards with Goldman Sachs, and Uber and BBVA joining hands to launch banking accounts on the Uber app for drivers – wherein big technology companies make inroads into the financial services sector by front-ending the program while the bank manages the finer aspects of regulations and compliance.
This partnership is yet another sign that the future of banking is slowly changing as BigTechs enter into the financial services industry. Indeed, tech firms' ability to consume the APIs that are exposed from the banks' core systems is rendering banking a plug-and-play service. Banks are now providing an as-a-service platform to help third parties integrate with them. The focus is on enhancing the customer experience and bringing in a single view of the customer. This is turning banks into ecosystem enablers, while the technology companies are entering and embedding themselves in this ecosystem.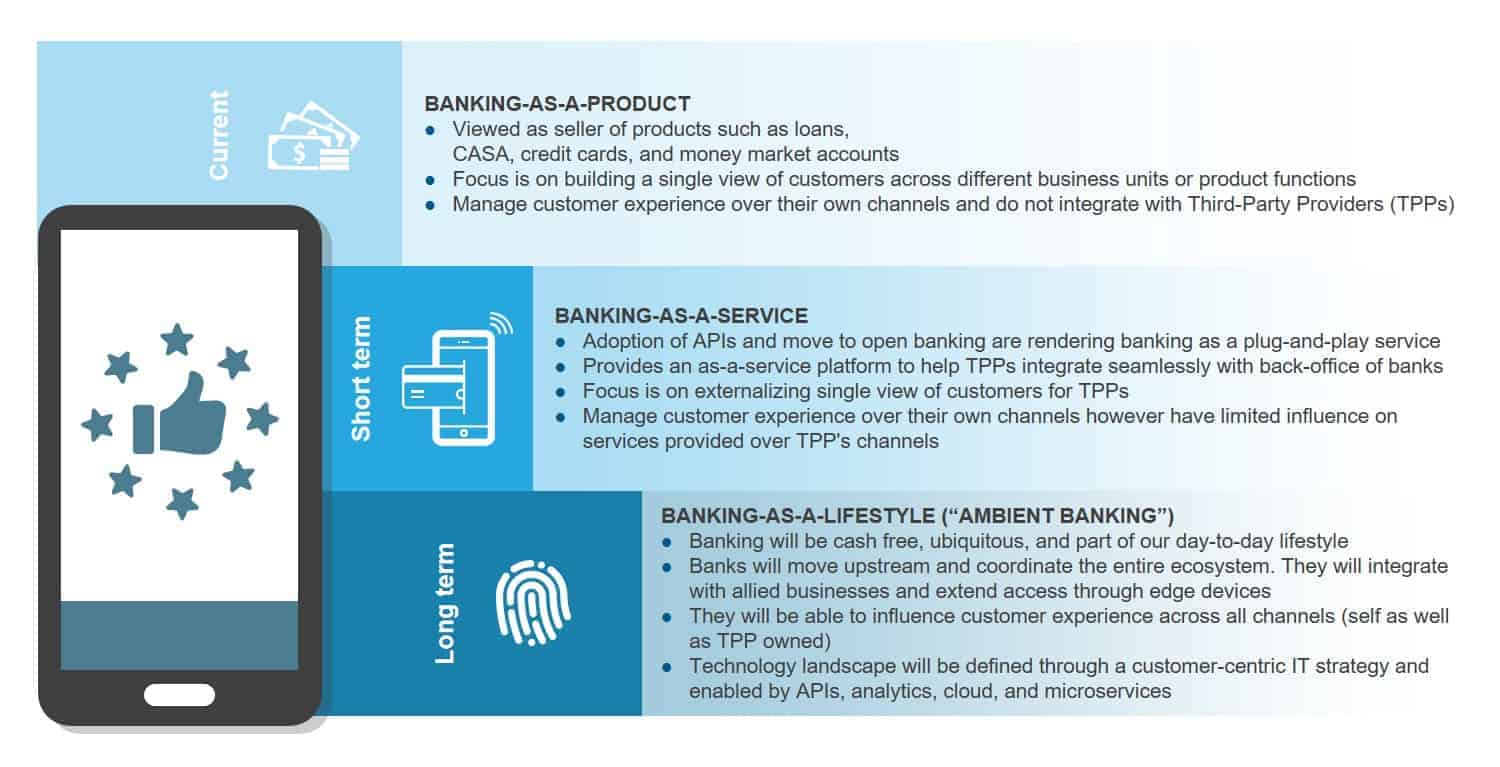 The value of these partnerships for banks: gain/retain their customer base
Even though banks are rich data houses, they struggle with analyzing and gaining insights from data. Because of their demand for digital experiences, customers are increasingly embracing the financial services offered by technology companies. Banks understand the need to partner with these companies to remain in the ecosystem and retain their customers. Indeed, the Stanford credit union defined its recent partnership with Google as "critical to remaining relevant and meeting consumer expectations."
The value of these partnerships for tech firms: access to customers' financial data
By their very nature and design, the BigTechs have built a comprehensive ecosystem that gives them access to data on their customers' behavior, choices, and habits. However, the data on customers' finances still eludes them. As strict regulations and managing compliance prove to be barriers, collaboration is the only way they can get a foot in the door.
What will happen next?
The partnership trend will continue, because both the banks and the tech firms stand to gain so much from them. But the tech firm side of things is a bit troubling. Getting access to the goldmine of banking customers' financial data will make them nearly invincible. They've targeted the front-end of banks' target operating model, where customer-facing applications, and thus customer stickiness, live.
Further, what is stopping technology players from offering other allied banking services like issuing loans and providing interest payments? Even though lawmakers and regulatory bodies would meticulously scrutinize such models, we are fast-moving to a world where alliances between technology firms and banks will become more frequent.
Of course, it remains to be seen how customers adapt to this new way of working. We are already seeing privacy concerns arise over the financial data in such partnerships. This will lead to the emergence of a data exchange platform to control data access and set terms of use.
The next wave of change in the banking ecosystem will be when banks move to an as-a-lifestyle model. In that model, banks will define an IT strategy with customers at the center, and integrate with allied businesses. But to be successful, banks would need to ensure that they are able to influence the customer experience over all channels…theirs and third parties'. With technology players entering the financial services space, the banking IT landscape is already undergoing a shift. To remain relevant, banks will have to move upstream and coordinate the entire ecosystem while getting integrated into everyday transactions.