Over the past several years, Asia has been leading the offshore growth momentum in provision of English-language contact center services. But recently, there has been a steady movement towards nearshore delivery of these services to North America, particularly the United States. Nearshore, in the context of this discussion, primarily refers to Latin American locations that have the advantage of being in the same time zone as North America and share cultural similarities.
Central America and the Caribbean are also gaining importance as part of this burgeoning group. Cities like San Jose, Guatemala City, and San Salvador have established themselves in this market, while locations such as Santo Domingo (Dominican Republic) and Montego Bay (Jamaica) are emerging as strong contenders. What makes this geography unique when compared with the rest of Latin America?
Overview of the nearshore contact center market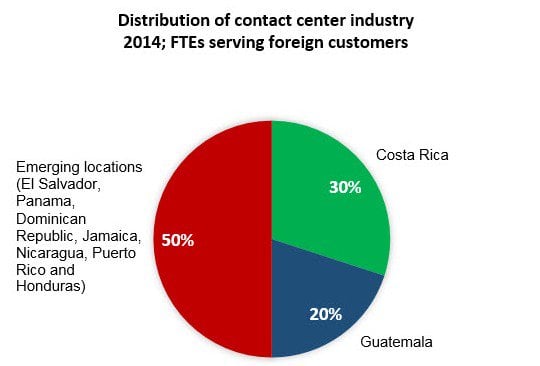 The figure above depicts the nearshore contact center market in terms of FTEs among Central American and Caribbean locations. As is shown, well established Costa Rica and Guatemala comprise 50 percent of the market, while El Salvador, Panama, Dominican Republic, Jamaica, etc., make up the rest of the pie as emerging locations. Consistent with trends observed in other regions of the world, global/regional service providers are the primary adopters of the emerging areas, while buyers' global in-house centers (GICs) continue to be concentrated in established locations like Costa Rica and Guatemala.
And out of the confluence arises talent
The key attractiveness of this geography lies in its talent pool. Most of these locations offer large relevant graduate pools, especially for Spanish language delivery. However, challenges with employability of talent for English language skills affect the scalability potential in the region, especially for emerging locations. To overcome this issue, companies typically augment the graduate pool with part-time university students and high school graduates not pursuing further education.
An interesting trend emerging in these locations is that the service providers have tied-up with investment promotion agencies and other government bodies to set up language training institutes. Other providers have adopted staffing models that enable constant access to the best talent in the country. One example involves co-locating the contact centers within university campuses. Part-time university students are employed as contasct center agents, and are given incentives in the form of subsidized tuition fees. This arrangement also helps reduce attrition, which is a constant challenge in the contact center space.
In addition, many locations are taking proactive steps to increase the visibility of the nearshore contact center industry, and make it an attractive and viable employment option. For many, these jobs create the difference between poverty and prosperity. It is no wonder, then, that the Dominican Republic has been dubbed "The Call Center Republic."
Everest Group has conducted a deep-dive analysis of this region, covering the current nearshore contact center landscape, relevant talent pool, and costs and risks associated with setting up operations. For more details, please see Everest Group's latest report, "Central America and the Caribbean Answer the Call for English-language Contact Center services."