A new week – a new market speculation. My favorite business paper, Business Standard, is hard at work again breaking technology M&A stories. This time the company in play is AppLabs, an independent software and application testing company. Reportedly, French IT services company Capgemini and U.S.-based CSC are looking to buy it.
Interestingly, AppLabs – which claims to be the world's largest independent software testing and quality management company by testing professionals – itself grew through acquisitions. Founded in 2001, AppLabs has grown from a three-person outfit to its current size of ~2,500 employees, and has testing facilities in the United States, United Kingdom and India – its three key markets. AppLabs acquired KeyLabs in 2005 for US$7 million, IS Integration for US$37 million in 2006, and ValueMinds in 2010 for an undisclosed amount. The acquisitions gave it capability, geographic access, and IP and toolsets.
In terms of business mix, AppLabs' is dominated by the hospitality industry.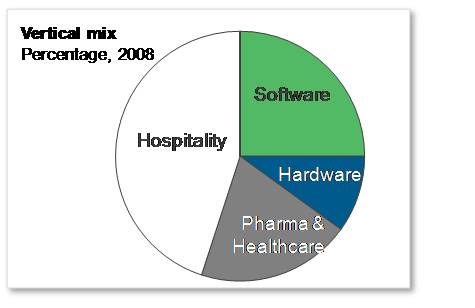 Between 2004 and 2007, Sequoia Capital funnelled US$17 million into AppLabs to fund its growth, including acquisitions. While it is understandable that Sequoia Capital wants to exit its investment and that may have led AppLabs to find a suitor, the question that comes to mind is why Capgemini and CSC are interested at a valuation of 2.4x revenue (this seems very high, and may just be an asking price, and the acquirer may have a very good reason for doing this) for a ~US$110M top line.
Growth at any cost: Why are companies with close to US$30 billion in collective revenues interested in buying a small operation? My preliminary research shows Capgemini has a strong organic testing portfolio. Our hypothesis on testing as a service has been that third-party testing will grow as clients look for independent validation. There is certainly a case for having independent testing services companies with lower cost bases, compared to full services IT companies that employ high cost engineers and scientists. Unless, of course, these companies are buying growth wherever they find it. CSC grew its revenues less than 1 percent in FY11, while Capgemini grew at a relatively healthier ~4 percent in 2010. For both companies it may also be a buy versus build entry strategy into offshore testing.
Portfolio: AppLabs' business portfolio shows a high share of business from hospitality and healthcare, two of the verticals with higher runways and growth potential. Companies will pay to be present in industries in which there is likely to be future growth
Testing as a wedge: One of the ways in which third-party testing services help diversified IT firms is by providing them with a lever to enter an account in which another competitor is strong in core services. This may be relevant for some of the India-heritage offshore majors looking to replace global incumbents in accounts. Which brings me to – where are the Wipro's, Infosys' and TCS' of the world in this AppLabs game? Here is a look at the cash balance on their balance sheets as of June 30, 2011:

1 Includes bank deposits and investments, as reported
2 Includes available for sale investments, as reported
With these kinds of cash balances, might one of the offshore majors want to buy AppLabs, thereby preventing Capgemini or CSC – and perhaps other globals that might potentially jump into the bidding fray – from gaining inorganic entry into the offshore testing market, and instead needing to build it themselves? Food for thought?