As the service provider community knows all too well, differentiation in this extremely competitive landscape is very hard to create, arbitrage-led offshoring is quickly commoditizing, increased market maturity means fewer and more expensive new logos, and buyers are becoming progressively more thoughtful about which and how many (read, fewer) providers they want in their portfolio. All these challenges are forcing providers to hone their Account Development capabilities, which consist of "hunting" (sales) and "farming" (account penetration and growth) to drive market success. Indeed, although one could argue that product/delivery excellence or cost leadership can break through sloppy Account Development performance, we are increasingly observing that it is becoming a key lever to drive success.
Offshore providers' Account Development success varies dramatically, as shown in the chart below.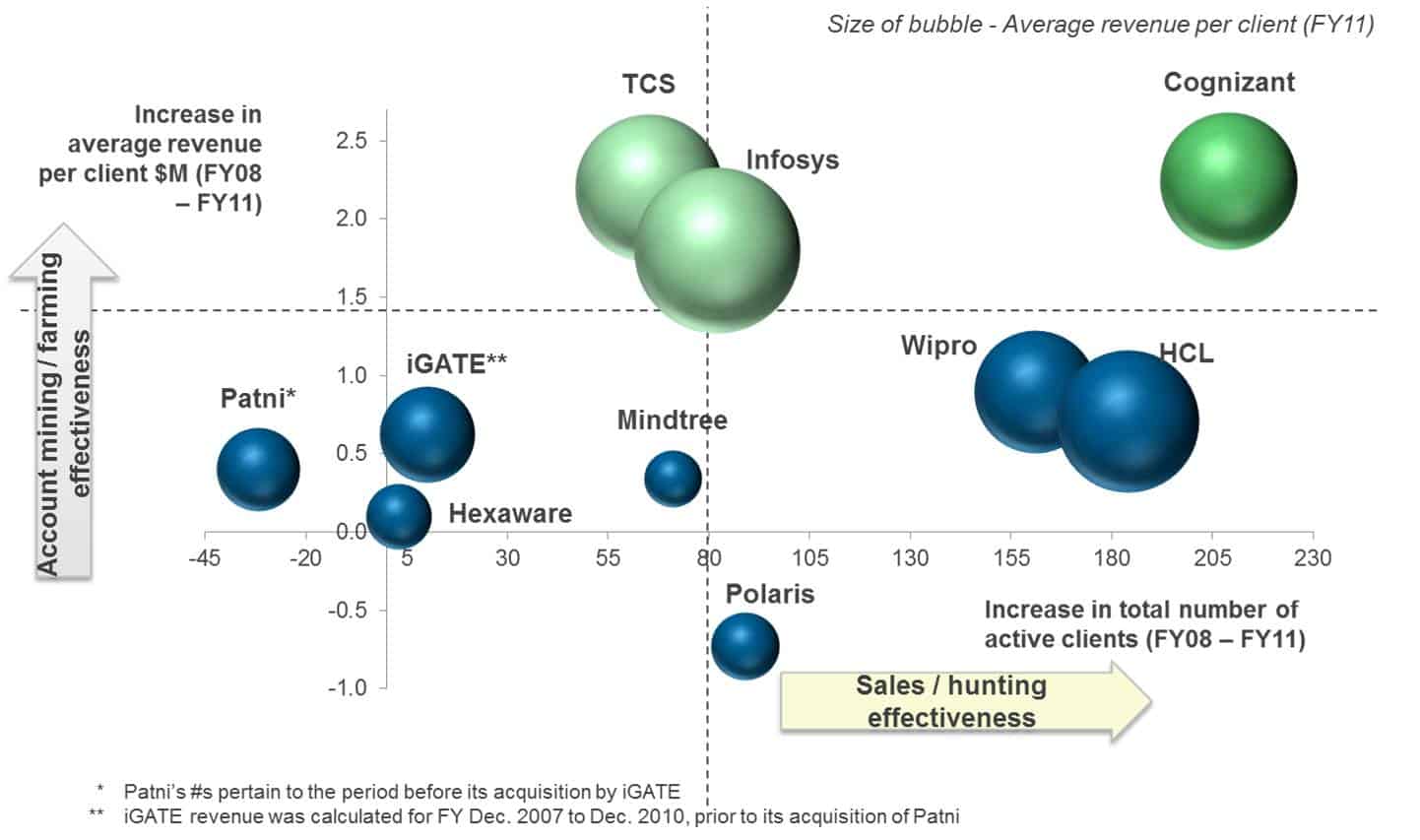 Cognizant appears to be doing a stellar job at both hunting and farming, as reflected in its strong growth performance over the last several years, which has enabled it to rapidly close in the ranks with the majors and firmly establish itself at the number three spot on the offshore leader board.
Of the other providers in the Tier 1 category, TCS and Infosys seem to be pushing the farming lever well, and their overall growth and margin performance has been better than HCL's and Wipro's. In the Tier 2 space, it appears that iGATE and Mindtree did well in growing their accounts (of course, their average account sizes are much smaller than those of the Tier 1s) but Hexaware and Polaris are laggards.
What accounts for this wide variation in outcomes, even though there are not wide differences in their business models or the market segments in which they operate?
To gain insights, we spoke with clients of and insiders at each of these provider companies. Issues around Account Development effectiveness were voiced in a range of ways, including:
"Client facing staff is not empowered enough to respond appropriately"
"Client facing teams do not pre-empt the client's concerns and are not proactive"
"The service provider is not able to offer an integrated face to the client"
"The service provider's client facing staff does not look beyond immediate delivery"
All other things being equal, these concerns can seriously mar a service provider's prospects, and are a manifestation of deeper organizational level issues that are easy to overlook. The varying performance could stem from: (a) improper structure of and investments in account development capabilities; (b) lack of capabilities within the team to effectively engage with clients; (c) misaligned incentives and culture to drive a different behavior; and (d) ineffective or absent processes core to drive the right outcome.
It does appear that Cognizant has been addressing some of the issues better than others. This is partly reflected in its investments in client facing activities and teams (read, higher SG&A).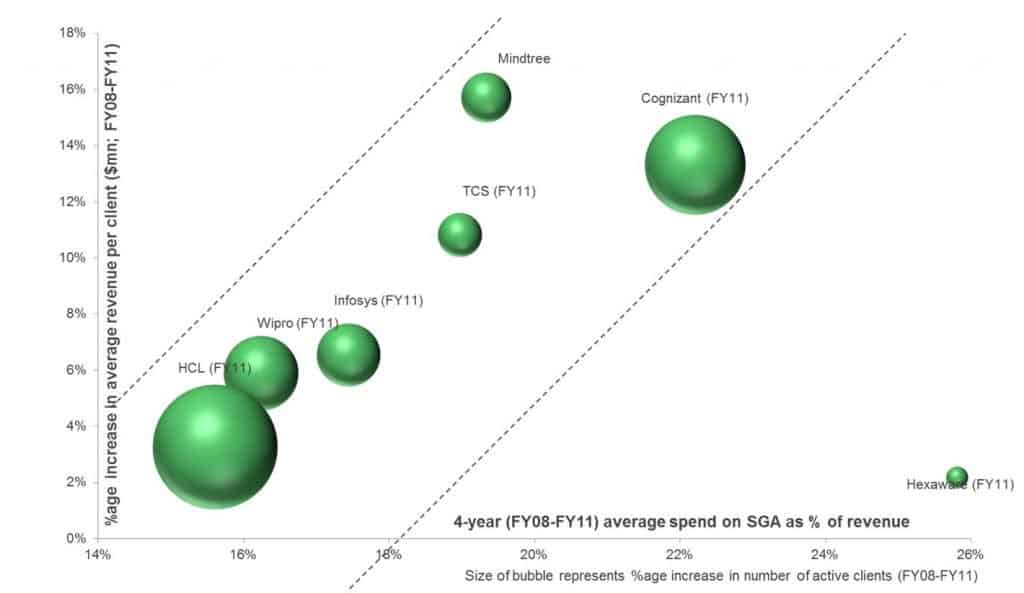 Is Cognizant's heavy hybrid hunting/farming model the only one that really works, or are there alternative models? As the next generation of global sourcing develops, will the same model hold true and good? For Tier 2s, is this model (that appears expensive) effective to deal with smaller relationships?
We believe Account Development will continue to be one of the key issues providers need to deal with in the increasingly mature offshoring market, and it is likely the answers will vary based on individual companies' ability to align their organizational culture and approach to relationship building.