With the Veeva-Salesforce marriage splitting in 2025, can the two long-time partners remain business friends? Read on to learn what the end of this life-sciences CRM partnership will mean for each of the companies, enterprises, and customers.
The fairy-tale beginning!
Veeva and Salesforce are the front runners in the life sciences-focused customer relationship management (CRM) and commercial technology landscape, with their exclusive focus on Pharmaceutical and MedTech domains, respectively (with a solid non-compete agreement in place). Veeva originated as a spinoff from Salesforce with the potential to disrupt the pharmaceutical CRM space with cloud software. As such, Veeva CRM was built on the Salesforce platform, and Salesforce has been foundational to the building of Veeva ever since. Very soon after its formation, the newly forged Veeva team started developing life sciences-focused applications, spanning the life sciences value chain areas, on a new platform, Veeva Vault. This platform has an applications suite well-spread across the life sciences value chain areas. To date, most Veeva applications related to clinical operations, quality, regulatory, safety, etc., are hosted on Veeva Vault, while Veeva CRM (including solutions for customer experience management, multichannel engagements, and real-time insights) is hosted on Salesforce.
Mid-relationship crisis!
Too many risks added cracks to the Veeva and Salesforce partnership. Veeva, with its dependence on third-party IT infrastructure (Salesforce and AWS) for Veeva CRM, has always been wary of the risks associated with the partnership structure. Some of the highlighted risks include: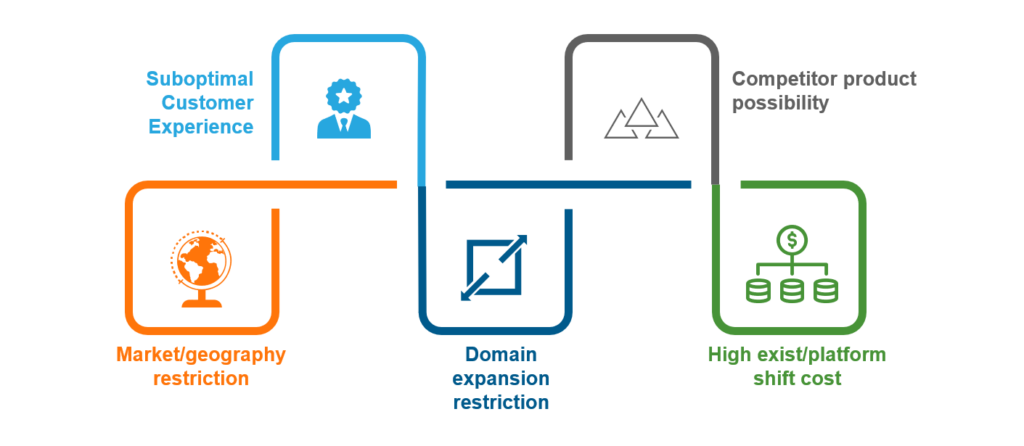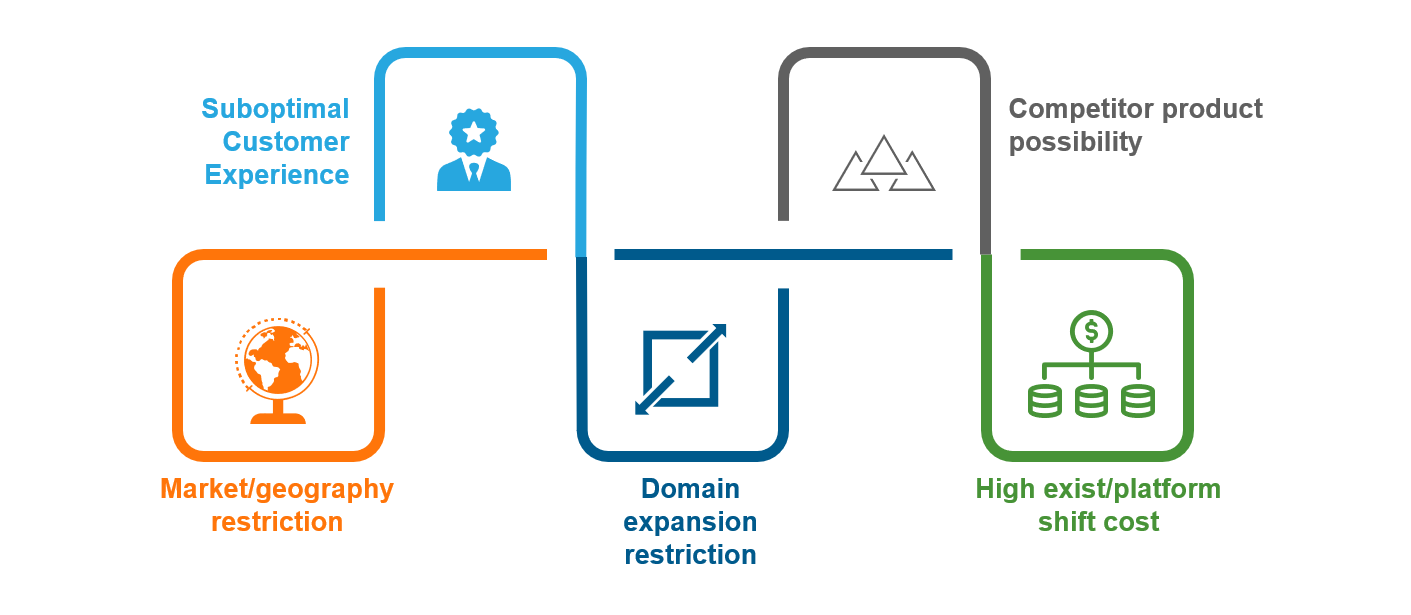 Suboptimal customer experience: Salesforce (and even AWS) have faced significant service outages in the past, and Veeva knows the repercussions this can have on overall customer experience
Market/geography restriction: Veeva is highly dependent on Salesforce in terms of markets where it can sell its CRM. In addition to this geo-restriction, Veeva also will be left stranded if Salesforce exited any existing markets
Domain expansion restriction: Veeva is legally restricted from expanding into the MedTech CRM domain (where Salesforce is the market leader). This puts a potential roadblock in Veeva's future expansion strategy (and a possible limiting factor to achieving its goal of US$3 billion in revenue by 2025)
Competitor product possibility: While the same agreement also limits Salesforce from selling its products in the pharmaceutical domain, it does not restrict Salesforce's customer's ability (or the ability of Salesforce on behalf of its specific customer) to customize or configure the Salesforce Platform to suit their pharmaceutical commercial operations. As such, Veeva's current or potential customers can prioritize building custom applications over buying Veeva's products
High exit/platform shift cost: The cost of shifting the Veeva CRM to an alternate platform is exorbitant. In extreme scenarios, if Salesforce decides to annul the agreement on short notice, it will disrupt Veeva CRM and will massively affect all Veeva customers, leading to an indelible mark on the Veeva brand
The divorce!
In its Q3 earnings call for 2022, Veeva announced that it will not renew its Salesforce partnership when it expires in September 2025. As such, it will be moving the Veeva CRM to the Veeva Vault platform. With the agreement's five-year wind-down period, existing customers can continue with Veeva CRM on the Salesforce platform through September 2030.
Implications for Veeva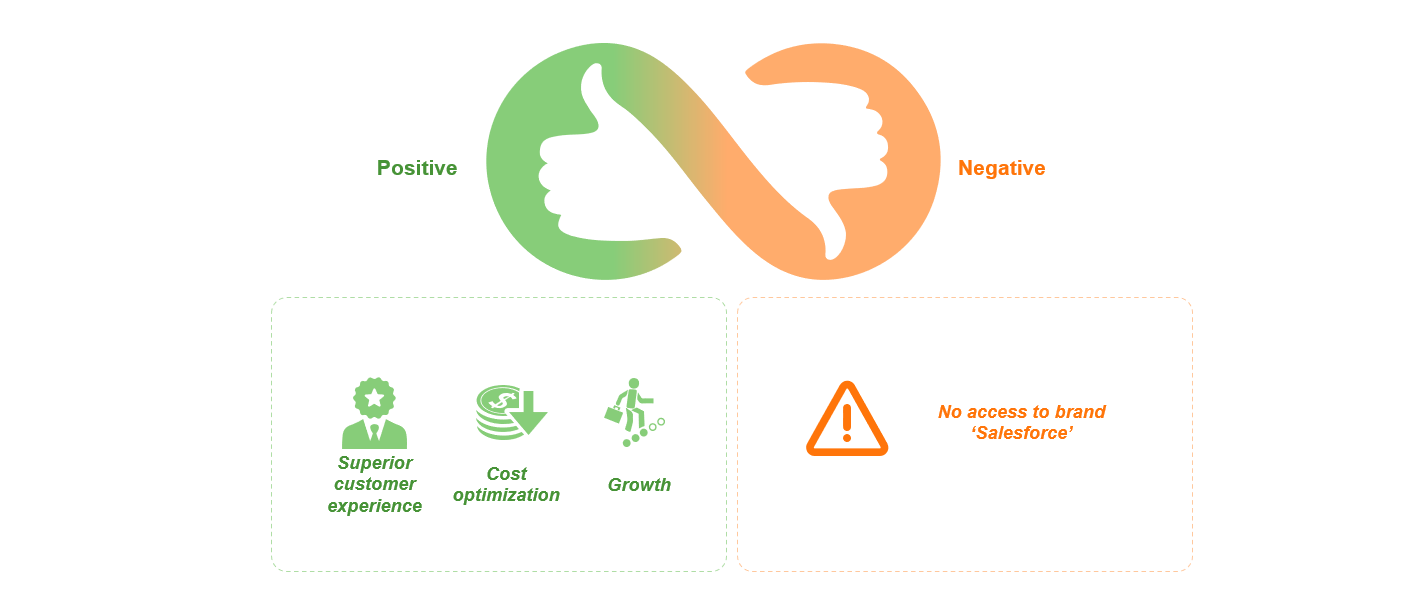 Superior customer experience: Veeva will be able to offer a better end-to-end experience to its customers with all the solutions and applications (ranging from the clinical and R&D areas to sales and marketing) hosted on a common Veeva Vault Platform. This also will let Veeva provide first-hand and more personalized service (hence, better SLAs) to its customers by leveraging a strong service partner ecosystem that includes partners across avenues (geographies, therapy areas, functions, etc.)
Cost optimization: While Veeva stakeholders cite better customer experience as a key reason to move from the Salesforce platform to its own, a cost-related underbelly exists in this relationship – known as the "cost of subscription service." This is the cost that Veeva has to pay to host its applications (including Veeva CRM) on third-party infrastructure (such as Salesforce and AWS). In 2022, this cost was equal to 12% of the total annual revenue. Moving Veeva CRM to Veeva Vault will let Veeva optimize this spend from its profit realization equation
Growth: Veeva has outlined a very optimistic US$ 3 billion goal for 2025 (meaning a healthy growth rate of approximately 35% from 2022 to 2025). While its pharmaceutical-focused CRM business is expected to grow, with the Veeva-Salesforce relationship coming to an end, we can expect Veeva to foray into a MedTech-focused CRM as well. MedTech, although a much smaller part of the overall life sciences CRM pie, is touted to grow much faster than other domains. This can be a potential growth engine for Veeva to achieve its goals
No access to Salesforce: Post 2025, Veeva will no longer be able to access Salesforce's range of accelerators, tools, and partners. On the flip side, this is a potential opportunity for Veeva to beef up its capabilities in these areas. Additionally, with Salesforce out of the picture, Veeva will need to withstand enterprise expectations around scalability, value proposition, and change management
Implications for Salesforce
Loss of revenue: Salesforce will lose the annual subscription service revenue stream coming from Veeva. However, since this amounts to less than 1% of total Salesforce revenue, we do not expect it to create a major dent in Salesforce's annual revenues
Opportunity to strengthen its life sciences product portfolio: Similar to Veeva's opportunity to expand into the MedTech space (where Salesforce is the market leader), Salesforce will have the freedom to expand into the pharmaceutical CRM space (where Veeva is the market leader). This is a bigger opportunity of the two, given the larger size of the pharmaceutical CRM market
How should enterprises plan for the split?
Enterprises should start planning their next steps as the two companies go their separate ways. While customers may be concerned about the company's move from Salesforce to Vault for the CRM offering, an extended period will be available to transition. By mapping out transition journeys today, enterprises will have a better chance for a seamless shift.
Enterprises also can now expect products from both Veeva and Salesforce in the MedTech and pharmaceutical spaces, so life sciences customers can plan out which product they want to run with. As the companies sever ties, however, enterprises will want to be more aware of rising pricing and licensing fees, making it plausible to look elsewhere if the price point and product are no longer a fit.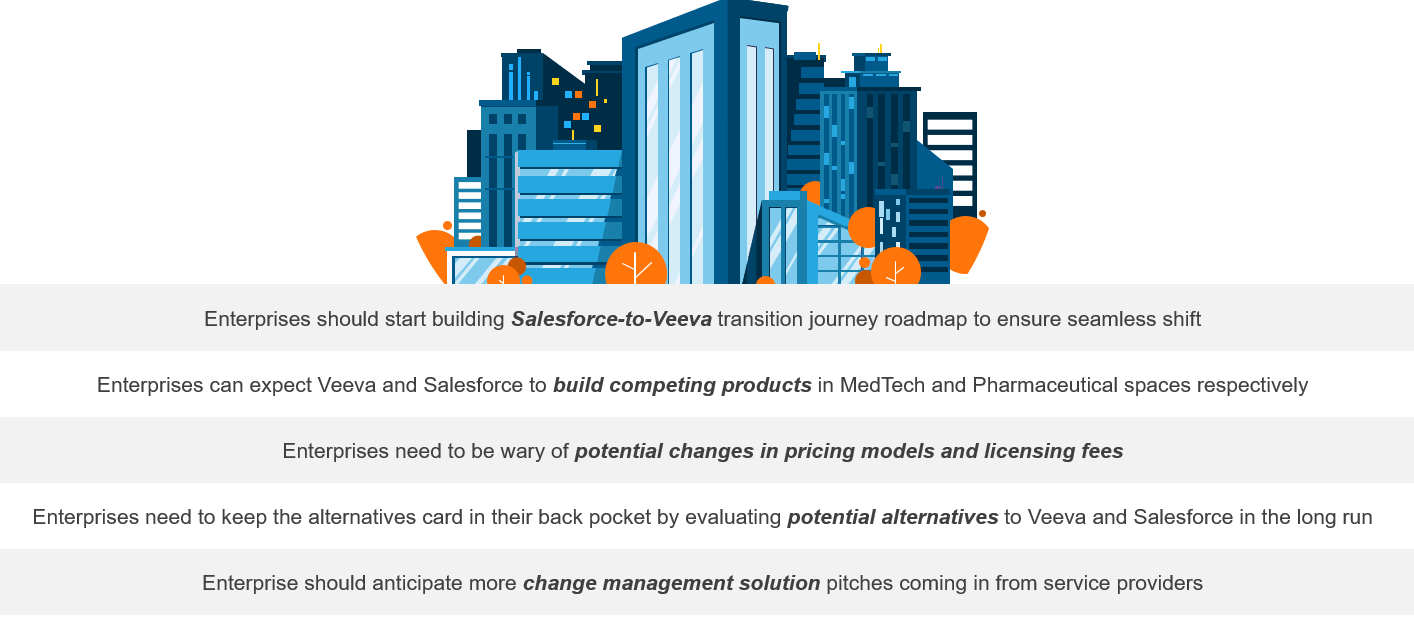 1 Pharmaceutical includes pharmaceutical and biotechnology industries for human and animal treatments.
If you have questions about current CRM trends or would like to discuss developments in this space, reach out to [email protected] or [email protected].
Discover more about the current CRM landscape and explore customer experience strategies for life sciences enterprises in our webinar, How to Deliver Hyper-personalized Customer Experiences in Life Sciences.