With so many industry cloud platforms available from different technology players, selecting the right solution for your enterprise is not simple. Learn the important characteristics to look for from providers in this latest blog in our industry cloud series.
As cloud technology matures, industry-specific solutions are emerging as a leading preference over generic options to deliver efficiency, experience, innovation, and business-enabled growth. According to Everest Group's latest survey, a staggering 87% of enterprises rate industry cloud as one of their top three investment priorities.
The supply landscape is heating up with technology providers leading with an industry cloud-focused go-to-market narrative, investing in multiple offerings for target verticals, initiating industry cloud-dedicated partner launch programs, and announcing large enterprise engagements.
Many technology providers operating in different spaces are approaching this market in their own ways. In our last two blogs on this topic, Demystifying Industry Cloud and The Battle for Supremacy in Industry-specific Cloud Has Begun, we discussed the evolving industry cloud solution provider landscape and go-to-market strategies adopted by key ecosystem players.
Read on for a deep dive into suppliers' industry cloud offerings and our recommendations to equip enterprises to select the best-suited industry cloud solution for them.
The industry cloud solution marketplace is proliferating
The following three broad categories of industry-specific cloud solutions are emerging in the market:
Cloud infrastructure providers such as Microsoft Cloud for Manufacturing, AWS for Health, and Google Cloud for Telecommunications focus on providing an industrialized set of cloud solutions and services tailor-made for specific industries. Industry-specific configurations, interfaces, use cases, and blueprints are embedded into existing functionalities and bundled with partner solutions
Enterprise platform providers such as Salesforce Financial Services Cloud, SAP Digital Manufacturing Cloud, and Oracle Retail Cloud embed industry-specific processes, solutions, and frameworks into their horizontal applications and functions to enable industry specificity
Business solution providers such as Veeva Systems Life Sciences Cloud, Temenos Banking Cloud, and Guidewire Cloud for Insurance deliver true and heavily nuanced vertical solutions by providing niche industry-specific functionalities covering the breadth and depth of the value chain, targeting industry pain points
Though the objectives appear similar, technology providers take different routes for portfolio development based on their heritage and core strengths and provide varying degrees of industry specificity, adaptability, and improvisation.
For instance, cloud infrastructure providers offer flexible and ecosystem-driven industry cloud, while business solution providers have a more exhaustive use case coverage.
How to select the right industry cloud for your firm?
Enterprises need to make informed decisions when selecting providers of choice and carefully consider their business objectives, existing technology landscape, level of industry-specificity and enterprise-contextualization required, and preferred consumption model (off-the-shelf solution versus customized offerings).
Below, we detail the key characteristics of each solution type to assist enterprises in selection.
Industry cloud solutions by cloud infrastructure providers
Cloud infrastructure players provide a basic level of industry-specific functionalities and configurations powered by advanced cloud computing and next-generation technology capabilities in data analytics, Artificial Intelligence and Machine Learning (AI/ML), and the Internet of Things (IoT).
These most benefit existing consumers of cloud infrastructure providers' technology stack that intend to digitize their platforms and services by co-creating or co-developing solutions with ecosystem players, instead of preferring directly consumable end-to-end industry cloud offerings.
Level of industry-specificity: Low-medium
Degree of customization: High
Industry cloud solutions by enterprise platform providers
Enterprise consumers of Customer Relationship Management (CRM), Enterprise Resource Planning (ERP), and other horizontal applications focused on achieving unified customer relationships, and employee experience can leverage industry cloud solutions by these providers.
Enterprise platform providers provide out-of-the-box industry solution workflows, built on core horizontal enterprise platform functionalities consisting of purpose-built functionalities, pre-built data models, and automation and AI/ML capabilities for particular industries.
Their focus is on digitizing vertical systems across the front, middle, and back offices, powered by customer data-related insights and integration between the sales and operations teams. These offerings have a limited level of customization and are usually available as different editions of off-the-shelf offerings.
Level of industry-specificity: Medium
Degree of customization: Medium
Industry cloud solutions by business solution providers
Enterprises requiring extensive value chain coverage and high-grade industry-specific cloud solutions that are looking to digitize their industry platforms can consider offerings by business solution providers.
These solutions are delivered in a pre-packaged and composable format. Enterprises can consume these solutions and services in a modular form and augment functionalities by developing vertical-specific solutions and services on top of these platforms.
Level of industry-specificity: High
Degree of customization: Low
Interdependence of technology providers and the role of System Integrators (SIs)
These providers cannot independently provide end-to-end expertise across all layers of an industry cloud stack – infrastructure and platform layer, application layer, differentiation layer, and customization layer.
While these players bring their own strengths to the table, they rely on each other to fill in the missing pieces.
Both cloud infrastructure players and enterprise platform providers depend on business solution providers for domain expertise and vertical-specific contextualization. Meanwhile, enterprise platform and business solution providers rely on cloud infrastructure providers for underlying compute and next-generation technology capabilities.
In this ecosystem-led play, SIs play the key role of ecosystem enablers. For an effective industry cloud implementation, enterprises should engage with SIs for enterprise contextualization, industry knowledge, implementation capabilities, and system integration expertise.
Industry cloud offerings in banking and financial services
To illustrate, we compare different industry cloud solutions in the banking and financial services space by these provider categories below: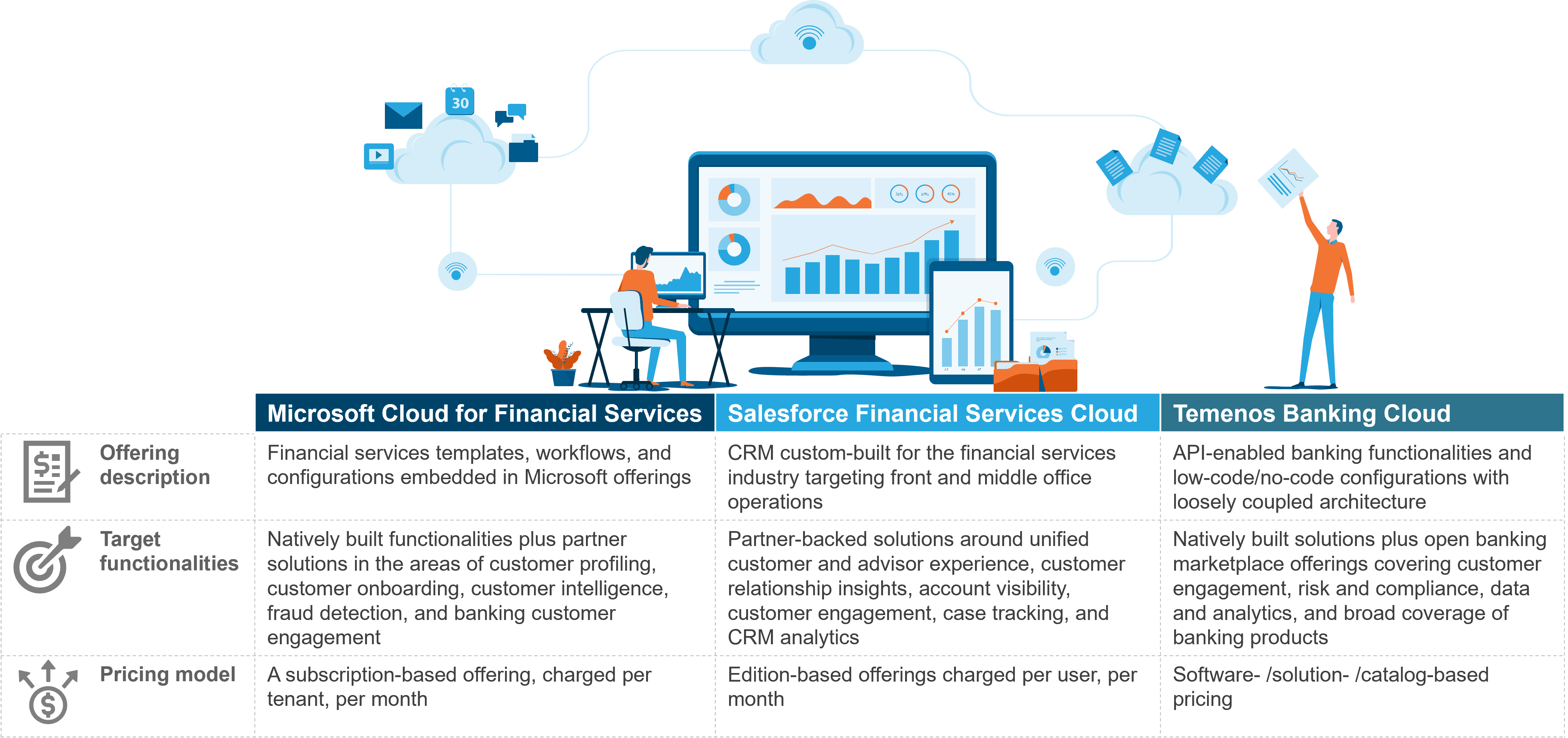 The industry cloud outlook
Though this space is witnessing heightened investments and significant interest among enterprises, the market is still primitive, and the road to success is not straightforward.
To ensure optimum value from industry cloud adoption, enterprises need to clearly define their industry-specific cloud requirements, identify target use cases, choose the appropriate sourcing strategy, analyze available solutions, align the partner ecosystem, factor in technology-related dependencies, and consider industry-specific compliance regulations.
To share your thoughts and discuss industry cloud, contact [email protected] and [email protected].
Also, learn how enterprises can measure the value of cloud and how to unlock its full potential to maximize efficiency in our webinar, How to Unlock the Full Value of Cloud.