In February 2021, Microsoft CEO Satya Nadella proudly announced the addition of three new offerings to the company's growing portfolio of industry cloud solutions: Microsoft Cloud for Financial Services, Microsoft Cloud for Manufacturing, and Microsoft Cloud for Non-profit. In December 2020, AWS introduced Amazon HealthLake, a HIPAA-eligible service for healthcare and life sciences organizations; this service will compete head-to-head against Google Cloud's and Microsoft Azure's AI-powered solutions for the healthcare and life sciences markets. And all of these companies have other industry-specific cloud solutions. It has become quite clear that savage competition is budding in this fast-emerging cloud segment. Indeed, industry-specific cloud has become the epicenter of new investments as all major cloud vendors have declared "industry-first" focuses.
In a recent blog, we explained the basics of what constitutes a true industry cloud solution. Now, let's take a look at the different types of industry cloud solution providers and their go-to-market strategies.
The current industry cloud solutions marketplace broadly has four kinds of players:
Hyperscalers or the traditional IaaS and PaaS players such as AWS, Azure, GCP, and Oracle doubling down on their vertical strategy
Traditional industry-agnostic SaaS players such as Salesforce and SAP entering the vertical cloud market
Cloud-native vertical SaaS players and micro-SaaS players such as Veeva Systems, which are developing niche functionalities targeting industries' specific pain points with heavily nuanced solutions
Service providers developing their own vertical solutions, such as Accenture's INITIENT, which caters to the R&D needs of the life sciences industry
Exhibit 1: The converging landscape of industry cloud solution providers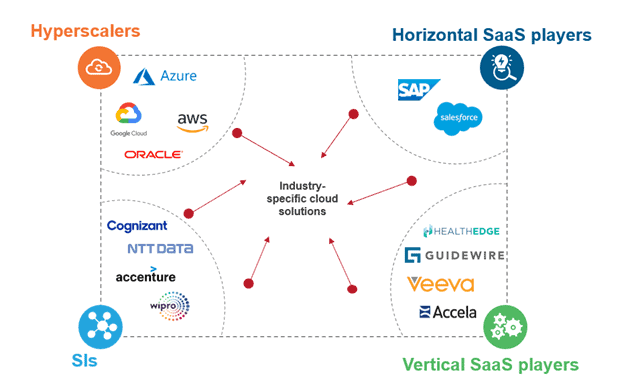 How are these players equipping themselves for the intensifying war?
While all of these types of cloud solution providers have chosen verticalization as their preferred differentiation strategy, each of them is approaching it differently:
The hyperscalers and horizontal SaaS players have largely relied on acquisitions and a growing network of niche channel partners – For example, Salesforce's acquisition of Vlocity is one of the largest industry cloud takeovers to date. GCP's acquisition of Looker sheds light on its broader strategy of building differentiating competencies in data management, analytics, and AI as an anchor to enter industries like life sciences with disruptive data solutions like Genome data models
The vertical-specific players have adopted an IP-led approach complemented by co-innovation partnerships with enterprises – They've focused on utilizing their industry expertise to innovate and evolve their portfolio of IP. And they often collaborate with enterprises to co-develop solutions, which allows them to stay close to the industry and better understand its pain points
Service providers are carefully aligning their strategy to find a midway, balancing their portfolio of IP-led solutions while partnering with the hyperscalers, horizontal SaaS players, and the vertical-specific providers to add customization on top of their solutions. For instance, we see Accenture playing the role of crucial strategic partner to SAP industry cloud platform while also investing in developing its vertical-specific offerings such as INITIENT for the healthcare and life sciences industry.
While service providers currently enjoy an excellent relationship with the hyperscalers and vertical SaaS providers as strategic partners in the cloud, their shared desire to lead the emerging market for industry-specific solutions could cast them as competitors in the near future
Key trends to watch out for as the battle gets fiercer
The IaaS and PaaS players will aggressively compete for market share in a traditionally SaaS-dominated industry cloud market. The industry cloud market is currently dominated by SaaS players, but the hyperscalers are increasingly building enterprise SaaS offerings and investing in their partnership ecosystems. AWS is still catching up in the race, but other leaders like Oracle, Salesforce, and SAP have jumped onto the industry cloud bandwagon with both feet
Vertical-specific partnerships, alliances, and acquisitions will quickly emerge as the horizontal players race to build vertical expertise and grab market share
Industry-specialist product vendors are strengthening their position by evolving their offerings from on-premise to SaaS and PaaS solutions. Pure-play technology vendors with deep industry expertise, which have traditionally built industry-specific solutions on-premises, are now collaborating with enterprises and hyperscalers to develop and offer SaaS and even PaaS solutions. For instance, healthcare product vendors such as EPIC and Cerner, which have dominated the on-premise Electronic Health Records (EHR) market, are carving out multi-year strategic partnerships with the hyperscalers – Azure in EPIC's case, and AWS in Cerner's case – to build new-age cloud-based suites of solutions powered by AI and analytics
As the competition intensifies, we will see an increasing number of vertical-specific players trying to diversify their presence across multiple industries to maintain their growth and tackle crowding in the vertical cloud market. For example, Veeva has already begun expanding its Vault offering to the animal health and consumer goods industries
Industry-specific solutions will evolve and improve at a swift rate as tens of thousands of businesses across every industry begin to rely on them as the strategic digital link to their customers. An increasing number of enterprise CEOs are prioritizing end-to-end digital businesses, data-driven operations, and customer-centric growth.
In our next blog, we will analyze the vertical cloud trend from an enterprise point of view, discussing the key implications for enterprises and how they can source industry cloud solutions that best suit their needs. Meanwhile, please feel free to reach out to [email protected] or [email protected] to share any questions and your experiences.