Balancing experience with data and trust is essential to delivering engaging personalized experiences for customers and driving business success. Developing a robust and scalable automated process for data-driven personalization is critical for enterprises to win in the evolving personalization and interactive experience segment. Read on to learn more.  
Customer experiences have become increasingly prevalent with the democratization of the internet, coupled with significant technological and data processing advancements over the past few years. Enterprises are now realizing the value of prioritizing the people side of business. Creating positive personalized experiences for customers can foster loyalty, increase customer satisfaction, and drive repeat business. On the other hand, negative experiences can damage a reputation and reduce customer loyalty. Let's explore the importance of personalization.
Personalization – then, now, forever
Personalization is not a new concept. It has existed for decades. Enterprises must capture users' attention and stand out to thrive. According to Everest Group estimates, more than 70% of consumers interact with a personalized promotional message.
Personalization, more commonly known as "persona-based personalization," mostly involves grouping users into segments or personas based on common characteristics or behaviors. This approach can be effective in delivering relevant content or offers to a large group of users with similar interests or needs, based on demographics, purchase history, or browsing behavior.
Today, technological advancements have changed the landscape. Categorizing consumers is difficult because they don't have just one interest area. The plethora of information available online has shifted the power to consumers who determine their preferences, disrupting brands that are no longer in charge.
As a result, brands now are also adopting "person-based personalization," a form of personalization that considers the individual's unique needs and habits instead of categorizing the user into specific buckets. Personality-based personalization is a 1:1 approach, where enterprises focus just on the customer as an individual. Everything revolves around the individual as a person, ranging from interactive experiences to advanced personalized marketing strategies. While persona-based personalization involves a large sample size, person-based personalization involves a sample size of just the individual.
Because person-based personalization has the potential to deliver high returns on investment (ROI) to enterprises, deploying an industrialized process for real-time person-based personalization is essential.
While most brands have invested in personalization, some remain reluctant to fully embrace real-time data-driven personalization at scale, which involves personalizing every touchpoint in the customer's journey based on real-time context. This method requires a unique interplay of data, intelligence, and omnichannel strategies. Developing an industrialized process for delivering individual personalization beyond the required data analysis is essential for enterprises.
Data-driven personalization at scale is the need of the hour
Data is the most critical requirement for delivering effective personalization. Personalization is driven by insights into individual preferences, behaviors, and needs that only can be obtained by collecting and analyzing data. Data collection needs to be well-thought-out. Enterprises require large volumes of data collected from multiple sources, and this data needs to be of good quality, accurate, and relevant because poor-quality data can lead to incorrect insights. Collecting diverse and up-to-date information is another important aspect.
The scope of data gathering has increased too. In the past, customer data was mainly collected via offline surveys, point-of-sales, and telecommunication, just to name a few. But the increased digitization supplemented with advancements in data and analytics has greatly impacted personalization by also allowing for collecting and analyzing vast amounts of data through digital channels. This has led to more seamless personalized experiences for users and has helped companies build deeper relationships with their customers.
An Everest Group study suggests that 78% of startups in the customer experience (CX) space leverage Artificial Intelligence (AI) to develop more relevant and engaging solutions for customer conversion, engagement, and retention. With the rise of AI, personalization has become even more precise and can consider a wider range of factors such as emotions, mood, and context.
However, significant investments are required if enterprises want to set up in-house industrialized data collection and analysis. This is where data platforms come into the picture. Data platforms can be thought of as purpose-built systems or infrastructures to collect, manage, and process large data amounts. It typically includes technologies and tools for data storage, data processing, data integration, data security, and data governance.
Data Experience Platforms (DXPs) offer a  collection of tools such as Digital Asset Management (DAM), Customer Relationship Management (CRM), Customer Data Platforms (CDP), and personalization tools that can meet the needs of enterprises, as illustrated below.
Exhibit 1. Data collection tools for aiding personalization efforts


How privacy and data guidelines affect user data collection
As discussed, data is essential to personalization. Clearly, the more data enterprises have, the better insights they can gain, and the better experiences they can provide. However, in today's digital environment, user safety and trust are crucial. Consumer awareness is on the rise, with people growing increasingly skeptical about sharing their data. Concerns over how personal data is handled and safeguarded by enterprises are growing.
According to the United Nations Conference on Trade and Development (UNCTAD), 71% of countries today have some legislation around data protection and privacy, while 9% have draft legislation. Stringent data regulations such as the General Data Protection Regulation (GDPR) in the European Union, Nigeria's Data Protection Regulation (NDPR), The California Consumer Privacy Act (CCPA), etc., have provisions to heavily penalize enterprises misusing consumer data.
Adding to this is the increasing push to eliminate third-party cookies. While browsers such as Apple Safari and Mozilla Firefox have already taken the step, market leader Google Chrome also has announced its intention to phase out third-party cookies by 2024, extending its earlier deadline. This has brought into focus the collection of voluntary data from users (Zero-party data) and first-party sources (1P data).
Zero-party data is a valuable information source for enterprises as it provides the best clarity to individual preferences. Developing a trust-based relationship with users and having total transparency about the use cases of zero-party data is essential for enterprises. Establishing a trust-based relationship might lead users to voluntarily provide more insights.
First-party data collection also needs to be transparent and strong security measures should be implemented to protect personal data. Sensitive data must be encrypted, security regularly audited, and effective access control measures adopted. Brands need to consider the needs of empowered users by honoring their "right to forget" and "untraceable" requirements.
As enterprises possess an enormous amount of users' personal data, they also need to take the moral responsibility to protect that data. Customers who provide their data to enterprises understandably want their data to be protected and not misused without their knowledge. According to Everest Group estimates, more than 50% of customers are willing to share their personal data with companies but only with a clear understanding of how it will be used.
Combining automation with data and trust
Winning user trust and gaining access to more voluntarily provided data is no doubt essential to achieving better person-based personalization. But this data needs to be utilized in the best manner by making use of tools (such as personalization engines and marketing automation tools) to set up an industrialized workflow for large-scale 1:1 person-based personalization. Without a robust and scalable automated process for large-scale person-based personalization, enterprises tend to lose.
Exhibit 2. The industrialized workflow for achieving data-driven 1:1 personalization


Greater trust = Greater data = Greater personalized experiences
Personalization starts from a persona-based mechanism and, with an ever-increasing user base, shifts to person-based personalization. User data is the only way to go forward. User data and trust need to go hand in hand. To win customer attention, trust, and loyalty, enterprises need to know how to use the right data at the right time and how to go ahead with individual personalization without breaching the intrusion barrier.
Exhibit 3. Relationship between Trust and Personalization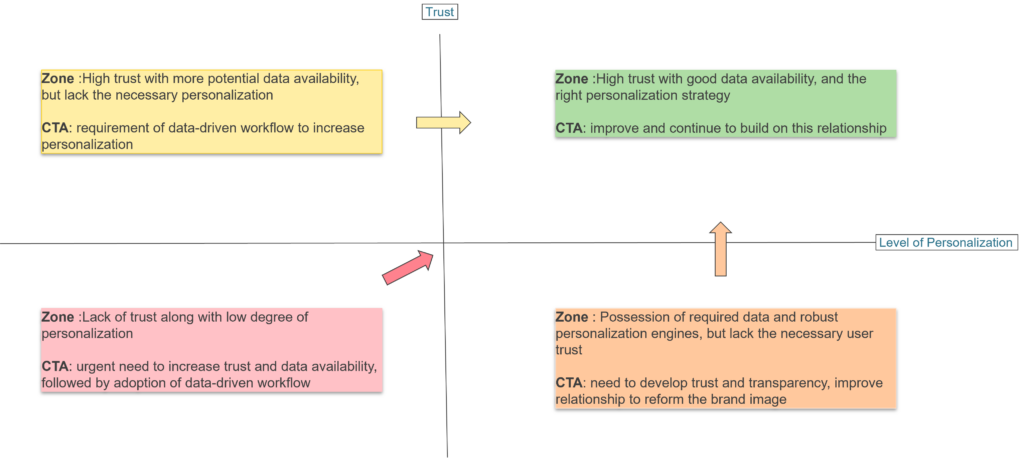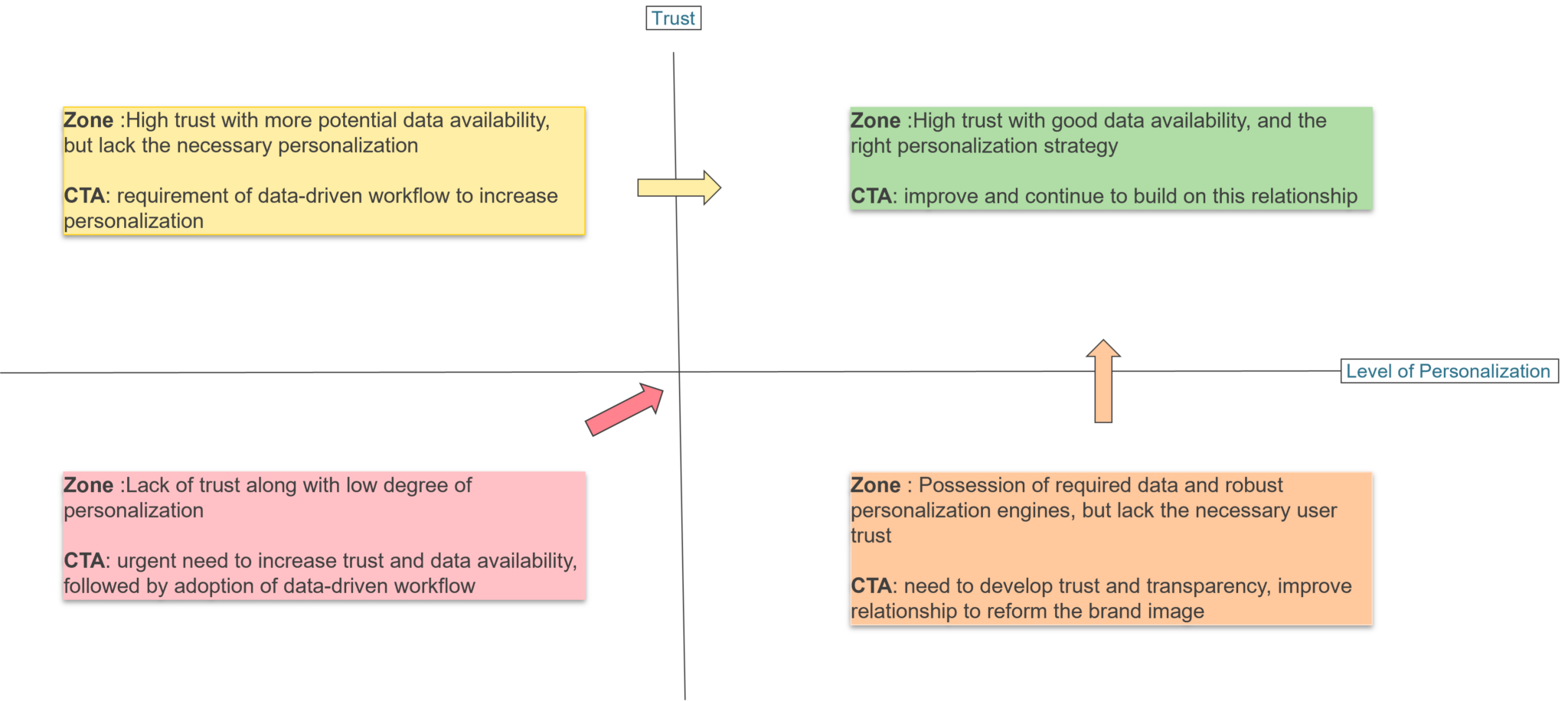 The outlook
Overall, the personalization and interactive experience landscape has become more complex and diverse, requiring brands to constantly adapt and stay up to date on the latest trends and technologies to reach and engage customers. However, even with increasing investments, the ROI might decline due to the heightened competition making it more challenging to stand out and generate returns, technical limitations, and privacy concerns, just to name a few.
Enterprises need to break down their user base into smaller, more targeted segments to achieve 1:1 person-based personalization and tailor products, services, and experiences to each individual user's specific needs and preferences. The smaller the segments, the better enterprises can tailor their personalization efforts and achieve a more effective 1:1 experience.
In addition to the investment level, the strategy and implementation of personalization and experience efforts also needs to be considered. A well-designed and executed strategy can generate returns even with increasing investments. By balancing experience with data and trust, companies can deliver engaging personalized experiences that build strong relationships with users and drive business success.
If you have questions about selecting the right data platform or want to know more about personalization, interactive experiences, or discuss developments in this space, reach out to our analysts at the Adobe Summit, or get in touch with the Everest Group team at [email protected], or [email protected].
To learn about the comprehensive roadmap for enterprises to achieve business outcomes and mitigate challenges in their journey to accomplish truly industrialized 1:1 person-based personalization, see our report Emergence of CDPs: Charting the Path to Data-driven Personalization.
Check out our webinar, Strategies for Customer Experience (CX) Success in an Uncertain World, to learn key trends and hear recommendations on what to prioritize to deliver exceptional CX.