A looming global recession may finally take its toll on payers who have escaped prior economic challenges. Let's take a look at the healthcare trends influencing decision-making by payers, the markets most likely to be affected, and the actions payers can take with the uncertain outlook.
Wall Street predicts that the probability of a global recession in 2023 is 61%, well above the stable benchmarks. Although inflation has eased up marginally since the last quarter, tighter financial conditions and weaker global growth still indicate a potential downturn.
The healthcare industry historically has weathered economic collapses better than core industries that are generally more severely impacted. A Forbes assessment shows that while the US economy (as measured by GDP growth) plunged into recession eight times over a 60-year period from 1960-2020, healthcare expenditure growth never shrunk, often outgrowing gross domestic product (GDP) as illustrated in Exhibit 1.
This stability is primarily because impacted employees either opt for subsidized government programs or forego medical care, as applicable, pushing the healthcare cost to the future. As a result, health plans tend to be relatively less affected due to recessionary headwinds. In fact, reports suggest that earnings for healthcare payers declined only by 27% compared to a 77% decrease for the overall S&P 500.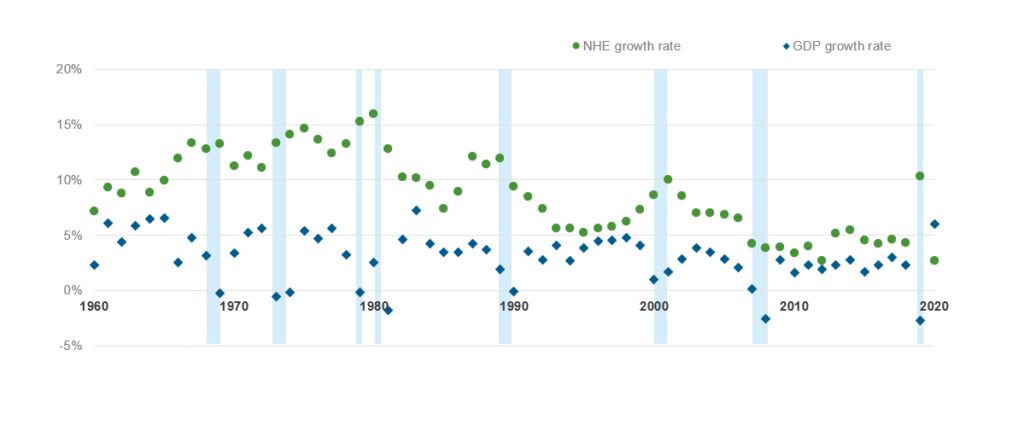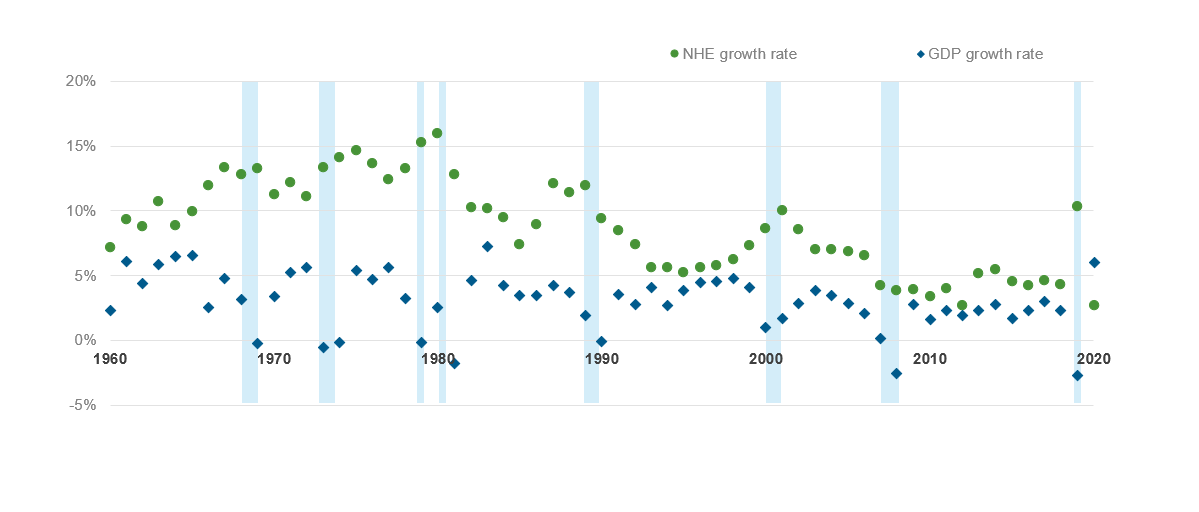 Although many healthcare payers posted strong growth rates at the end of fiscal year 2022 as shown below (Exhibit 2), the results may not be as positive in 2023, particularly for employer-sponsored or provider-owned health plans.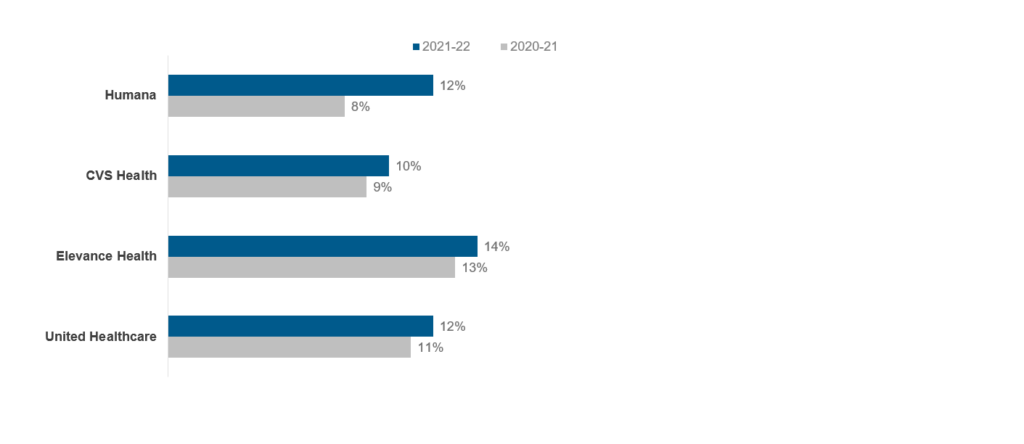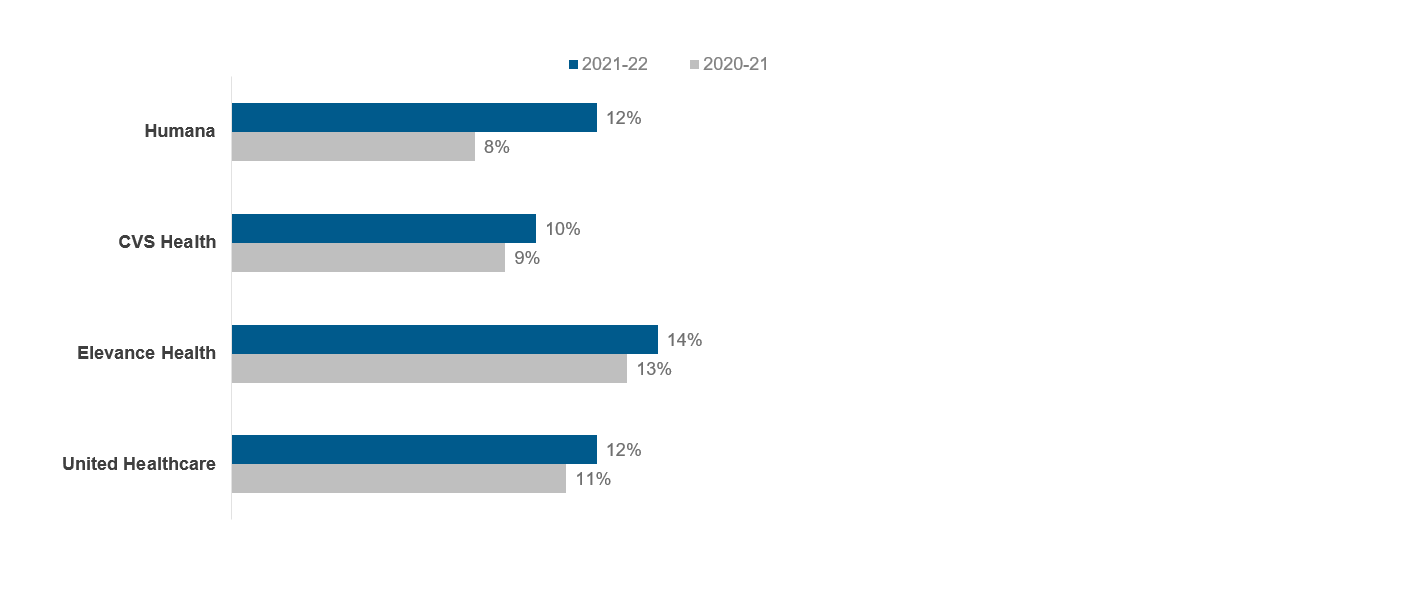 The overall impact on the payers in the fiscal year 2023, however, will be determined by several upcoming trends. Let's look at some of these influencing factors in detail below.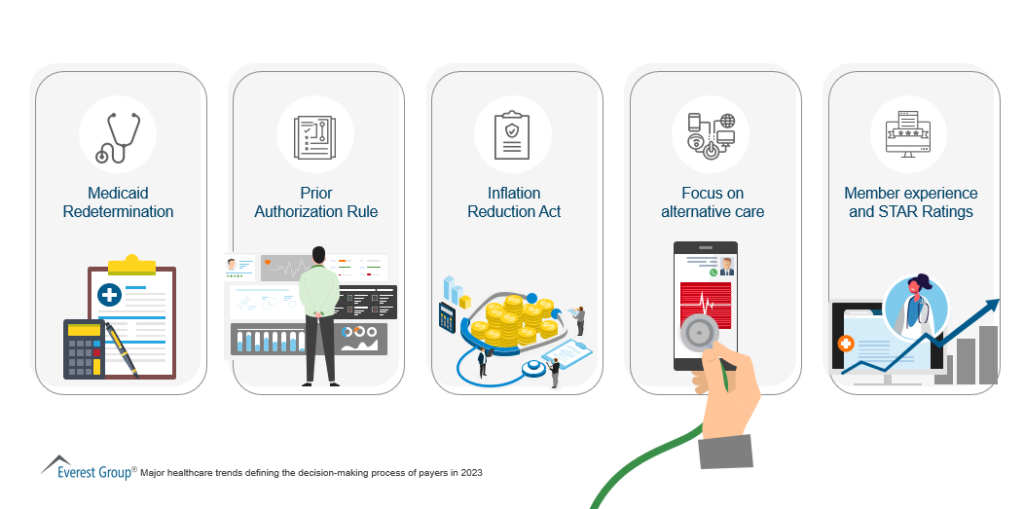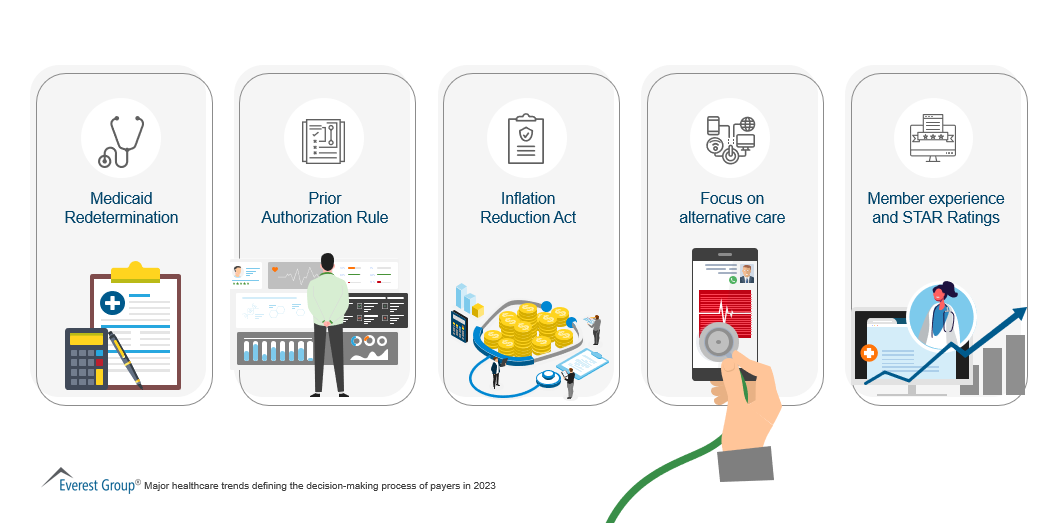 Medicaid redetermination: As states kickstart Medicaid redetermination in April 2023, over 15 million Medicaid members are expected to lose their enrollment after the renewal process. Several payers, such as Centene, expect to lose about 2.2 million members over the next 18 months. On the other hand, payers like Humana and Molina Healthcare project their Medicaid membership to be largely stable due to new Medicaid contracts offsetting redetermination losses
Prior authorization rule: The CMS Interoperability and Prior Authorization rule requires regulated payers (Medicaid, Medicare, CHIP, and QHP) to utilize Application Programming Interfaces (APIs) that give healthcare providers more streamlined access to data. Payers will be required to maintain these APIs using the Fast Healthcare Interoperability Resources (FHIR) standard. This regulation is expected to bring effective workforce utilization, improved data exchange, reduced appeals, and, in turn, more timely claims disbursal
Inflation reduction act: Starting this year, Medicare will be allowed to negotiate prices for prescription drugs with pharmaceutical companies. Apprehensions are high that this will lead to cost-shifting to privately funded and employer-sponsored health plans. Or, the reverse also could be true, and privately-funded plans may demand similar negotiations along the lines of Medicare to avoid overpaying for healthcare. Moreover, the Part D plans will have to bear higher responsibility in the catastrophic phase as the law puts a spending and inflationary cap on out-of-pocket expenditure beginning in 2025
Focus on alternative care market: Payers are striving to strengthen preventative care and ensure end-to-end offerings, as many big players (e.g., United HealthCare, CVS Health) have invested in home, virtual, and alternative care. The race to outcomes-based care is shifting from retrospective to proactive and comprehensive health management through multiple integrations
Member experience and STAR Ratings: With the Consumer Assessment of Healthcare Providers & Systems (CAHPS) member experience weights increasing to four times in 2023, ensuring top-of-the-class member experience will remain a priority for health plans
Impact of the potential downturn on the healthcare payer market
So, how specifically will payers be impacted? It's hard to say, given the global inflation outlook improvement. But lessons from the past indicate that a sustained period of economic uncertainty will impact both the government and the private markets in the following key markets:
Privately-funded market: Markets such as employer-sponsored health plans could lose members due to layoffs and loss of employee-sponsored coverage. Payers such as Cigna, that have significantly high commercial membership (Exhibit 4), could feel the heat of the competition from the health insurance exchange (HIX) and Medicaid plans. However, these losses can be offset if payers can retain these members in other product lines. Alternatively, having a diversified business portfolio such as a pharmacy or data services also may provide a cushion against medical membership loss
Government market: While the Medicaid market would traditionally gain membership in a recession, instead it will see the combined effect of redetermination and a potential economic downturn. As some of the members who lose employer coverage join Medicaid, the drop in membership might be less than expected after the redetermination process. The impact on Medicare, however, is expected to be relatively insignificant. Overall, the payer mix might experience a shift toward government business
Lastly, the uninsured population may experience an uptick due to information asymmetry and administrative complexities. According to an assessment done from 2007-09, only some of the insurance loss from a lack of employer coverage was offset by added public coverage, leading to a 5.6 million rise in uninsured adults. While the Affordable Care Act (ACA) has lowered the uninsured population, an economic downturn potentially can add to the current uninsured coverage.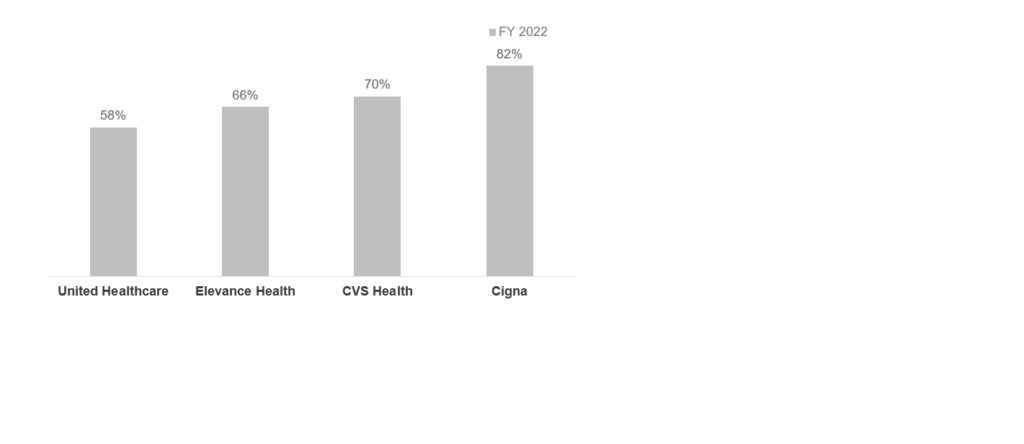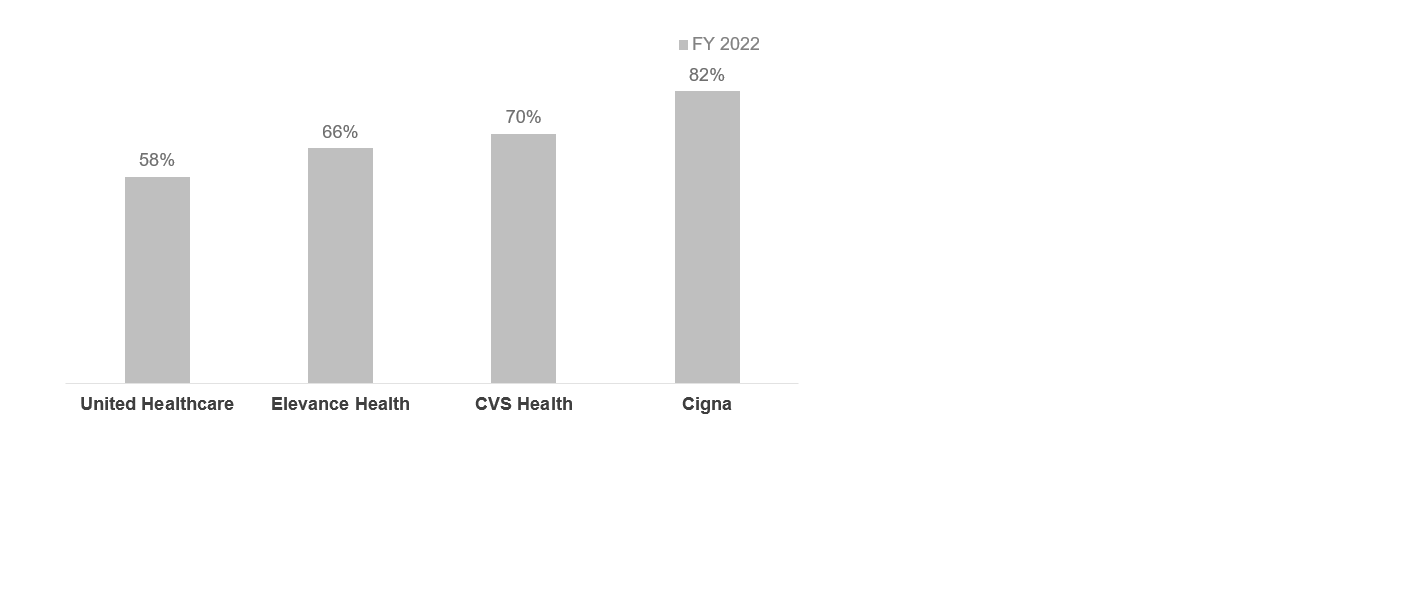 What should payers do in this uncertain market outlook?
With the market unpredictability, healthcare payers will have to take calculated measures to prevent business impact. Here are four actions they can take:
Focus on operational efficiencies: Healthcare providers are more likely to be impacted by a downturn, pushing them to negotiate for higher contract prices. Payers will have to explore ways to offset any price hikes. This can lead to increased outsourcing and offshoring of traditional processes, such as provider and claims management to ensure lower administrative spending and higher operational efficiencies
Invest in preventative care: Price-conscious members may move to higher deductible plans and avoid care, particularly preventive services, leading to lower utilization. This can have lingering long-term effects, particularly for members with multiple chronic diseases. To combat this, payers should identify susceptible members, invest in areas such as social determinants of health (SDoH), and devise strategies that prevent care gaps and discontinuity
Increase digital member engagement efforts: Millions of members lost their coverage in the last recession despite being eligible for other plan options, partly due to a failure in getting the right information and comprehensive engagement with their insurers. To avoid this from happening again, payers will have to ramp up investments in member engagement to avoid losing members. Regional health plans and the Blues will have to bring in digital-enabled solutions that help to understand member needs and provide forward-planning insights. Support from third-party services providers who offer customized, plug-and-play customer experience (CX) solutions can help meet this need
Upgrade systems: Several payers with strong capital support can undertake digital transformation efforts to replace legacy systems and move to interoperable, connected ecosystems that will help improve administrative as well as care outcomes. However, this might only be applicable for payers who experience limited utilization and payouts due to the downturn.
Outlook for service providers
These measures will require service providers to proactively engage with healthcare payers and focus on three levers – the right clients, the right capabilities, and the right value addition. This will enable service providers to aim for the right opportunities such as member engagement and preventive care and ensure sustainable growth in an uncertain economic environment. Finally, in a highly competitive market like payer services, service providers will have to offer targeted digital and traditional Business Process Outsourcing (BPO) services to serve the right client need and differentiate themselves with unique value propositions refined as per the prevailing market demand.
To learn more about healthcare payer and provider trends, contact Lloyd Fernandes or Vivek Kumar.
To learn about the changes in the pharmacy benefits management (PBM) industry, such as increased regulatory scrutiny surrounding pricing transparency and rebate-sharing rules, watch our video, Pharmacy Benefits Management: The Next Big Healthcare Opportunity.
You can also learn more about How to Deliver Hyper-personalized Customer Experiences in Life Sciences in this LinkedIn Live session.