The ESG platform/product vendor ecosystem is expanding at an exponential rate, with banks increasingly collaborating with the larger network following the pandemic. Large banks such as Citibank have collaborated with Truvalue Labs to accelerate their ESG research initiatives. Similarly, in the UK, Lloyds Banking Group has partnered with Sancroft to obtain insights and advice on the best ESG practices. US-based specialist asset manager Trillium Asset Management has collaborated with Trucost to conduct a carbon analysis of its sustainable opportunities strategy.
In our previous blog on ESG, we highlighted that – while the ESG ecosystem is evolving within the Banking and Financial Services (BFS) industry – firms fail to recognize its potential to generate long-term risk-adjusted returns. In this blog, we explain the evolution of the ESG product and platform vendor landscape. These products are helping BFS firms think and act on ESG proactively and tap into several opportunities that the ecosystem offers.
Decoding the ESG vendor landscape
In response to the demand for robust ESG integration, vendors are offering various products and services, ranging from raw data and reports across multiple ESG areas to extremely sophisticated analytics platforms. The focus areas for these firms include stock screening, portfolio construction and analysis, competitive benchmarking, risk management, green bond framework evaluation, second party opinions, scenario analysis, controversy analysis, ratings, and rankings.
The ESG vendor landscape itself can be broadly divided into three categories: data and data analytics providers, technology providers, and ESG advisory firms.
Data and data analytics providers use unique ways of sourcing, categorizing, and quantifying ESG data before building an analytics layer over it. Based on coverage, these providers can be further categorized as ESG market data providers, ESG exclusives, and ESG specialists.
Global and well-established financial market data providers now offer ESG data as well. Some of them even consider ESG factors when determining financial ratings.
ESG exclusives provide comprehensive ESG data solutions covering majority of asset classes. They extract data from multiple public sources and/or company interviews and apply subjective analysis using diverse ESG metrics to create a comprehensive solution.
ESG specialists cover specific ESG factors such as gender equality at companies or the company's impact on climate and the environment.
Consulting and advisory firms assist financial services firms and other enterprises in building data and governance frameworks, integrating ESG, and facilitating their regulatory reporting strategies. In fact, taking note of ESG's growing importance, firms such as esg.solutions, NEPC, Sancroft, Callan, State Street, Clearbrook, Goby, ASC Advisors, KKS Advisors, Canterbury Consulting, and Mercer have introduced ESG consulting as a separate arm within their consulting practices. We believe that the ability to highlight ESG issues that affect financial performance will be a differentiating factor in this arena.
The exhibit below showcases the vast and expanding ESG vendor landscape today.
Exhibit: Understanding the ESG vendor landscape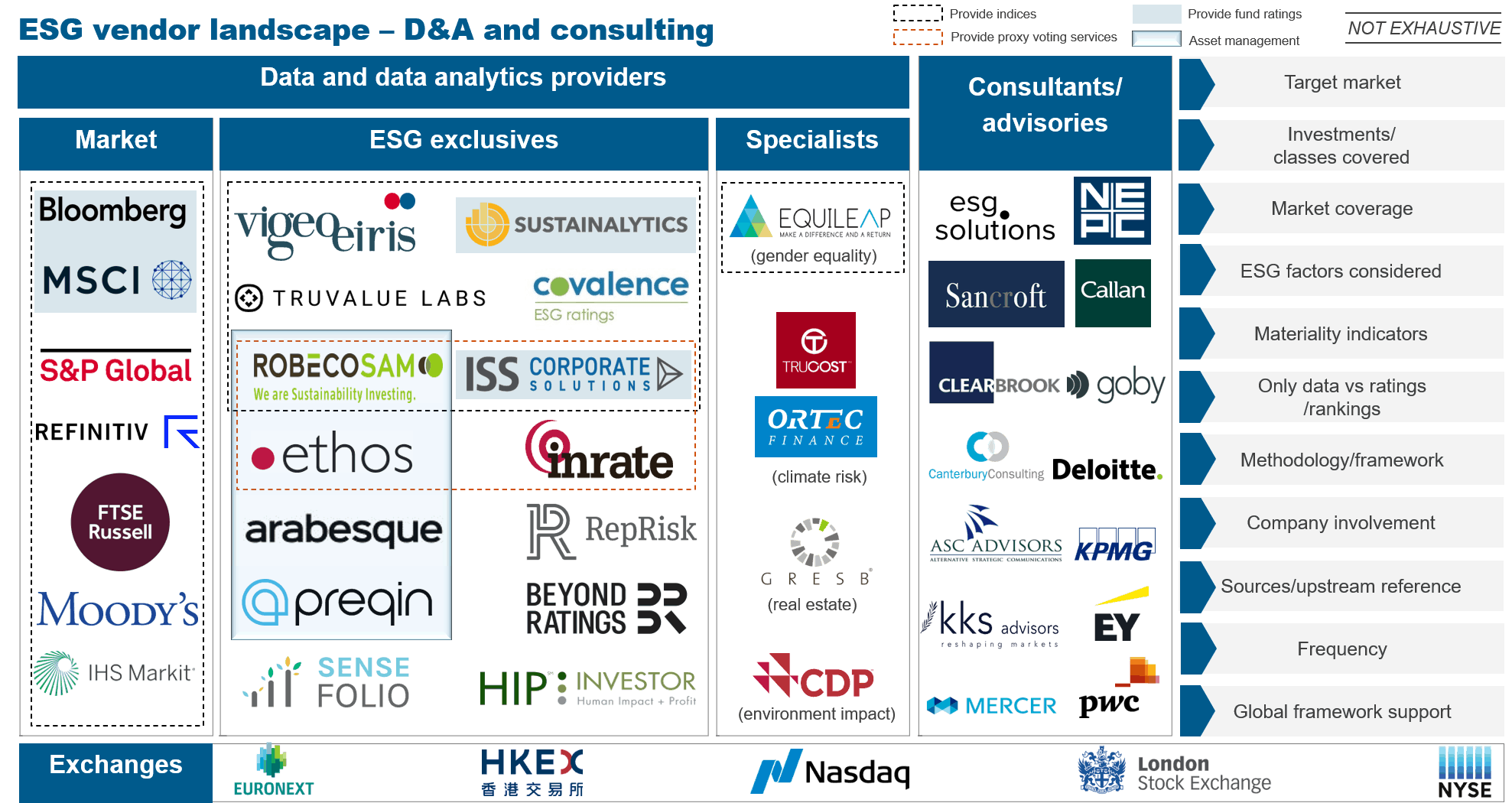 With such an expansive and thriving market for ESG services, it may be difficult for leaders to choose the best-fit vendors.
Selecting the right vendors and ecosystem mix will make a difference
Some characteristics that will help financial institutions distinguish among data and analytics vendors are market coverage, quality and quantity of ESG indicators, investments covered, methodology, sources, support to standard frameworks, and company involvement.
Also, market intermediaries such as stock exchanges, rating agencies, reporting and regulatory bodies, index providers, and ETF providers play an equally important role in developing the right ESG ecosystem. Hence, BFSI firms need to collaborate with the right mix of data, regulatory frameworks, and technologies. It is complicated, but ultimately provides a lucrative opportunity to IT service providers to offer innovative ESG products and solutions and provide custom-built solutions on partner products tailored to banks' specific needs. This will ease the transition and change management process for banks and financial institutions. A few service providers, consulting leaders, and boutique consulting players have already created frameworks and solutions to help banks with their ESG needs.
We are confident that over the next decade, ESG will not be discussed as a standalone or secondary strategy but will be a mainstream financial services proposition, creating sustainable long-term value, not only for investors and BFSI enterprises but for the entire ecosystem.
If you would like to understand how a platform-centric approach can fast-track your ESG journey, reach out to [email protected], [email protected], or  [email protected].
We also invite ESG data and analytics providers, IT service providers, and consulting firms to reach out to us to get featured in our upcoming research assessing ESG vendors that serve BFSI enterprises. Please refer our Research Participation Guide to understand the scope, objectives, and participation process of the research.
This is the second blog in this series that explores the ESG space; read the first and third blogs for further insights.