The number of Environmental, Social, and Governance (ESG) investing-related announcements coming today from banks and financial services firms have gained momentum. Banks are continuously building new ESG products and services like green loans, sustainability-linked loans (SLL), and carbon-neutral banking. Capital markets are embracing "green underwriting" while asset & wealth managers are steadily moving towards ESG investing. Goldman Sachs announced an investment of US$750 billion in sustainable finance over the next decade. Additionally, HSBC launched a new strategic ESG solutions group focusing on the bank's full range of ESG capabilities. Blackrock and Vanguard have expanded their ESG exchange-traded fund (ETF) offerings due to the high demand.
In our previous blogs, The Importance of Integrating Environmental, Social, and Governance (ESG) Mandates into BFSI Enterprises' Operations, and Choosing the Right Partners in the Expanding ESG Product Ecosystem we highlighted how BFSI firms are setting up ESG priorities for their organizations due to the regulatory push and to support the clients' growing ESG needs. We also tried to decode the evolution of ESG vendors' landscapes, specifically in the data and analytics space. In this blog, we discuss the enormous opportunity (exhibit 1) available for IT service providers, technology vendors, and consulting firms to support BFSI enterprises on their ESG agenda.
Exhibit 1: Endless opportunity for IT service providers and consulting firms in the ESG space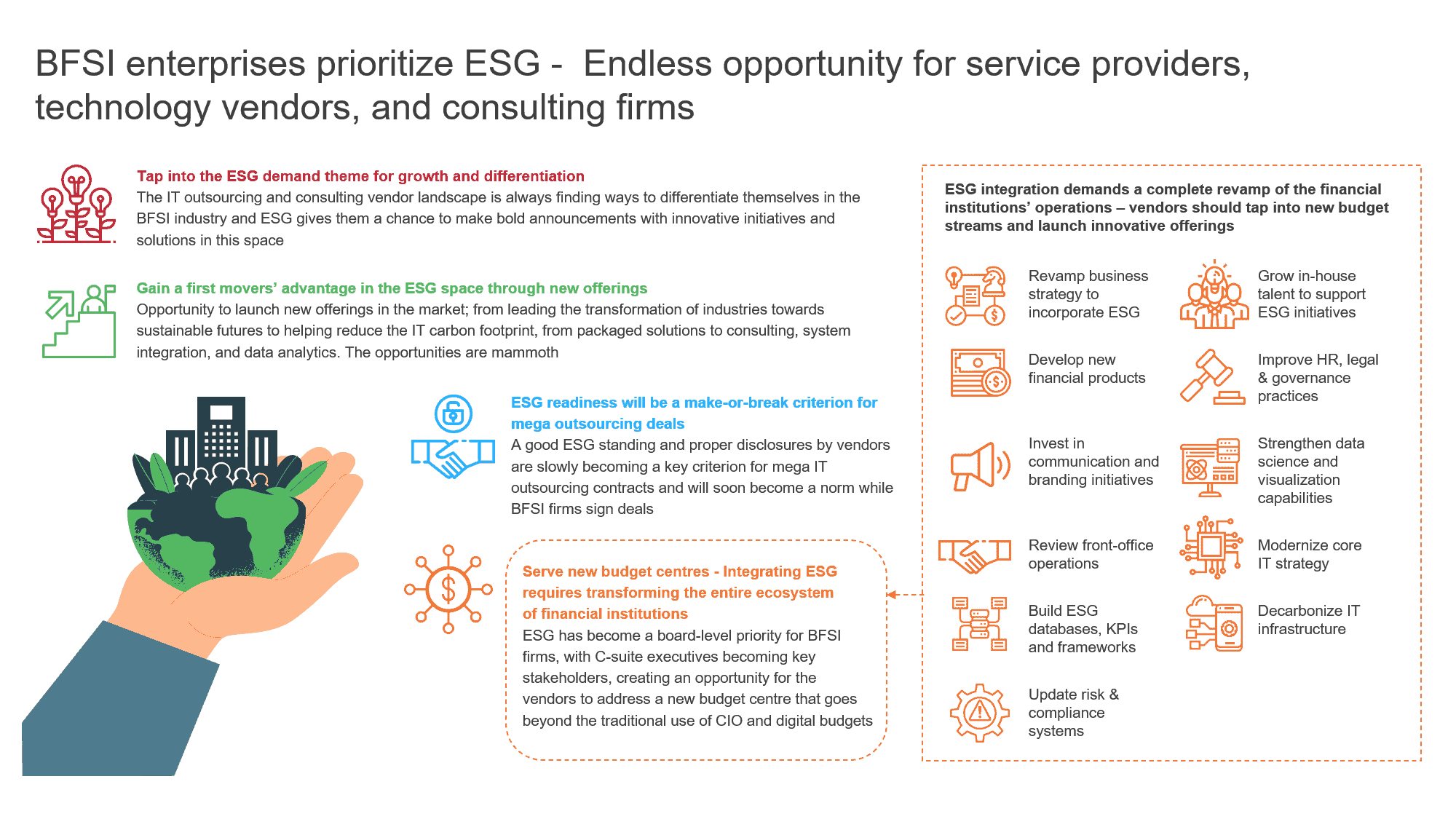 Tap into the ESG demand theme for growth and differentiation
The IT outsourcing and consulting vendor landscape is always finding ways to differentiate itself in the BFSI industry known for its talent and arbitrage play. The present BFSI clients and prospective targets for many IT service providers have listed ESG as a priority area and are planning to invest heavily in this space. The vendors are hence gearing up to build a differentiation story for sustainability, have boldly laid out their ESG priorities, and are making announcements that will help them stand out in the industry not only for their ESG offerings but also as responsible businesses. This becomes important since the vendors will be an extension of the BFSI firms' own ESG footprint, which they would like to manage better.
BFSI firms are looking at vendors to embrace best-in-class ESG standards, have diversity in talent base, manage the carbon footprint, invest in local communities, and bring exponential value creating ESG initiatives. We do observe IT service providers and consulting firms already trying to display differentiation around these dimensions. In October 2020, Infosys announced its ESG 2030 vision, which outlines its bold vision to become carbon neutral by 2030. SAP has announced that it aims to achieve carbon neutrality within its operations by 2023. IBM intends to leverage blockchain to ensure responsible sourcing of minerals in conflict regions. Capgemini has used AI/ML to help staff rural healthcare with real-time data sharing and efficient economic resource utilization.
ESG readiness will be a make-or-break criterion for mega outsourcing deals
Our research suggests that ESG reputation of the vendor, appropriate disclosures, and the vendor's resilience to the impact of ESG related issues will become important drivers for awarding large IT outsourcing contracts. A strong ESG standing of the vendor is moving from a "nice to have" to a "must have" factor for mega IT outsourcing and platform contracts. We have already witnessed cases where differentiating ESG standing is helping vendors win deals. For instance, Finastra has been selected by Climate First Bank as its technology partner for a new, full-service, eco-friendly community bank. The Bank evaluates its vendors through an ESG lens, and Finastra stood out for its clear and tangible commitments to redefining finance for good. TISA, the UK's cross-industry financial services membership body, appointed Atos to build a blockchain-based digital utility for the asset management that will help ease regulatory reporting for MiFID II and ESG. Atos had to demonstrate enthusiasm to be a part of a sustainability-led project to win this engagement.
Integrating ESG requires transforming the entire ecosystem of financial institutions
We believe that ESG transition goes far beyond just ESG data capture, analysis, and dissemination. The financial institutions will have to follow a "practice what you preach" approach as they start prioritizing sustainable investments. The focus should be on transforming their entire ecosystem to:
Revamp business strategy to incorporate ESG
Develop new financial products
Invest in communication and branding initiatives
Review front office operations
Build ESG databases, KPIs, and frameworks
Update risk and compliance systems
Grow in-house talent to support ESG initiatives
Improve HR, legal, and governance practices
Strengthen data science and visualization capabilities
Modernize core IT strategy
Decarbonize IT infrastructure
ESG is becoming a board-level priority for BFSI firms with C-suite executives as key stakeholders, creating opportunity for vendors to address new budget centers parked for the entire value-chain. These will be an addition to the CIO or digital budgets that have been traditionally used for such use cases.
Gain a first movers' advantage in the ESG space through new offerings
ESG investing is a market-driven shift leaving room for a lot of product innovation for the IT outsourcing and consulting landscape. It opens opportunity to launch new offerings like:
Supporting the transformation of industries towards sustainable futures
Helping reduce the carbon footprint of IT, cloud, and software
Designing solutions for green buildings and office spaces
Data center energy management
Building ESG talent strategy
Data and analytics for ESG integration
Consulting and advisory – ESG investing and disclosures
IT transformation across the BFSI value chain
Helping launch new ESG based financial products in the market
Helping expand existing offerings with ESG value-add
IT service providers and consulting firms are aiming for a first movers' advantage and have already introduced ESG offerings into the market. Tata Consultancy Services (TCS) announced that it will develop an investment insights solution, leveraging SAP Business Technology Platform, enabling asset managers to have a 360-degree view of the investments, which includes ESG analysis. IBM and The Climate Service (TCS) formed an alliance to help financial institutions measure, quantify, and price risks associated with climate change facilitating reporting. Avaloq has launched a sophisticated ESG investment solution for banks and wealth managers that allows them to build tailored, personalized ESG-compliant portfolios for clients. Microsoft will be launching an ESG Solutions as a Service in 2021 in collaboration with MSCI.
The path forward – BFSI enterprises and vendors should invest in the right ecosystem of partners
Exhibit 2: A sneak peek into the ESG vendor landscape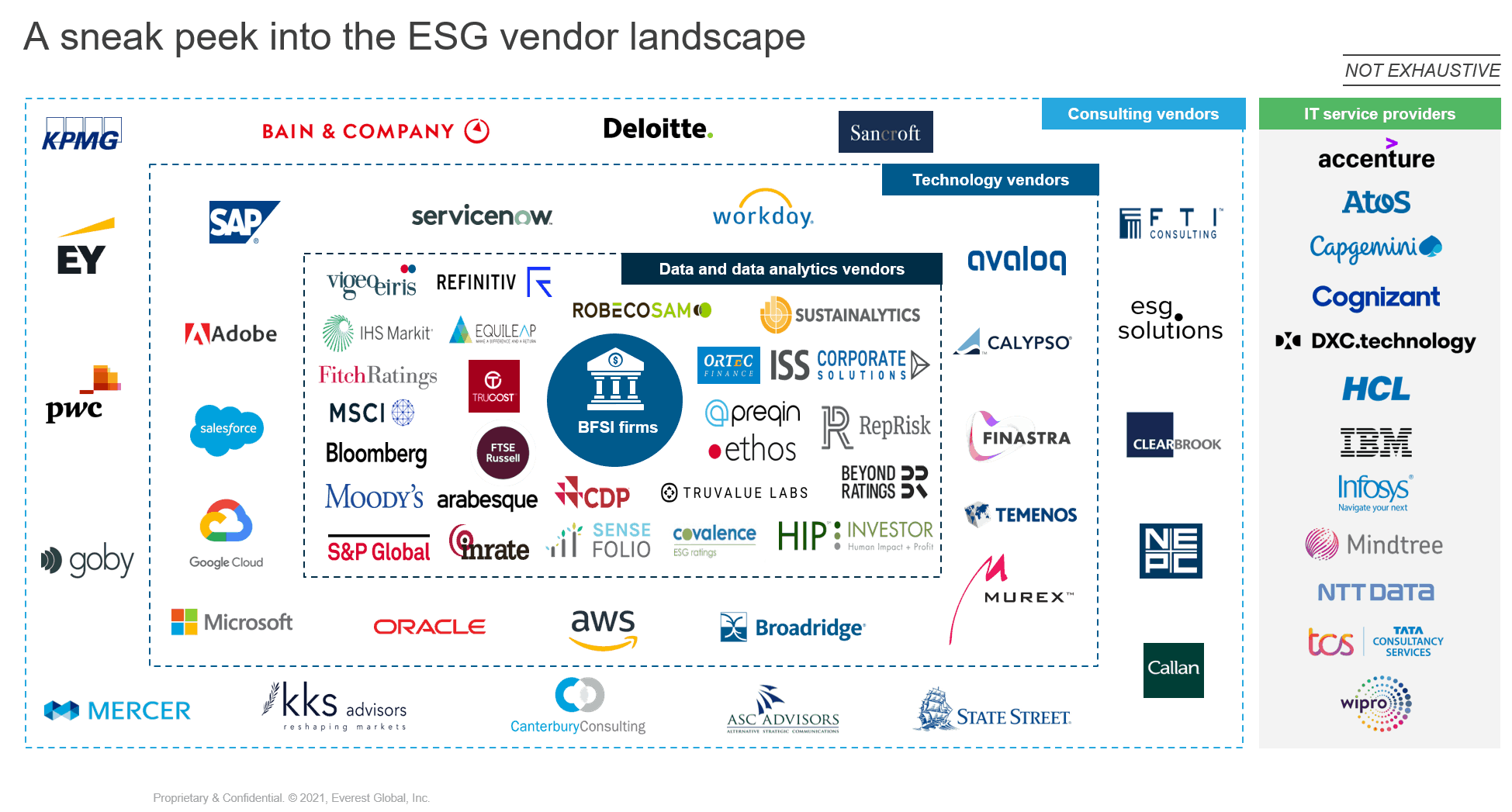 The ESG integration journey for enterprises is going to result in massive investments towards data and technology. IT service providers and consulting firms need to create an ecosystem of partners that they can collaborate with to build their ESG offerings and take them to market. Investments in R&D to incorporate emerging technologies like Artificial Intelligence (AI), Natural Language Processing (NLP), Blockchain, and Machine Learning (ML) while creating ESG solutions is needed. They should also concentrate on utilizing the ESG benefits in their offerings across dimensions of IT services delivery, talent, infrastructure, and solutions, and create ways to measure and demonstrate the ESG impact of their offerings to drive higher client adoption.
As BFSI firms accelerate their ESG journey, it becomes critical for them to create the right partner ecosystem. Making the right choice will bring out the difference!
If you would like to have a better understanding of the ESG vendor landscape and offerings, reach out to [email protected], or  [email protected].
We also invite ESG data and analytics providers, IT service providers, and consulting firms to reach out to us to get featured in our upcoming research assessing ESG vendors that serve BFSI enterprises. Please refer to our Research Participation Guide to understand the scope, objectives, and participation process of the research.
This is the third blog in a series that explores the ESG space; find more insights on the topic in the first and the second blogs.