The global pharma industry, hit hard by the rise of generics and the patent cliff on branded drugs, has been in cost-cutting mode, especially since the beginning of this decade.
With the rising costs of R&D and new drug development, pharma corporations began looking at streamlining manufacturing operations through Contract Manufacturing Organizations (CMO) and de-risking their R&D efforts via Contract Research Organizations (CRO).
CROs, which were initially sought out by pharma companies to cope with ad hoc/transient requirements such as additional capacity, have now emerged to cater to a whole host of services in the pharma outsourcing construct. These include clinical trial management, clinical data management, medical/clinical writing, bio- statistical programming, pharmacovigilance, and regulatory report writing.
Offshoring has also gained considerable traction in the last few years. Indeed, many global pharma giants have increasingly looked to low-cost locations such as India, as evidenced by the establishment of various home-grown CROs and Indian arms of global CROs, and some Tier 1 Indian BPO providers' scaling up their capabilities in this space.
Given their nature and complexity, pharma industry processes typically command a substantial FTE cost premium over judgment-based sub processes in functional areas. For example, the following chart compares Clinical Trial Management FTE costs within those in Financial Planning and Analysis and Procurement Outsourcing.
Typical price variation: FP&A, Sourcing and Clinical Trial Management services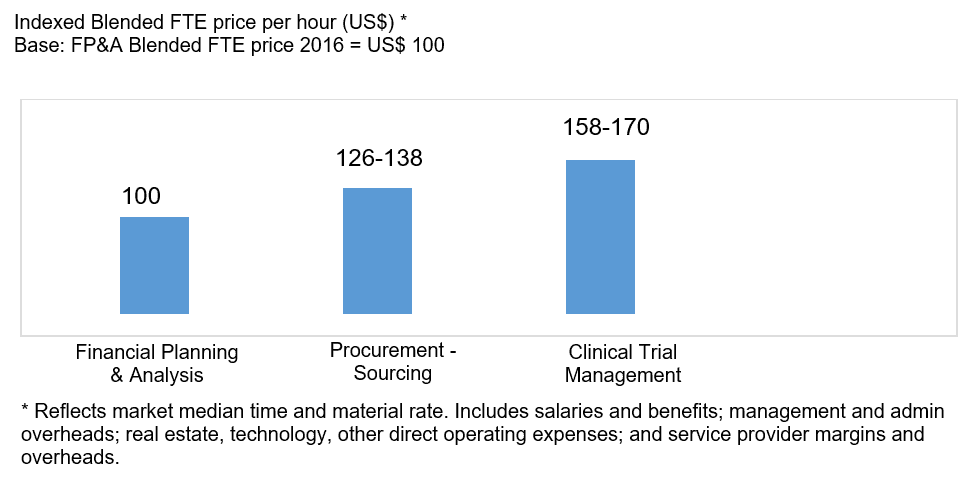 What's behind these premium prices?
Skill profile: Even in the fairly early stages of outsourcing, pharma companies entrust some of their core work, such as clinical research, pre-clinical trial management, and certain activities in drug discovery, to their service providers. The necessary niche skill-sets typically require a background in clinical research, medicine, biotech, etc. Thus, the FTE rates are higher than those for even highly educated business analysts.
Nature of deals/projects: Pharma projects are relatively shorter in tenure than those in other BPO functions, especially deals involving medical writing and bio-statistical programming, where average tenure may range from four to eight months. Thus, the average utilization is significantly lower. This lower hour base to recover costs/margins leads to a higher hourly billing rate.
Service provider margins: While the highly mature and commoditized F&A, HR, and Procurement outsourcing markets have margins in the 10-20 percent range, pharma BPO is still relatively nascent and thus commands margins of25-50 percent.
Technology cost: In some deals, we've seen pharma BPO service providers bearing the cost of technology licensing, which further increases the FTE pricing.
We expect that pharma BPO will likely continue commanding a premium pricing compared to other BPO functions for two key reasons.
First, pharma companies are gaining increased confidence from strengthening clinical and medical infrastructure and the stabilizing regulatory and business environment in India. This is resulting in outsourcing more core activities such as the entire spectrum of services pertaining to drug discovery and development. And second, Indian CROs and BPO providers are augmenting their capabilities to move beyond pharmacovigilance, bioequivalence, and bioavailability services, and challenging global CROs in areas such as end-to-end drug discovery and product development.
What's your take on the premium pricing in the pharma BPO industry? Is it justified?