Healthcare is one of the principal areas facing upheaval after Donald Trump's U.S. presidential win last week. Beyond being a major socioeconomic issue (it does consume close to 20 percent of the U.S.' GDP, which is ~2x that of any other developed country), it is also President Obama's key legacy given his championing of the reform through the Affordable Care Act (ACA, dubbed Obamacare). Broadly, Trump's proposed healthcare plan is likely to feature the following changes:
Partial repeal of the ACA (complete repeal is more likely to be political posturing)
More decentralization of public healthcare spending
Ceasing Medicaid expansion and changes to funding
Medicare reform
Broad implementation of free market principles to let "animal spirits" prevail
Prescription drug reform
Increased push for price transparency
Use of Health Savings Accounts (HSA), and allowing states to regulate health insurance
Ability to purchase insurance across state lines
Allowing premium deductions on  tax returns
Here's how the cards stack up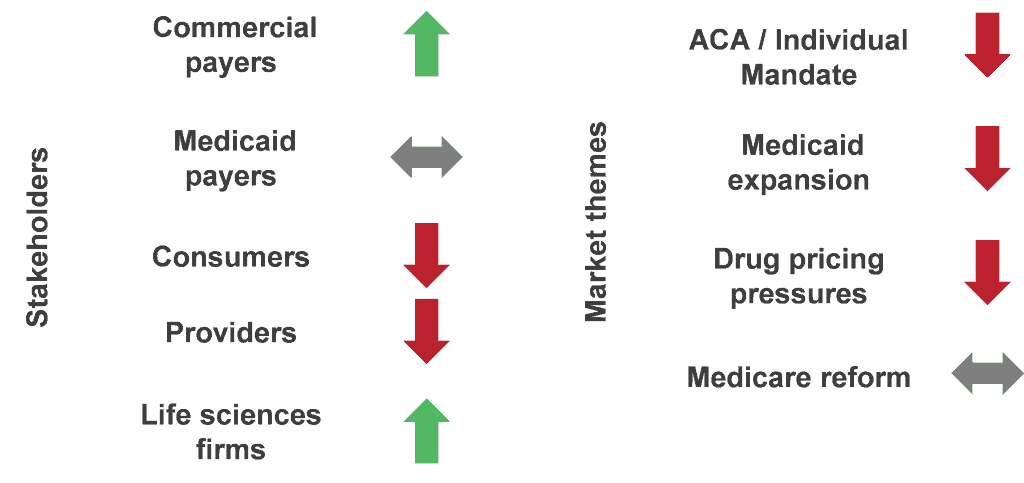 The good…
Commercial payers
Any kind of partial repeal or change to the ACA will actually be in line with what leading commercial payers have stated, given how broken and unviable the current HIX model is. Most C-suite execs indicate that such a repeal will make health insurance companies more competitive and more influential. This should bode well for large national payers such as Aetna, Cigna, and UHG, which have been bleeding money. This could provide a spurt to discretionary spend, which had seen a pause following mega mergers in the industry, Department of Justice injunction, and HIX losses. At a broader level, the Trump camp has proposed "following free market principles and working together to create sound public policy…" Some early reactions are calling this a welcome change that will allow free enterprise back into healthcare, and let patients, not government agencies, manage their health.
Medicaid-focused payers (states and managed care organizations)
Another key element will be the decentralization of healthcare, as Trump's plan focuses on giving more Medicaid and other public spending power to states. Combined with the modularity mandate, (essentially breaking down state's Medicaid Management Information Systems into smaller reusable components,) this is likely to give state health departments more bargaining power as prices decrease and competition – which in the MMIS market has been restricted to players such as CNSI, CSRA, HP, Molina Information Systems, and Xerox – intensifies. Also, managed care organizations (MCO) will benefit from the continuing shift away from state Medicaid.
Consumers
Trump has also recommended that Congress break down state barriers to allow insurance companies to offer plans in any state, as long as the plans are in compliance with state requirements. This should increase choices for consumers, and result in more competition. However, such an environment has not found much favor with payers struggling to manage the risk on their books, and will likely not find much with the challenge of entering new markets.
Life sciences firms
Most pharma and biotech stocks have soared in the past week, driven by Trump's lukewarm stance on price regulation, as compared to Hilary Clinton's more hawkish position on drug price reforms. Throughout her campaign, Clinton repeatedly vowed to limit the power of drug manufacturers, and suggested introducing monetary penalties to punish price gouging. The industry's much maligned tax inversion practices have also ranked rather low on the president-elect's agenda.
The not so good…
ACA
Despite the political posturing in the run-up to November 8, Trump/the GOP is unlikely to be able to fully repeal the ACA. It's more likely that they will pursue a partial repeal through the budget reconciliation process, which allows bills related to spending and revenue to be passed by a simple majority, without being subject to a potential filibuster. Trump is likely to sign a bill similar to the one GOP lawmakers passed earlier this year as a counter-measure to the "failings of Obamacare/ACA." Broad-based changes are likely to be equally, if not more, unpopular than the perceived problems with the ACA. Most of the market has invested considerable resources in reinventing their fundamental business models, and rolling back the clock is not really an option. The market will be forced into a period of uncertainty as stakeholders evaluate options amidst upheaval. While HIX plans have been value-dilutive for most payers, some such as Molina have made it work as a viable business model. However, the movements toward value-based care won't be affected as the Medicare Access and CHIP Reauthorization Act (MACRA) and other reform tenets will continue it.
Consumers
Repeal of the Individual mandate may result in truncated consumer choices for coverage of pre-existing conditions, premium hikes due to reduced competition, and limited-benefit plans.
Medicaid
Any repeal would likely include the elimination of the ACA's Medicaid expansion, insurance subsidies, individual and employer mandates, and several taxes that help fund the law, effective two years after the bill's passage (this was vetoed by President Obama after the House and Senate earlier this year passed a partial ACA repeal bill through the reconciliation process.) Depending on how block grants play out, providers could experience a shortfall in government spending, and may need to rebalance their exposure to commercial payers.
Medicare
If the current GOP plan to transition it to a premium-support plan continues, there is likely to be a rise in financial uncertainty as payers' reimbursements get linked to average versus submitted bids. This will further sharpen the focus on payers' cost efficiency and optimization efforts to manage business models.
… and the uncertain

In most of these scenarios, we can only make an educated guess about what the Trump era means for healthcare. The next few months will be crucial in setting the tone for the changes to come – leadership appointments, policy moves, etc. The ACA seems to be the most contentious piece, and likely the first to be tackled by the administration. However, Trump's public posturing will need to contextualized with the complexities of the legislative process to fully assess the material impact.
We would love to hear your views on how this will play out.