On July 27, Israel-based Teva Pharmaceutical announced the acquisition of Allergan's generics business unit for US$40.5 billion in cash and stock, consolidating its position as the leader in off-brand drugs. The deal which becomes the latest in a wave of high-profile consolidation in the pharmaceutical industry, combines Teva, the world's largest generics drug company with its third largest competitor. The acquisition gives Teva enhanced scale in the intensely competitive generics market (over 20% market share) with cost savings potential due to product overlaps and economies of scale (through operating synergies of nearly US$1.4 billion) as it looks to cope with end of patent expirations. The deals comes at a time when the entire healthcare and life sciences continuum is witnessing rapid consolidation moves including large payers teaming up.
Core Competence – the New Life Sciences M&A Mantra
The deal is another indication in a long line of recent transactions as life sciences firms undergo a realignment of strategic focus and choose to concentrate on business of core competence. Following the big bang "acquire all" days of Big Pharma, pharmaceutical firms have realized that they need to reorient strategic goals and narrow down their focus to specific service lines and markets. This was the principal driving factor in the seminal Novartis-GSK asset swap announced in April 2014, which typified the new normal.
For Teva, this wraps up an increasingly messy four-month long pursuit of another generics rival, Mylan. The company withdrew its latest US$40.1 billion hostile offer to acquire Mylan as the deal prospects became bleak. Mylan itself is busy chasing rival OTC drugs company, Perrigo, which has so far snubbed Mylan's attempts. The deal also has interesting implications for Allergan. The company has been at the center of major M&A activity in the last two years. This sale allows it to pay off debt from the US$70.5 billion integration with Actavis in 2014. That deal also signaled the end of one of the intense takeover struggles as Actavis beat Valeant Pharmaceuticals for Allergan. The sale to Teva allows Allergan to focus on building its branded drugs business. It could also mount an effort to purchase large peers such as Amgen or AbbVie.
Implications for Service Providers
As with any major consolidation exercise, the primary beneficiaries will be service providers with exposure to both merging entities and account-level relationships as they help with the integration initiatives. A natural consequence of such an exercise is the tendency to go for vendor rationalization as enterprises look to trim the sourcing pie. Demonstrating value across the life sciences value chain will emerge as a crucial differentiator in retaining presence across accounts. Given the diversified operational footprint of pharma firms, global presence becomes an important qualifying criteria for large scale deals, especially when it comes to areas such as infrastructure management. As the spotlight shifts on pockets of core competence, mapping enterprise-specific business outcomes and challenges to technology/process solutions will be key in getting management buy-in for forthcoming sourcing initiatives. The following image illustrates the current exposure of key service providers across major life sciences firms. As you can see, these mergers will lead to overlapping accounts for several services providers.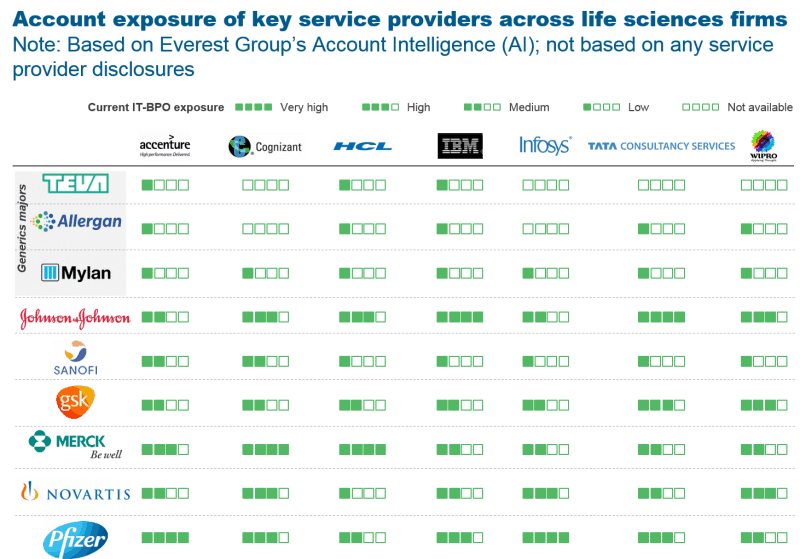 The Road Ahead
Life sciences buyers stand at interesting crossroads right now. They seek technological preparedness to tackle multi-faceted challenges arising out of stifling R&D efficiency, dwindling margins, increasing M&A/restructuring, and evolving customer profile. Blockbuster-drugs-led growth has paved way for more pragmatic business models in this new reality. While the digital Kool-Aid continues to sweep the landscape, life sciences firms tend to struggle with digital enablement due to factors such as fragmented service provider landscape and non-standardized internal structures. How they navigate this challenge while digitizing operations will be crucial. Our recent report on IT Outsourcing in the Life Sciences Industry focuses on how global life sciences organizations need to enable their systems for digital enablement through a well-thought out services integration strategy. Pharma is in a continually evolving state of flux and these changes are only going to intensify. Service providers need to up their game to ride this wave.