My recent meetings with the top RPA vendors made it clear that RPA is shifting into new gears of adoption and implementation. But the vendors also made it clear that the true promise of RPA is getting lost in flashy headlines and hype-ridden marketing messages.
Here are my five recommendations for how enterprises can drown out the noise and harness RPA's real benefits.
Experimentation is Over – The Value is Real
The question "Should I pursue RPA?" has been answered and is widely being replaced with "How can I leverage RPA to gain the most value?" As you see in the graphic below, the benefits of RPA are very real. Nearly every enterprise we have spoken with is seeing real savings – typically around 30 percent lower cost and 30-50 percent improvement in accuracy, cycle time, staff productivity, etc.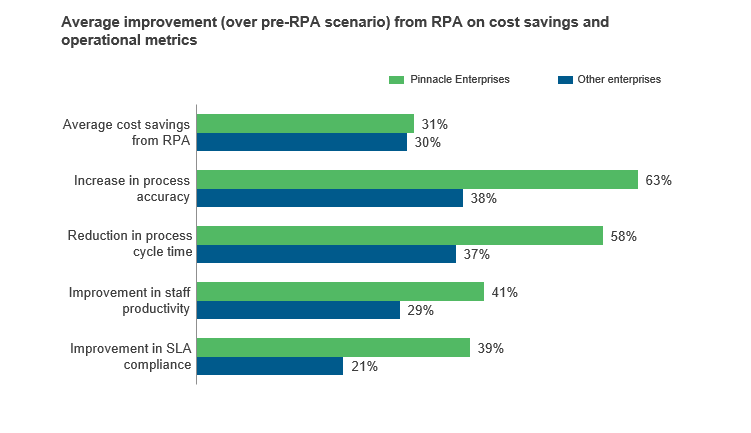 Forget about RPA Vendors' Pitches
Despite all the hype, enterprises must remember that RPA vendors are not selling a digital workforce; they are selling software that can speed up, improve, and support many processes currently performed by staff members. While this is sophisticated software, it's not a physical entity or an army of robots. It can be tempting to get lost in the imagery, but enterprises need to be careful not to lose sight of what they are getting. Otherwise, they can be left with the feeling that vendors have overpromised and underdelivered.
Ignore the Buzz Words
From OCR to NLP to Intelligent Automation, there's no shortage of RPA buzzwords. But the labels themselves don't really matter. What does matter is the ability to identify processes that are using precious staff resources, limiting operational improvement, or diminishing the customer or employee experience. Enterprises should start with the process they want to improve and then approach the vendor with that specific need as the starting point in the context of their overall automation – including and beyond RPA – journey.
Focus on the Operating Fundamentals
The basics of building an enterprise automation capability can seem amazingly easily…until it becomes obvious that it's not. Some enterprises undoubtedly acquire robots for simple plug-and-play automation. But when mission critical processes come into play, serious and complex issues – like enterprise-grade security and business continuity – come into play and must be carefully and thoughtfully addressed. Don't allow these issues to become barriers to RPA adoption (as many enterprises do), because, if well implemented, the benefits far outweigh the risks.
Automation Tools are a Must for Business Growth
Automation tools can help enterprises tackle the labor shortage challenge by making their existing teams more productive and retaining key employees by offering opportunities to perform higher-value work. Although cost savings are important, an automation-augmented workforce is key to competing and excelling in the marketplace.
To help you avoid getting caught up in the industry hype around RPA, we've created a simple graphic that describes the four key dimensions you should be thinking about. This enterprise automation analysis framework looks beyond vendors' marketing pitches and addresses questions based on opportunities from your point of view, including:
Business problem complexity – how big and complex is the business process?
Rate of operational improvement – how much of a business process improvement do we want to see?
Solution/technology investment – which of the many different automation solutions should we deploy (considering investment and benefit)?
Operational execution – how do we best implement in your organization?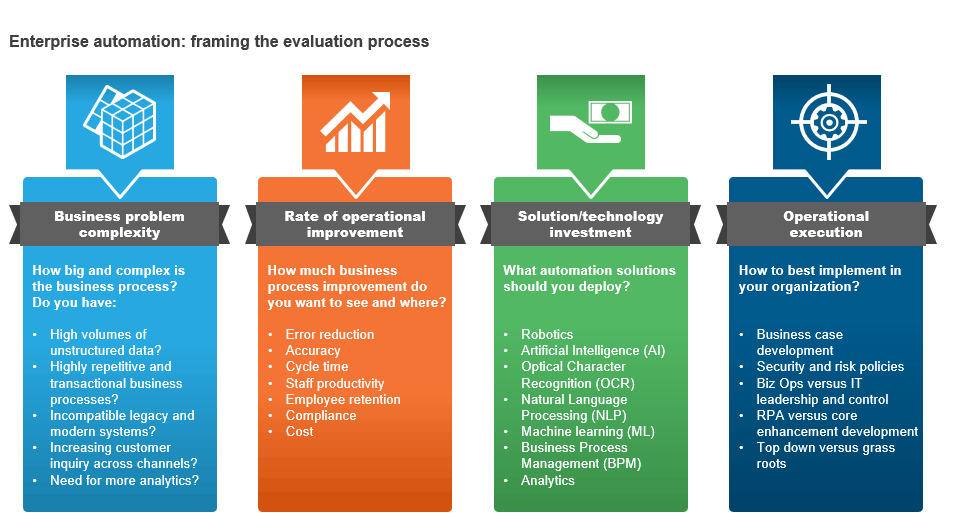 At the end of the day, however you choose to move forward with RPA technology, start by considering your enterprise's use cases and business requirements. Then, build the business cases to support them. And then set your automation team loose on an increasingly exciting new set of capabilities.
Click here to read more of our RPA thought leadership
View a complimentary abstract of the Enterprise RPA Adoption | Pinnacle Model™ Analysis