Use of Service Delivery Automation (SDA) – which refers to various types of technologies that can automate inputs to a process, the process itself, or the outputs from a process – is surging in the global services industry. When scaling beyond proof of concept, organizations are finding it's important to bring together the SDA skills and knowledge into an automation Center of Excellence (CoE). Doing so enables the business to develop its SDA capabilities and competencies in a controlled and centralized manner, in turn helping ensure maximum success from the SDA initiative.
Through our research into automation Centers of Excellence, we've identified several areas in which organizations struggle.
The right Center of Excellence structure
While there are numerous possible structures for a SDA CoE, we've found that a pyramid structure is ideal, as it helps bring the CoE governance in-line with its customers. The pyramid should have three distinct layers, each with its unique set of responsibilities and clearly defined line of communication with the client organization. Clarity around roles and responsibilities across different layers in the pyramid is critical, not only to avoid miscommunications and missteps, but also to help maximize operational efficiency.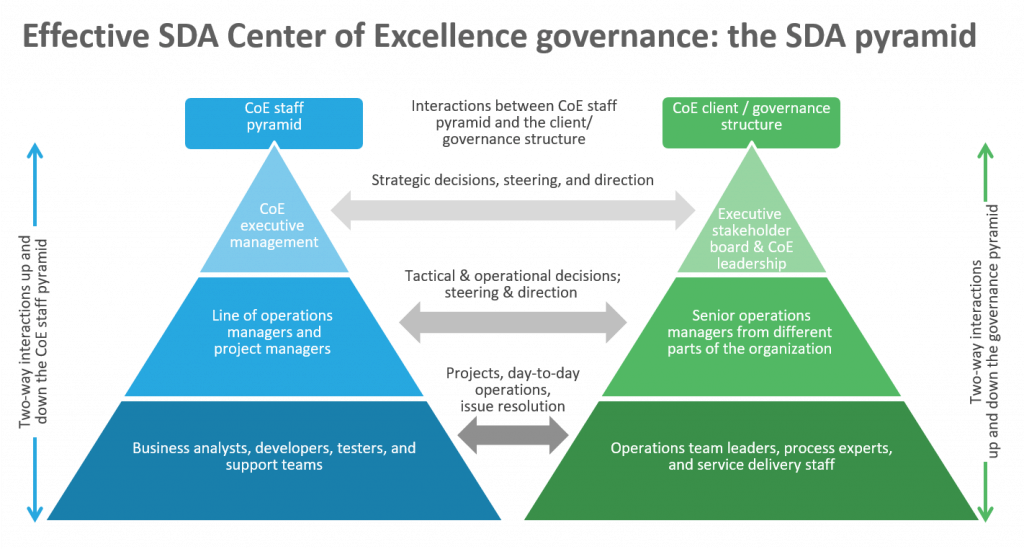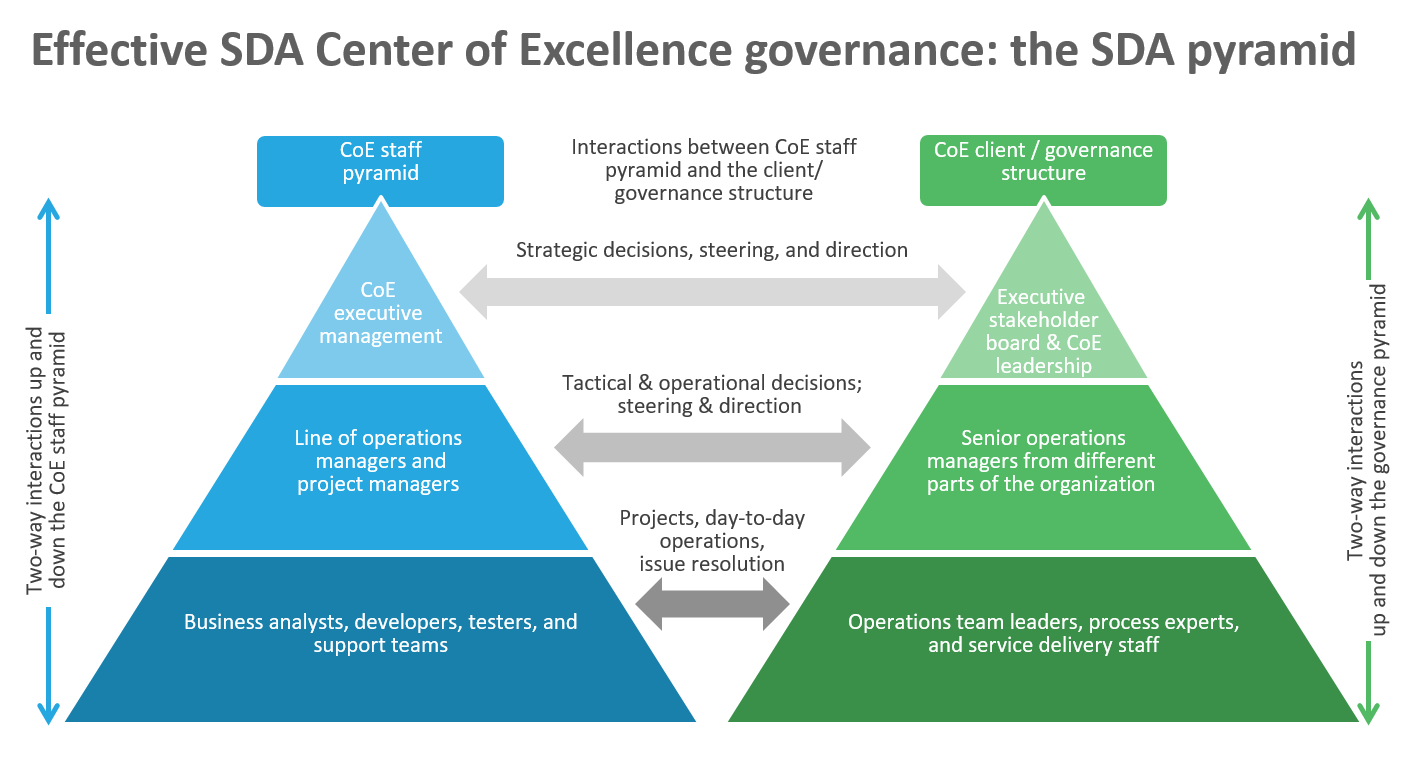 The Service Delivery Automation skills demand-supply gap
Demand for SDA skills has far outpaced the talent supply. Some are filling the gap by locating the Center of Excellence in locations with mature, trainable talent. Others are partnering with specialist firms, e.g., technology vendors and service providers, to leverage their domain experience and access to skilled talent, collaborating with startups, and seeking talent from technology groups and professional communities.
Multiple leading global companies are also training their existing employees on SDA. They typically engage technology vendors and/or external consultants to conduct extensive training programs for three to six months. Further, they encourage employees to join and participate in professional networks /communities and other events to learn from other SDA professionals' experiences. This approach not only helps build internal skills for automation and reduces dependency on hiring from external sources, but also provides FTEs impacted by automation with alternative career paths.
Conventional location strategies don't work
The traditional offshore-centric sourcing model based on labour arbitrage has limited relevance for SDA. Because of SDA's unique requirements, organizations are investing in a diversified location portfolio for SDA in order to leverage the best propositions of each. For example, mature talent markets such as India offer a relatively larger talent pool, are suitable for a large-scale centre, and can deliver quick ramp-up pace. Onshore and nearshore locations offer greater depth and breadth of skills, enable greater interaction with business stakeholders, and provide accelerated time-to-market. And co-locating the SDA CoE with existing global services/digital technology centres can help the organization benefit from greater collaboration and economies of scale.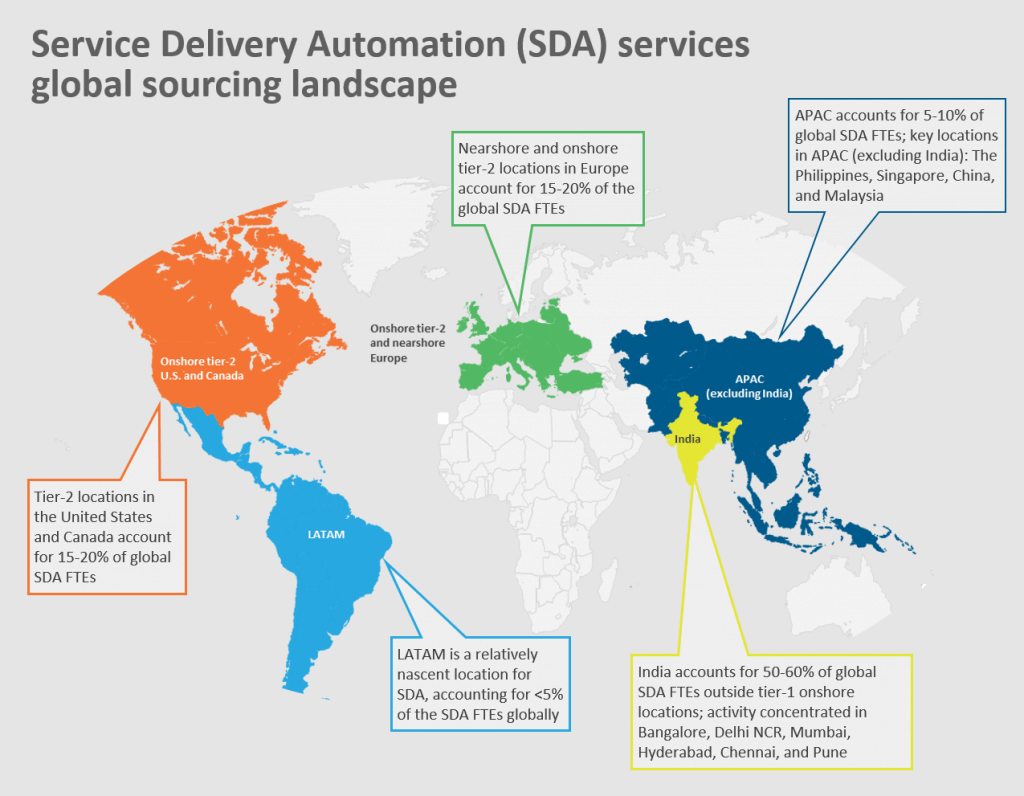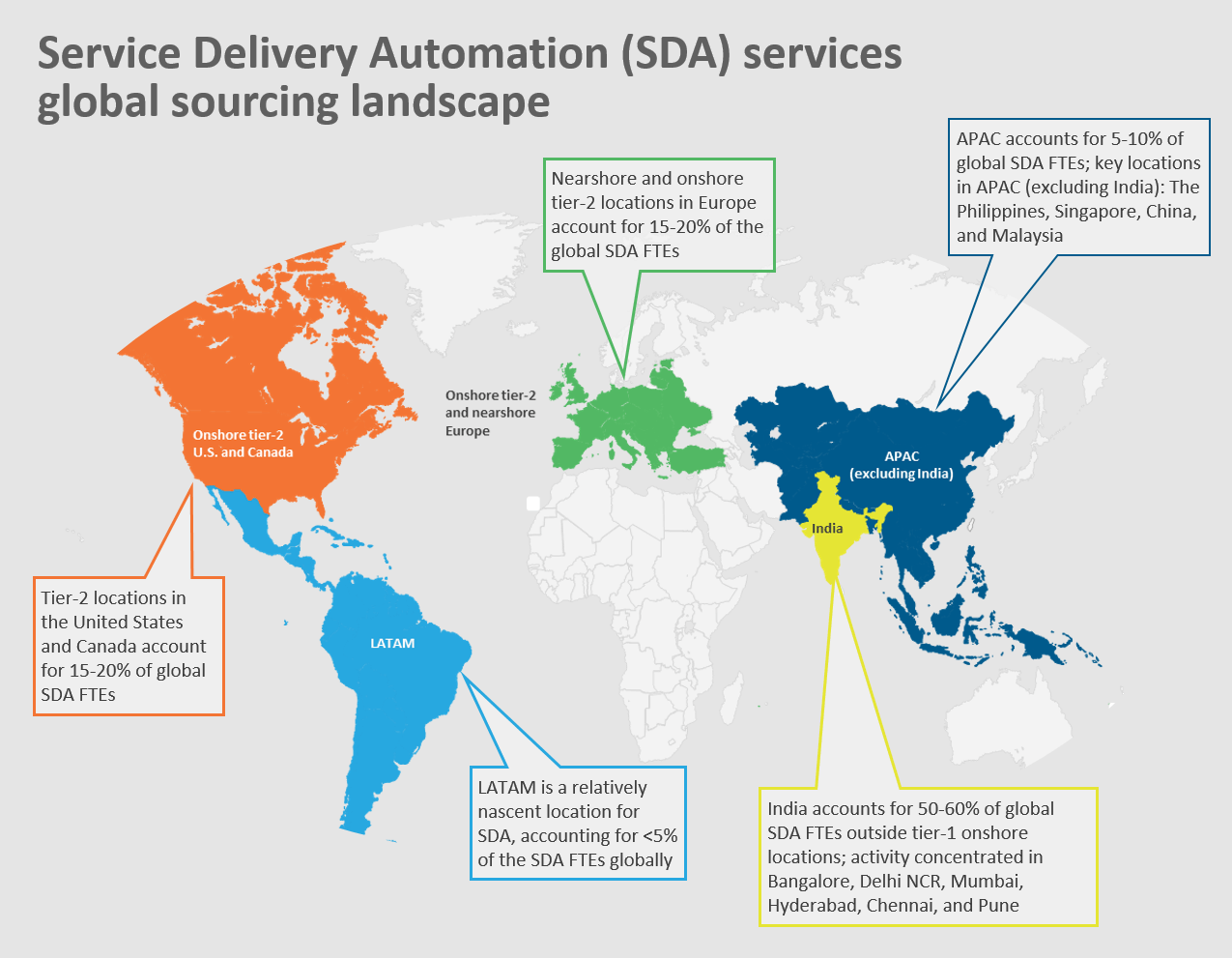 To learn more about various aspects of the talent model, delivery landscape, and global location hotspots for SDA CoEs, please read our recently published report, "Talent Model and Location Hotspots for Service Delivery Automation (SDA) Center of Excellence (CoE)," which we developed based on deep-dive discussions with leading GICs, service providers, and automation technology vendors. And if you've established an automation Center of Excellence, we'd love to hear your story. Please contact us directly at [email protected] or [email protected].