Everest Group recently conducted a study with 55 banking and financial services firms to evaluate their digital capabilities in areas including strategy, organization and talent, process transformation, technology adoption, and innovation. Here are the primary insights we collected from that study.
Investments in Digital Technologies are Increasing
More than 60 percent of BFS firms have invested in exploring the various use cases in cognitive- and AI-driven technologies. Typical use cases include helpdesk automation using chatbots and other cognitive capabilities for functions such as sales & marketing, data entry, credit assessment, and information gathering.
The AI Transformation Wave is Hitting the Front-Office
BFS companies are increasingly leveraging AI-enabled transformation in areas where there is significant customer interaction. So personal finance virtual agents, voice assistants for account servicing, voice-based payments and account authentication, and intelligent message-based account servicing are gaining traction. Not surprisingly, Millennials and a new breed of mass affluent (per The Financial Brand, this segment generates up to 70 percent of banks' and credit unions' total retail profits, even though they only make up less than 30 percent of the customer base) are extensively using these solutions for advisory and servicing assistance.
BFS Firms are Increasingly Emphasizing Their "Change" Agenda
Our study indicates that BFS firms will increase their digital investments by 9 percent in 2018. This is particularly driven by the need to change in response to the evolving regulatory regime, and customer demand for responsive and agile applications. For example, in the U.S., deregulation could pave the way to a shift in the utility space. In the U.K., the Second Payment Services Directive (PSD 2) has heralded an open banking revolution that forces banks to release their data in a secure and standardized format.
The Talent Gap is a Key Challenge for Digital Adoption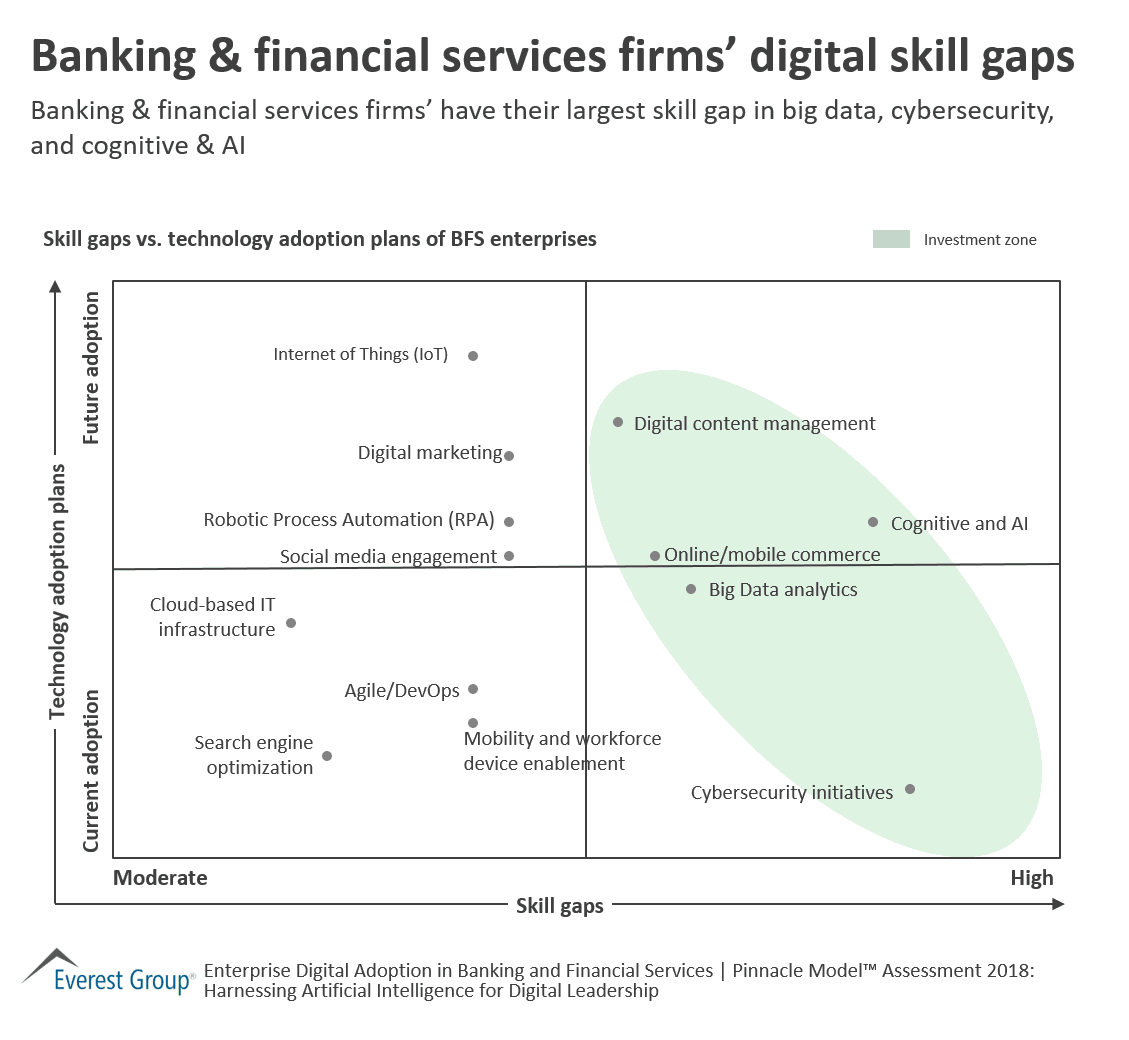 Although BFS firms are accelerating their adoption of AI-driven applications, they're facing significant scaling challenges as digital talent is scarce and in high demand. The biggest talent shortage areas include cybersecurity experts to handle stringent regulatory pushes – such as GDPR in the EU – and those with deep knowledge of big data, without which enterprises can't realize their full potential in enhancing the technical and functional capabilities of their internal teams on leading big data platforms.
Our Recommendations
To stay ahead of the competition and remain relevant in the market, BFS firms must invest in enhancing the five following capabilities in alignment with their digital journey:
Strategy – Outline a clear vision, metrics, and realistic goals for focused and scalable digital adoption
Organization and talent – Acquire digital talent through reskilling and retraining existing employees, as well as recruiting talent from outside
Technology adoption – Adopt niche digital technologies at speed and scale with higher focus on AI, analytics, security, and risk
Innovation – Continually source new ideas for innovation, and embed human-centric design in the organization's DNA
Process reimagination – Transform and automate internal business processes to remove inefficiencies.
The above recommendations translate to a customer-focused triple mandate of Experience, Efficiency, and Ecosystems (E3) for banks. The  evolution from a product-centric to a customer-centric mindset requires an open banking ecosystem to orchestrate the lifestyle services that individuals or enterprises demand from their financial institutions at speed and scale
This metamorphosis will be challenging not only because of the complicated regulatory regimes and resilient legacy structures, but also the rise of non-traditional competitors.
Please feel free to reach out to [email protected] and [email protected] to diagnose your firm's digital adoption maturity.