Everest Group recently helped a low code no code (LCNC) product company evolve its product and pricing strategy by assessing the market standing of its platform features and commercials. Read on to learn about the approach, assessment dimensions, and outcomes in this case study.
As part of the engagement, we provided the following services to the client:
Identified key strengths and development opportunities for the platform and provided short-term and long-term roadmap recommendations for prioritizing features
Assessed the leading LCNC commercial models in the industry, along with enterprise adoption patterns and preferences
Performed a price benchmarking exercise
Projected the pricing evolution over the next 24 months based on demand patterns and macroeconomic trends
Everest Group approach
Everest Group analyzed the platform from two broad perspectives: application development capabilities (declarative tooling to accelerate application development and delivery) and process orchestration capabilities (ability to design, execute, and monitor business processes). In this blog, we'll focus on the application development capabilities.
Everest Group gathered insights about the platform capabilities from the provider using a comprehensive RFI that collected more than 190 data points across 17 categories, followed by a briefing and demo showcasing the platform's capabilities. Inputs from these sources were used in conjunction with our existing low-code research and ongoing conversations with ecosystem players to inform the final review across the below assessment dimensions.
Assessment dimensions
Based on our research of low-code platforms published earlier this year, we identified the following five key areas where LCNC platforms can drive competitive differentiation through strategic investments: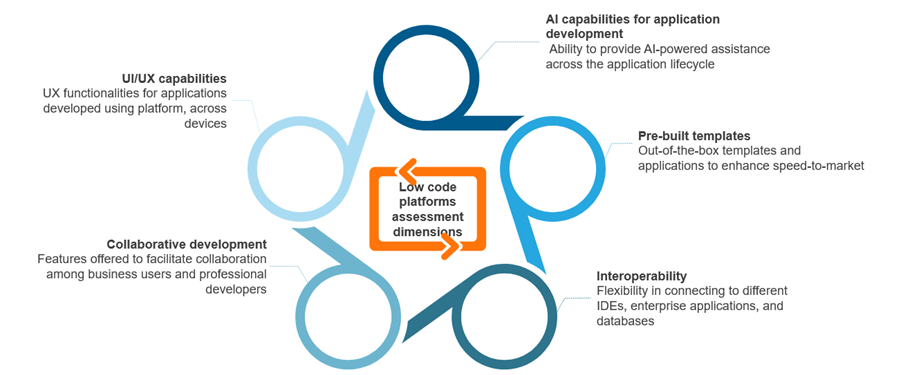 Source: Everest Group
Now let's take a closer look at each of the assessment dimensions and the features/components evaluated in each of these areas.
One of the foundational elements of an enterprise-ready low-code platform, this dimension takes into account the availability of out-of-the-box templates for common user interface components, widgets, and functional libraries, as well as reusability of user-built templates, availability of industry-specific out-of-the-box solutions, and a robust marketplace supported by multiple partners.
Before incorporating any new technology tool into its ecosystem, enterprise IT teams prioritize its ease of integration with the existing tech stack during the evaluation process. This dimension assesses the availability of pre-built connectors to common tools in the enterprise technology stack, the low code option to include further integrations, and the ability for developers to use custom scripting to call external application programming interfaces (APIs) where required.
Artificial Intelligence (AI) capabilities for application development
As low-code platforms scale in importance from building departmental workflow applications to business-critical enterprise-grade applications, the extent of AI-powered abilities offered is proving to be a key win theme. Through in-house capabilities or integration with external AI providers, low-code platforms aspire to provide AI-powered development assistance, AI-based application management services, AI-based automated testing, AI-powered code quality alerts, and AI-augmented portfolio analysis.
Collaborative development
Business users play an increasingly important role in the application lifecycle, collaborating with professional developers to reduce the gap between their requirements and the final product's functionalities. Therefore, a platform should offer capabilities that facilitate effective collaboration, such as role-based access, project management capabilities, document sharing capabilities, and notifications on app updates, among others.
User Interface (UI) and User Experience (UX) capabilities
This dimension considers the support provided to UI components like lists and tables, the ability to support different devices and operating systems, language options, integrations with design tools, reusable screen templates, customizable themes, and navigation ease. UI/UX capabilities are a key swaying factor in enterprise low code buying decisions, especially when building customer-facing applications.
Pricing insights
The subscription-based pricing model experienced higher adoption than perpetual licensing in 2021 because it results in lower upfront investments and greater flexibility to scale deployments. Of the eight different pricing models uncovered in our research, the user-based licensing model was the most widely adopted. On-premise deployment of low-code and no-code platforms was found to be 25-50% more costly than cloud-based deployment.
Sample outputs
Source: Everest Group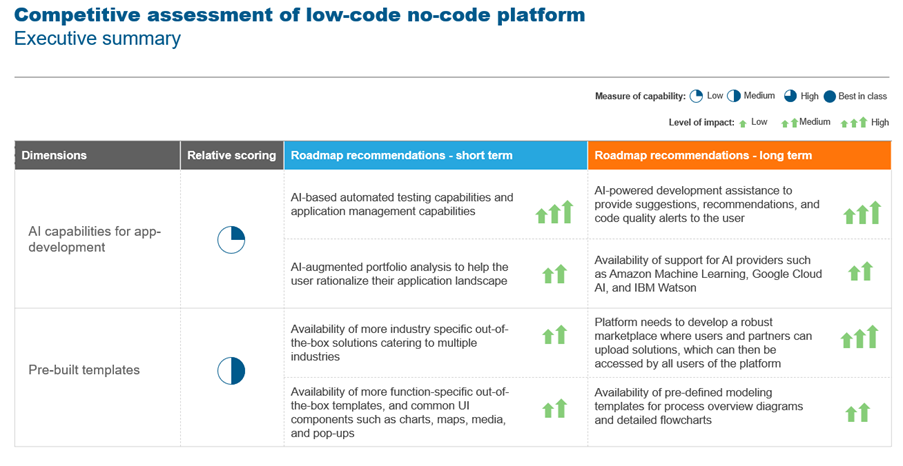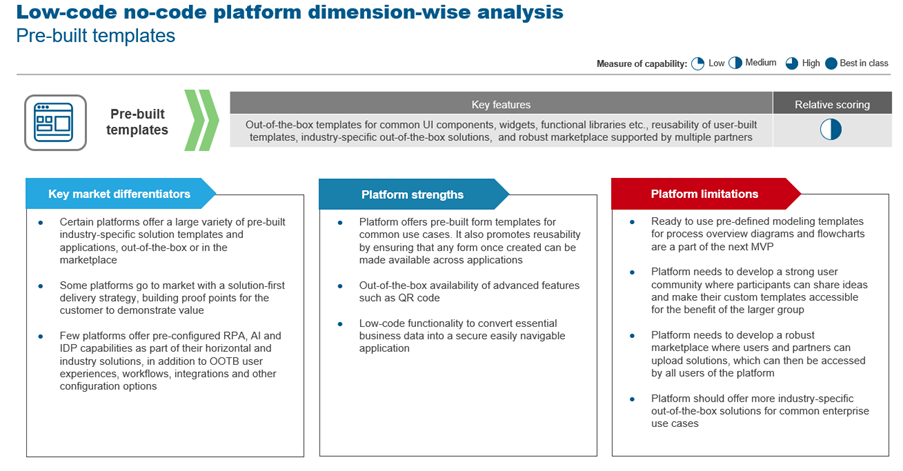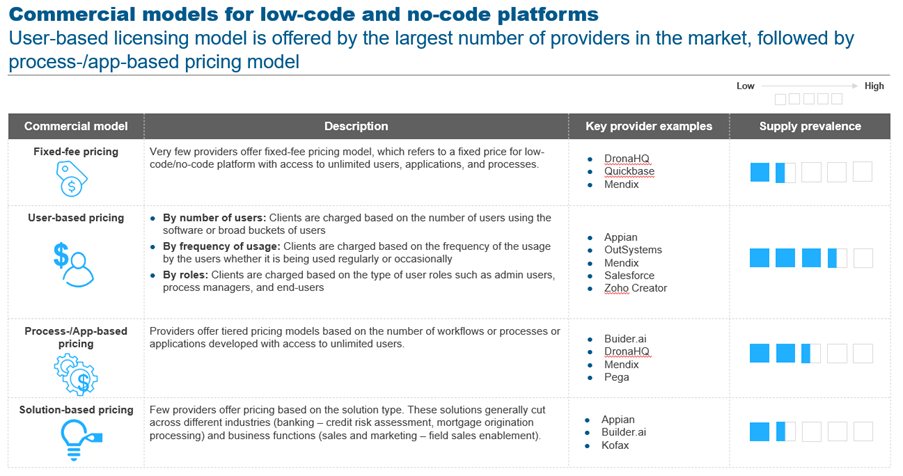 Outcomes

Gap identification – Everest Group helped the client identify key market differentiators, strengths, and limitations across dimensions, as well as the key features for each of these elements
Fine-tuning product vision and roadmap – The insights helped the client prioritize its feature pipeline and advance its messaging to have a greater impact
Product and pricing strategy – The trend analysis helped the client understand the pricing strategies adopted by their competitors and how these vary based on factors like hosting environment and buyer geography
For more information about this LCNC project or to discuss our research on low-code and no-code platforms, please reach out to Manukrishnan SR, Alisha Mittal, or Yugal Joshi.
Also, learn about the top five demand themes – data and AI, cloud, experience, platforms, and security – driving growth for IT service providers in our webinar, IT Service Provider 2023 Forecast: The Top 5 Themes for Growth and Wallet Share.