The looming recession offers opportunities for forward-looking Customer Experience Management (CXM) outsourcing providers to emerge stronger. To learn five strategies that can help providers get ready for an economic downturn and win in the long term, read on.
With spiking interest rates across major economies, yield curve inversion in the US, and workforce layoffs by several tech giants, it is largely accepted that the next global recession is imminent (if not already here). A global slowdown may force enterprises to review new or large investments, expansions, or CXM sourcing decisions, directly impacting the CXM outsourcing industry.
While coping with the challenging environment is the immediate priority for third-party CXM providers, it also presents opportunities for proactive providers to emerge from these uncertain times stronger and chart a path for long-term success.
Here are some ways a recession could affect the industry: 
CXM outsourcing is expected to endure: Historical data suggests that the demand for Business Process Services (BPS) outsourcing remains resilient during an economic downturn as shown below: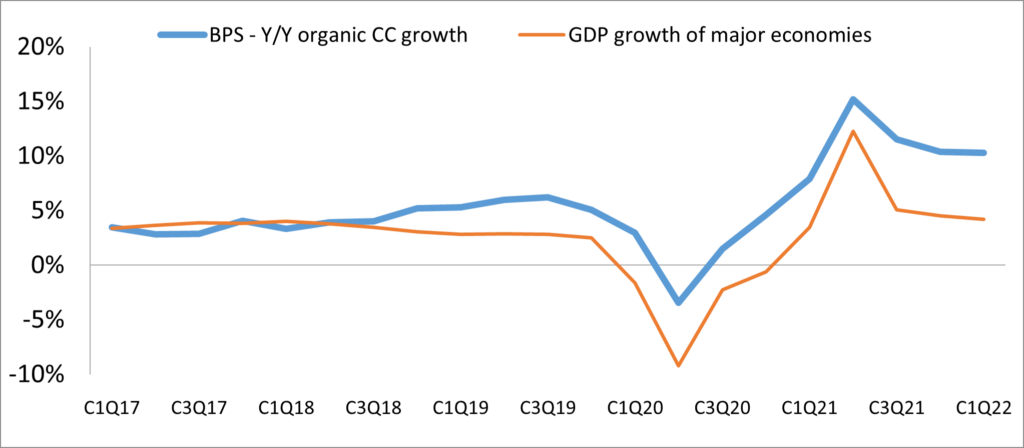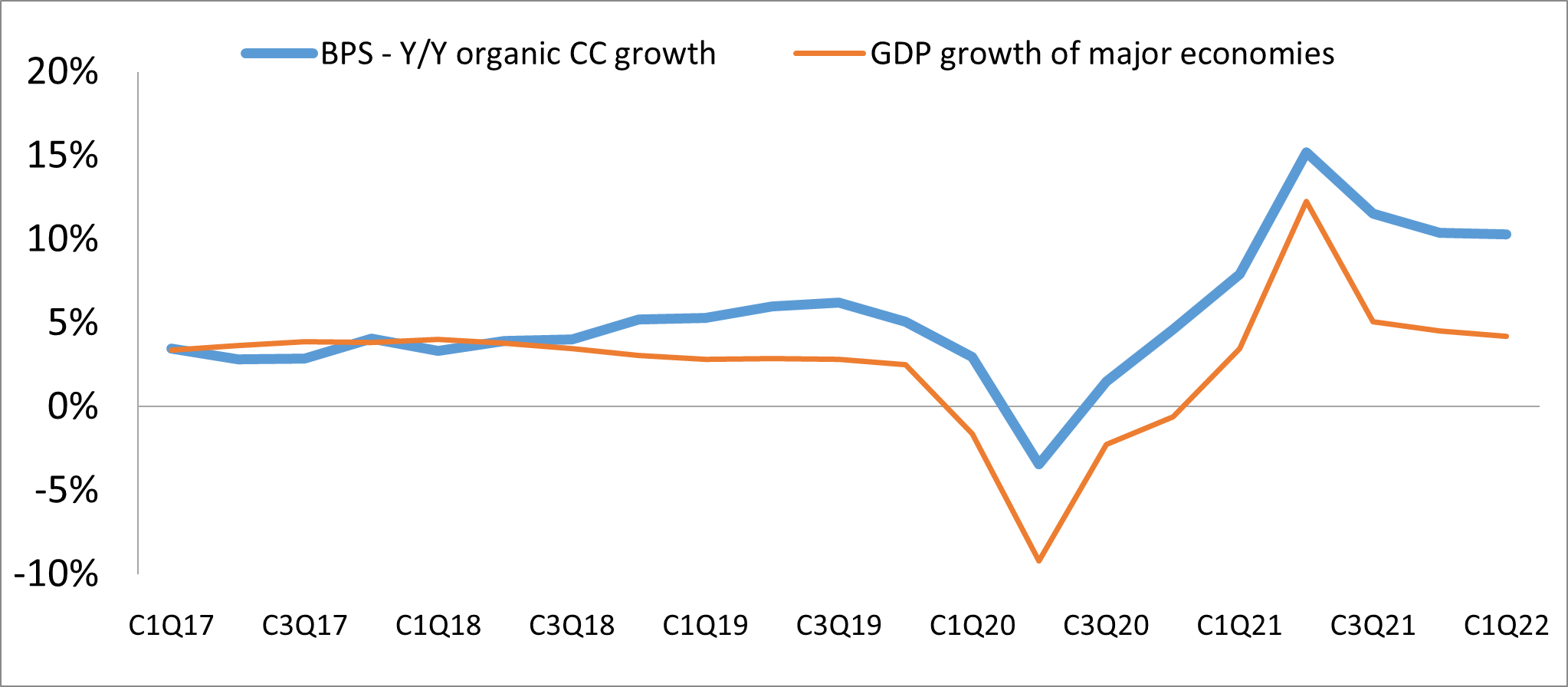 Source: Everest Group
In a global slowdown, enterprises look for short-term cost wins and quick and tangible benefits from their investments. The variability in cost structures outsourcing offers helps enterprises free their company's resources, lowers fixed costs, and makes enterprises more flexible and eventually more competitive. This effect can be seen in quarterly releases where many leading CXM providers have raised their most recent like-for-like revenue growth guidance percentage 
Essential goods and service industries can act as a safe harbor: According to an Everest Group analysis of the historical correlation between an economic downturn and industry growth, the sectors of Fast-Growth Technology (FGT), travel and hospitality, manufacturing, and luxury retail typically have a higher risk of growth slowdown due to recessions. Healthcare, utilities, consumer packaged goods, and business and financial services (BFS) verticals are less risky and may offer a safety net 
Contract renewals may get tough: Enterprises, especially those impacted by the downturn, tend to focus on extracting maximum value at lower prices. To achieve cost efficiencies, enterprises may look for a no-frills approach to CXM outsourcing and remove non-essential components from deals, including value-added services and upsell/cross-sell services – resulting in a decline in the Total Contract Value (TCV)
An enhanced focus on digital CX can counteract the effects: During a global slowdown, focusing on superior CX and customer retention becomes imperative while also reducing or keeping operational expenditure stagnant. Third-party service providers with higher technical capabilities can sort customer queries and resolve simple queries with self-serve or other cost-effective channels, reducing voice volumes and operational overheads
Five strategies for CXM providers to navigate a potential recession
A recession can offer opportunities for well-prepared CXM providers to emerge stronger and triumphant. Service providers need to seize the moment and focus on developing strategies that will provide them with short- and long-term gains.
The following strategies can help providers mobilize for a recession:
Adopt a digital-first value proposition: Understand that cost reduction while maintaining CX quality is vital for enterprises during an economic downturn. Digital CXM solutions drive cost savings by reducing the cost of operations and service, and support through process optimization, automation, encouraging self-service, and enabling efficient workforce management. Service providers with the capability to manage simple queries leveraging digital technologies such as automation, agent-assist solutions, and conversational Artificial Intelligence (AI) can offer better pricing, helping their clients win new contracts, as well as more easily extend and renew existing ones
Demonstrate operational flexibility: In economic uncertainty, anticipating operational volumes over the coming months is extremely difficult for enterprises. Service providers should focus on adopting flexing staffing models to quickly ramp their operations up and down based on demand, helping enterprises reduce fixed costs and mitigate operational risk
Take a proactive customer approach: Capitalizing on every opportunity for additional revenue becomes even more important during unpredictable economic times. Enterprises should look to partner with third-party providers who actively monitor customer journeys, can identify customer pain points, and offer self-service solutions for addressing low-complexity queries, reducing inbound issues and support tickets. B2B enterprises should explore partnerships with service providers having defined roles, such as Customer Success Managers (CSMs) who are focused on identifying customer preferences and demand patterns to identify the best-fit opportunities to upsell or cross-sell to end-customers
Avoid being pressured into bad deals: As the economic cycle enters a downturn, competition over a potentially smaller pie will intensify and can lead to declining prices. Service providers must be financially prudent and avoid pursuing significantly margin dilutive deals. Further, they need to relook at their pricing models and optimize their strategy based on their risk appetite
Diversify into recession-proof industries: Service providers with a focus on high recession-prone sectors such as travel and hospitality, luxury retail, or debt-fueled start-ups should look to diversify their portfolio and target verticals where the demand for customer experience management is expected to pick up or at least have the lowest impact during the recession. For instance, payment collection in the utility vertical generally experiences increased demand during recessionary times. While entering new verticals is not an easy task, service providers should identify synergies between their current portfolio and targeted industries to develop their market-entry strategies accordingly
A recession in the next few months appears to be an inescapable reality. Regardless, service providers must be well prepared for continued economic uncertainty. While some providers may need to aggressively transform costs and offerings, others can diversify their portfolios and develop flexible offerings for the future. Providers who prepare now and take appropriate steps will not only navigate through difficult business conditions but also emerge stronger than the competition when conditions improve.
This is the second blog in our latest CXM blog series. To learn about CXM strategy, read the first blog, How a Robust CXM Outsourcing Strategy Can Help Enterprises Navigate the Economic Downturn.
To discuss CXM outsourcing opportunities, contact Shirley Hung, David Rickard,  Sharang Sharma, or Divya Baweja.