As the workers' compensation industry emerges from the pandemic, leveraging digital technologies to transform claims handling and taking a customer-centric approach will help carriers maintain profitability. By using automation, analytics, and digitalization, players can differentiate themselves. To learn about the key workers' compensation trends to pay attention to, read on.
The workers' compensation industry has remained profitable through the pandemic, with claims severity remaining consistent and frequency continuing to decrease. But reduced net written premium, low-interest rates, and the economic slowdown are creating top-line pressures. Moreover, the sustainability of profits is not guaranteed.
As COVID-19 subsides and most industries return to normal workways, the workers' compensation industry could face difficulties in holding on to gains if it doesn't chart a dedicated plan to improve productivity, employee experience, and employer mandates to create market differentiation.
Process standardization and simplification are the need of the hour. The workers' compensation industry must move from the "repent and repair" model to "prevent and prepare" by leveraging business intelligence through an end-to-end real-time data flow across processes to enable a more customer-centric approach toward claims handling.
Currently, efficiency is impacted by the lack of information that results in back-and-forth requests on multiple claims touchpoints. By integrating processes, carriers can obtain real-time data to design standard workflow for Straight-through Processing (STP), exception handling capabilities, fraud detection and claim reserves calculation, and reduce overall claims function cycle time.
Challenges to overcome for claims transformation 
In addition to concerns and uncertainty about the long-term effects of the pandemic, the workers' compensation industry faces the challenge of outdated workflows with heritage issues such as:
Lack of information at each node in the claims management process that increases cycle time and leads to poor end-user experience
Paper-based processes that are roadblocks to enabling a virtual ecosystem consisting of digital payments, paperless documents, e-signature, e-inspection, and sundry processes
Cumbersome manual functions that should be automated
Lack of a framework for standardized processes and segregating functions, requiring customization such as objectionable and non-objectionable items having to follow the same workflow
Claims not being linked to risk assessment and reporting, which impacts new business and renewals and the mapping of profitable and loss-making segments
Inability to benchmark claims, assess claims performance, and understand market impact
To continue its growth, workers' compensation industry players should look to implement digital transformation and optimize processes to reduce claims turnaround time. Carriers who focus on digital solutions and leverage data through automation and analytics will successfully pivot for the future.
Traditional claims versus digital claims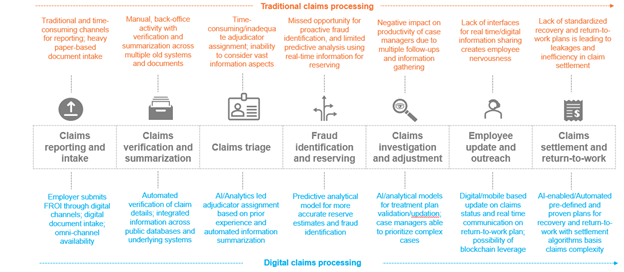 Exhibit 1: Everest Group
Three workers' compensation industry trends to watch
1 – The role of automation
Workers' compensation claims consist of workflows requiring minimal manual intervention where automation can work as an enabler providing numerous benefits such as:
Enhanced user experience through conversational Artificial Intelligence (AI) for First Report of Injury (FROI)
Improved data validation and elimination of human error, enabling early-fraud detection and reduction in leakages
Automated claims routing for risk assessment through SOPs for STP, exceptions, and large claims
Auto approval of bills based on claim and treatment parameters can shorten handling time
Better claims capacity, improved backlog on open claims, speed to adjudication, and faster return-to-work solutions
Digital intake can remove friction and deliver a captivating experience for all stakeholders. By focusing on automation, workers' compensation carriers will not only improve operational efficiency but also reduce operational costs – resulting in bottom-line benefits.
2 – Advancement in analytics
By adopting enhanced analytical capabilities, workers' compensation carriers can increase their focus on the end-user experience and take a more proactive, prevention-based approach. Here are some ways this can be done:
Predictive and prescriptive analytics for insights on safety parameters will help prevent accidents and injuries
Predicting risk upon claim intake will smoothen the claim cycle for all stakeholders
Auto assignment of claims to an adjuster with relevant experience for backend issues
Individual and aggregated claims-based rules with persona-specific dashboards for different injury types
Implementing Key Performance Indicators (KPI) for assessing analytical potential
Advancement in analytics with proper predictive modeling techniques will reduce claims cost and improve claims severity, which, in turn, will deliver enhanced profitability.
3- Digital ecosystem and a safe workplace
The evolution of workers' compensation claims in the future will depend largely on the assessment of intake efficiency, moving away from redundant processes, and instituting digital and data-led workflows. Technology usage will not only depend on the number of datasets with a carrier but also on the value generated to create new models for transforming the entire claims solution.
The cornerstone for transformation should be prevention and preparedness. With many organizations choosing to operate in a hybrid working model post-pandemic, it is imperative to assess the long-term impact of such changes. Internet of Things (IoT) and telematics can help achieve this through initiatives such as:
Smart workplaces with sensors, cameras, and other intelligent devices for continuous supervision
Digital collaborations for safety training and mechanisms with loss controllers
Wearable devices for loss prevention and control
Creating digital safety communities
With the pandemic pushing workforces to stay at home, telemedicine has gained popularity providing employees with medical consultation and reducing the away-from-work time. It is offering immediate care and a faster inquiry process by having expert medical professionals available. Telemedicine also helped promote claims advocacy and assisted in intake and triage through digital authorizations and workflow development for assigning priority to claim categories.
In the end, employers want stability and predictability of final claim costs. Regardless of how these macro trends affect the Workers' Compensation industry, the focus should be on creating a safe workplace and taking all measures to prevent injuries and hazards.
To discuss workers' compensation industry trends, reach out to Abhimanyu Awasthi at [email protected], Somya Bhadola at [email protected], or contact us.
Workplace leaders are also now able to focus more on creating an experience-centric workplace through digital technologies, delivering superior user performance and job satisfaction. Learn more in our webinar, Top Strategies for Creating an Employee-focused Digital Workplace.