Nearly five decades after the release of the first version of SAP's enterprise application, SAP R1, the Enterprise Resource Planning (ERP) landscape is nearing an inflection point. Over these 50 years, traditional industry boundaries have blurred, and competitors have started working together. Soon, enterprise applications too will transcend functional, organizational, and industry boundaries to support truly connected ecosystems. In the long term, enterprise resource planners will have to develop capabilities to manage decentralized identities, trust, and transaction processing to serve enterprises effectively.
Blockchain, which has been gaining traction steadily over the years, could be the next big thing in the ERP landscape. As enterprises limber up for cooperative ecosystems, participation is rising in inter-industry blockchain networks. These managed business networks, including We Trade, Marco Polo, and TradeLens, are proving to be viable alternatives to certain ERP functionalities. Enterprise application heavyweights such as Oracle and SAP have also begun to push new managed blockchain platforms and are actively assisting enterprises in setting up blockchain networks. We consider such blockchain-based Network Resource Planners (NRPs) – which are comprehensive inter-industry networks catering to a wide range of use cases – to be the natural progression of ERP solutions.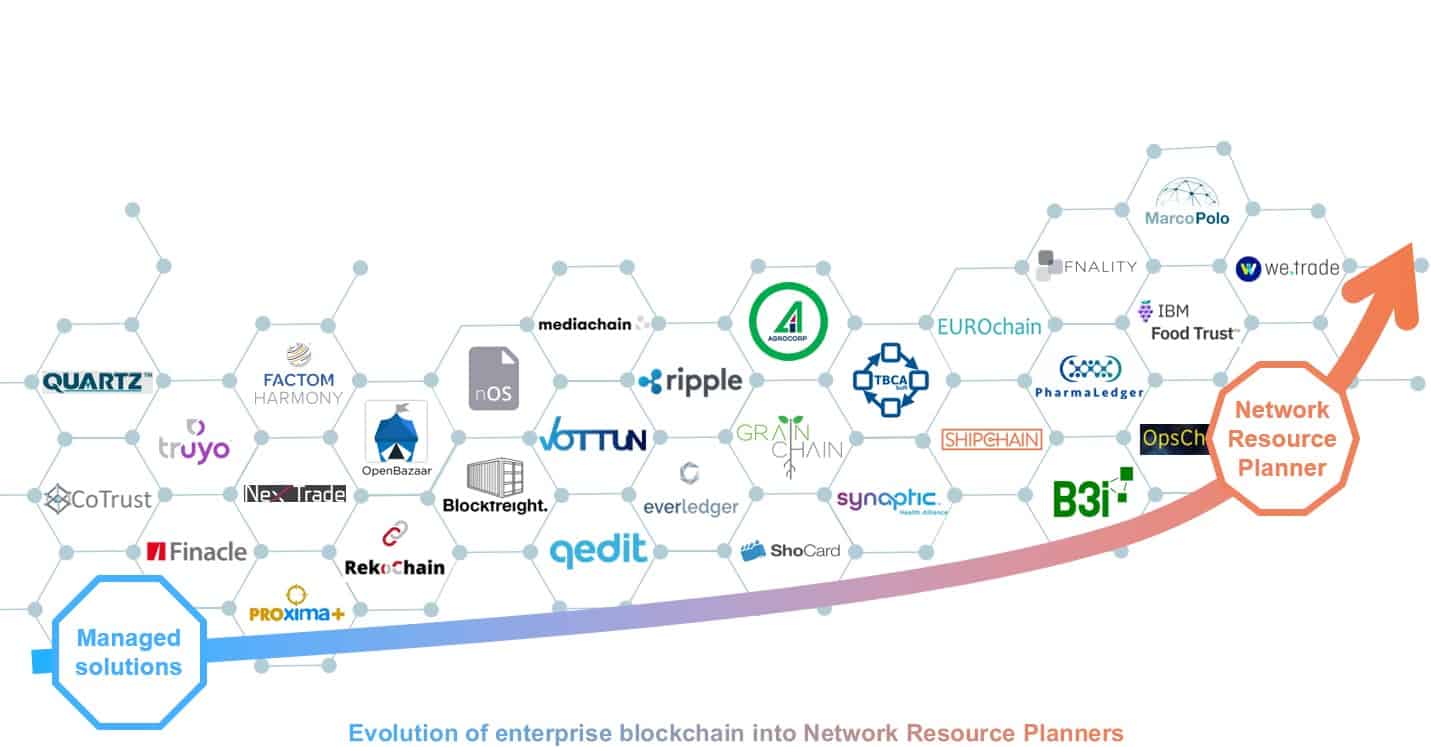 Understanding NRPs
An NRP is a blockchain-based software system that helps manage data and processes across multiple stakeholders in a business network. In an NRP, the blockchain is the foundational infrastructure, and it acts as a platform for enterprises to deliver a more cohesive experience to customers. Present-day NRPs can perform certain narrow ERP functions, such as inventory tracking, financial settlements, and reconciliations. In these use-cases, NRPs can simplify and accelerate such functions by leveraging blockchain's technological advantages and the ecosystem's strengths.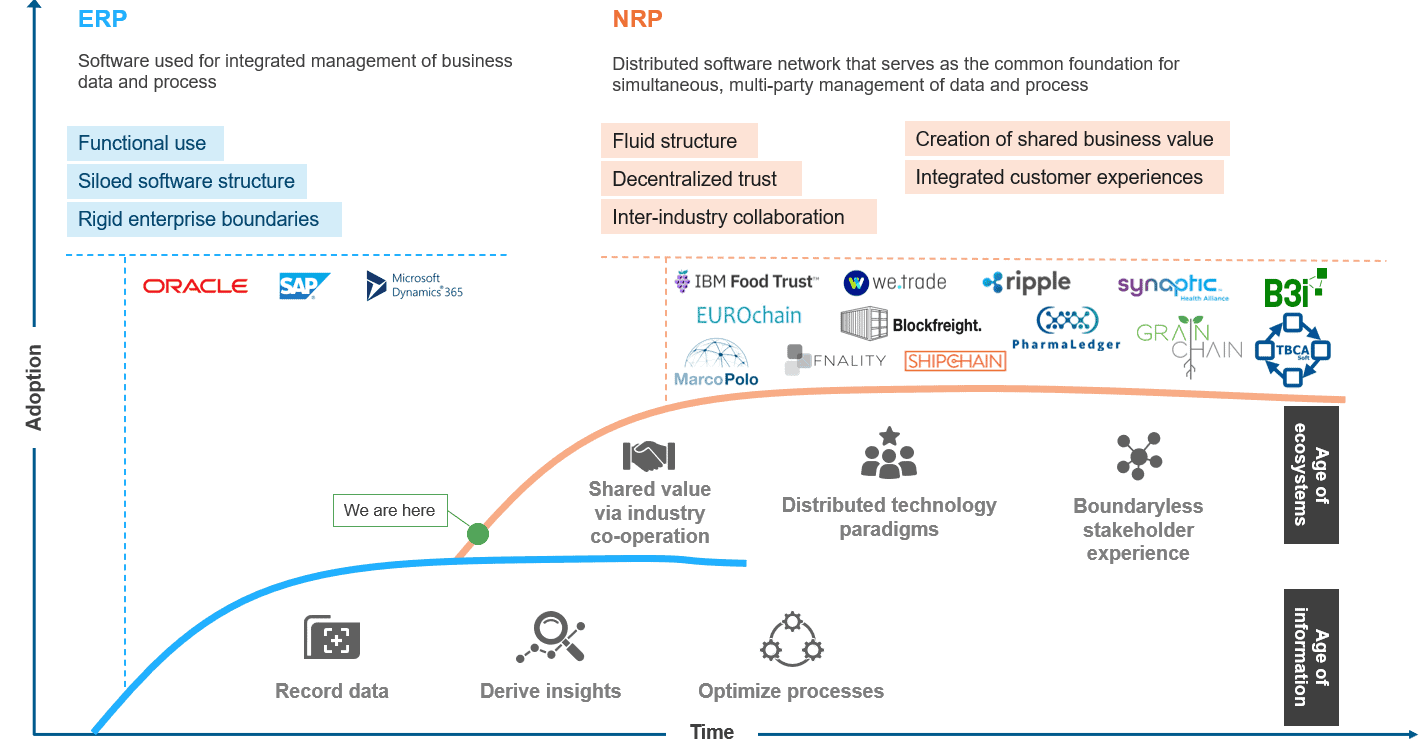 Let's take a look at the benefits of an NRP in detail.
An NRP helps stakeholders by:
Building a foundation of trust: The underlying blockchain network creates a single source of truth for all network participants and avoids the need for data duplication across the transacting stakeholders. Blockchain also helps optimize and automate processes that would otherwise be bogged down by the limitations of ERP. With all stakeholders being on a single network, the need for specialized interfaces among the stakeholders' enterprise applications is eliminated
Acting as the backbone of the ecosystem-thinking movement: The presence of multiple competing stakeholders often undermines the creation of a cooperative ecosystem. An NRP mitigates this challenge by leveraging blockchain to distribute trust among stakeholders. Governance structures can be codified into the technology, putting to ease many enterprise business concerns. This could make NRPs the backbone of the impending ecosystem-thinking movement, assisted by the ongoing convergence of Internet of Things (IoT), blockchain, and Artificial Intelligence (AI)
Unifying stakeholder experiences: Traditional enterprise applications create bottlenecks and eventually impact stakeholder experience. A cooperative network helps standardize processes that establish a baseline experience that is consistent across the network
Business challenges and how to navigate them
Although NRPs are fast gaining traction and offer multiple benefits, an ecosystem model still poses several challenges, such as:
Establishing cohesion among competitors in a collaborative environment to ensure consensus and fairness
Ensuring appropriate governance, monetization, and optimization of Return on Investment (RoI)
Addressing any network lock-in risk, which may deter participants from fully committing to the network; managing this concern through standardization rules will be key to creating viable networks
Managing the change ushered in by blockchain adoption, which may be incompatible with existing processes and limited understanding of technology
To successfully address these challenges and leverage NRP, enterprises should undertake a structured adoption journey, comprising four phases:
Selecting the foundational approach and identifying key stakeholders: A network can be built through either a technology- or business-first mindset. The right approach depends on the primary contributing industry, proposed network use case, and prevalent market conditions. In either case, it is also important to simultaneously identify the target stakeholders for the network
Building the minimum viable ecosystem: The next phase involves demonstrating the viability of such a network through a pilot. The pilot also helps identify possible problems early on and creates the foundational data to build a business case for a full-fledged network
Defining the governance structure and incentive model: Defining and codifying the intended governance structure and incentive model help lend credibility to the network. Establishing such rules helps build trust among potential participants and attract new ones
Activating the network effect: Encouraging stakeholders from other industries will help build an ecosystem of primary, secondary, and value-add participants that further enhances the network effect
In conclusion, NRPs seem well-positioned to replace certain ERP functions, and such blockchain-based networks, alongside IoT and AI, can become the foundation of future innovations.
If you wish to learn more about the blockchain landscape, network resource planners, and how enterprises can adopt them, read our recently released report. We'd also love to hear your views on blockchain and NRPs. Please share your perspectives and any questions with us at [email protected] and [email protected].