With the world facing an unprecedented health crisis, one group shouldering the brunt of the challenge is our healthcare workers, who are battling the threat from the front lines. Under the circumstances, their interactions with pharma sales representatives have naturally taken a back seat, with many healthcare providers closing down access. This reality is accelerating pharma firms' shift toward a virtual sales organization, and not only for the short term.
The amount of time, access, and influence hospitals have been willing to grant pharma sales reps has been dropping for quite some time now, and face-to-face engagements have declined significantly over the years. According to a survey from DRG's 2019 annual ePharma Physician Report, 54 percent of physician respondents said they saw pharma reps in person in 2019, down from 67 percent in 2018.
DRG ePharma Physician Report 2019 – % of physician respondents on pharma rep interactions
Source: ePharmaPhysician® US 2019
Today, given the COVID-19 pandemic, healthcare providers, including hospitals and clinics, are increasingly refusing in-person visits from pharma sales reps, and pharma companies such as Biogen and Global Blood Therapeutics have themselves suspended face-to-face meetings. In turn, virtual interactions between reps and healthcare providers are increasing, with BMS, GSK, Pfizer, and Sanofi – to name a few – scaling up the use of remote technology to ensure continued engagement with healthcare professionals. We expect this progress to continue even after the pandemic's threat has abated.
However, not all pharma firms are well equipped for this shift; there's a wide degree of variance when it comes to the maturity of their virtual healthcare provider engagement capabilities. Not surprisingly, the many digital solutions that exist in the current market can help them. Several software vendors and IT services providers have developed innovative CRM solutions, such as around personalized engagement, interactive detailing, and live video through intuitive mobile apps and web portals, in order to effectively engage healthcare providers virtually.
In response to the crisis, many vendors have recently begun to enhance product functionality. For instance, Veeva recently introduced new capabilities for remote drug sampling in Veeva CRM Engage Meeting. The company also announced several alliances for digital field engagement.
Yet, going forward, getting virtual sales right could be a major deciding factor for whether or not pharma firms are able to convert extensive R&D efforts and patent wins into commercially successful therapies.
Here are our suggestions on how pharma firms can successfully pivot to a virtual sales :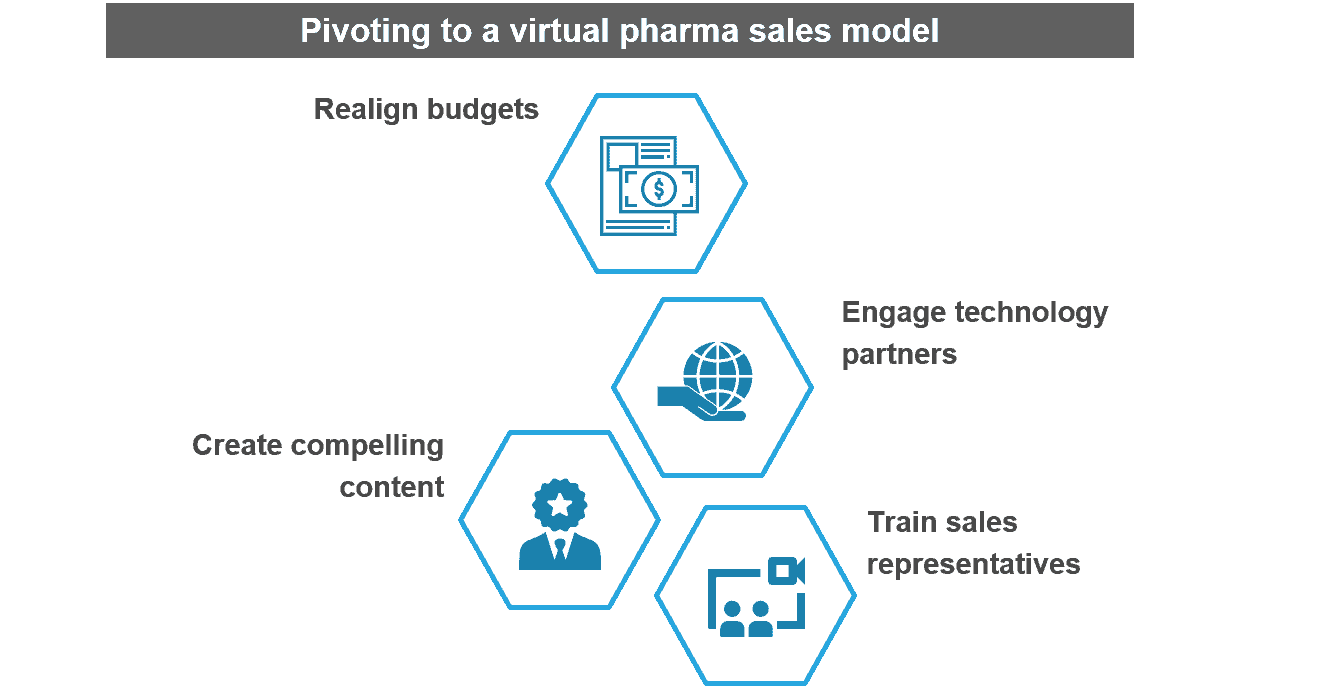 Realign budgets Drive C-suite endorsement of initiatives whose goal is improving virtual engagement with healthcare practitioners. Money saved on aspects such as travel and organizing marketing conferences/gatherings should be diverted to investments in IT and content creation.
Engage technology partners to have the right solutions in place Assess the landscape of solutions from Independent Software Vendors (ISVs) and IT services providers. Look for verticalized CRM solutions meant particularly for healthcare provider engagement. Prioritize quickly implementable and scalable solutions that give the assurance of little downtime and offer omni-channel (email, web, mobile, etc.) and personalized engagement.
Create compelling content Rethink marketing strategies. Content delivered virtually needs to be all the more engaging, detailed, and easy to consume. Such content could include live videos, webinars, intuitive brochures, and web/mobile portals. Generating personalized content can improve conversion rates. Finally, content needs to be such that healthcare providers can consume it in their own time and follow up on as needed, minimizing the need for live interactions.
Train representatives to effectively engage and deliver information in virtual settings Facilitate a cultural shift in sales operations from being in-person to virtual through dedicated training programs. Representatives need to utilize the time saved on travel to draft strategies for more engaging interactions. They also need to be trained on using specific technology tools for provider engagement.
While healthcare workers are bound to be overburdened and under tremendous stress in these times, this is also a tough time for pharma sales representatives. Assertive sales behavior might come across as being insensitive, but at the same time, healthcare practitioners need to be kept aware of new therapies for ailments apart from COVID-19. Shifting to a virtual model represents a huge change. Engaging with empathy and showing flexibility in working around physician schedules will be paramount in the near term, as pharma enterprises come to grips with what could potentially be a new, or next, normal.