As a reader of this blog, you likely know that we've been researching and analyzing the RPA market in-depth for more than five years and have conducted multiple RPA technology vendor PEAK Matrix® evaluations in the same time frame.
Starting in 2015, Blue Prism earned a Leader's spot in our assessment because of its extensive features and strong market presence. Thoughtonomy made it into our Leader's group starting in 2016 for its Software-as-a-Service (SaaS) offering, and for combining RPA and AI for unstructured data processing.
Because it is a public company, Blue Prism's strong growth over the years is a matter of public record. Thoughtonomy has also grown strongly, gaining around 77 direct clients and another 200 indirect through its service provider partners.
Against that backdrop, we believe that Blue Prism's announcement earlier this week that it is acquiring Thoughtonomy for a total consideration of £80 million is a positive move for three reasons.
First, Blue Prism gains several hundred mid-sized direct clients in an instant. Second, and more importantly, its ability to deliver intelligent automation through a SaaS delivery model gives it the opportunity to much more easily sell into the mid-market. Third, this is a strategic move by Blue Prism. Right now, the adoption of RPA on the cloud is in the early stages. At the same time, many AI solutions are offered on the cloud to enable access to computing power on demand, and many work with RPA in combination when needed. Having both RPA and AI on the cloud could help companies realize the full potential of intelligent automation and achieve higher scalability. Blue Prism is becoming cloud-ready with this acquisition.
But there is more.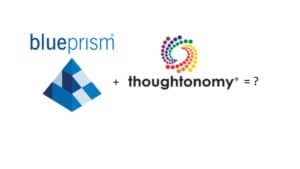 What Thoughtonomy Brings to Blue Prism
Thoughtonomy was set up in 2013 to provide a cloud-based intelligent automation platform. At its core, it is a cloud version of Blue Prism's RPA, combined with other capabilities that Thoughtonomy has developed over the years, including:
Features for human-in-the-loop automation (Self-Serve), including next-best-action recommendation – These features will help Blue Prism with attended automation that is typically used in the front office. Currently, Blue Prism offers human-in-the-loop through its technology partner, TrustPortal, which provides the UI for this capability
Built-in AI / machine learning within the platform to optimize workload distribution and robot performance
Natural Language Processing (NLP), sentiment analysis, and chat interface to automate processes using chat as a channel
A web-based interface for controlling and monitoring robots – While Blue Prism offers a central console for controlling and monitoring robots, it is not web-based. This will help improve the accessibility of its console
Wireframer, an intelligent coding quality tool – Blue Prism currently has an automation methodology, but not a coding quality tool
Use cases in IT process automation – This will help improve Blue Prism's value proposition for IT use cases, which are growing in demand
In addition, Thoughtonomy will help enhance Blue Prism's presence in some verticals, such as healthcare and government & public sector, where it currently has limited market share.
With Blue Prism at the heart of Thoughtonomy's SaaS platform, the job of integrating the two product sets should be relatively straightforward.
All in all, we believe in this case that 1+1 does add up to more than 2. Is it a 3? Maybe not, but it is a solid 2.5.
The challenges of SaaS, selling to the mid-market, and targeting the front-office market
Blue Prism's model includes a minimum licensing requirement that can make it expensive for smaller companies to get started with its RPA offering. Thoughtonomy was absorbing these requirements. Blue Prism will no doubt clarify how it will handle licensing for its SaaS offering.
The addition of Thoughtonomy's human-in-the-loop interface will help boost Blue Prism's attended automation value proposition. But if it intends to target this segment – which primarily consists of front-office and contact center use cases where thousands of robots might be required – it will need to adjust its pricing to reflect large orders. Additionally, it will need to deliver more desktop-based features in order to outshine established attended automation vendors such as NICE and Pega. As this doesn't appear to be a high-priority segment for Blue Prism, we may not see those additional features in the near future.
The market outlook
With this move into SaaS, Blue Prism has captured a competitive edge. We expect other companies will quickly follow suit. Several RPA vendors are cash-rich thanks to recent private equity investments, as well as good organic growth, and they may well have their eyes trained on potential acquisitions. Other RPA technology vendors and other companies that provide complementary technologies, like chatbots, could well be either acquirers or acquisition targets. AI-based automation vendors, e.g., those with NLP or intelligent virtual agents, could make acquisitions of their own to complement their products. And we wouldn't be surprised to see large software vendors acquiring RPA vendors, just like SAP did last year with its acquisition of Contextor, an RPA vendor that we positioned as an Aspirant in our 2018 RPA Technology Vendor PEAK Matrix® Assessment several months before SAP made its move.
This is just the beginning of the consolidation phase of this expanding market, and we have no doubt there is more to come.
Everest Group will be publishing its 2019 RPA Technology Vendor PEAK Matrix® Assessment in the next few weeks. In the meantime, please check out our recent service optimization technology-focused publications, including Intelligent Document Processing (IDP) Annual Report 2019 – Let AI Do the Reading.