Everyone wants the human-centric design and seamless experience that today's software design tools can provide. But these tools have the power to do more than simply improve the user interface and experience. Design tools have evolved to drive standardization, productivity, and scalability across organizations. Read on to understand the importance of design in software development and learn why your enterprise should invest in design tools.
This is the third in our series on design and prototyping tools. For more on what capabilities enterprises should look for when selecting design tools from leaders like Figma, InVision, Sketch, and Adobe XD see our previous blog on Redesigning Design: Top Design Tool Capabilities to Look for in 2022.
Three lasting benefits design tools deliver
All enterprises allocating budget for design initiatives or selecting tools should view design tools with a wider lens. While improved product interface and design are the most tangible and short-term outcomes, using design tools can provide numerous long-term benefits, including:
Standardization: Design tools are used to standardize design practices throughout an organization to deliver consistent design and brand recall for all of its products. Enterprises are building design playbooks to familiarize employees with standard design practices and workflows. Large enterprises also have centralized design teams to manage and advocate design tool usage, design standardization, and best practices throughout the organization
Productivity: Design plays an important role in the Software Development Life Cycle (SDLC). Lack of prioritization and missing feedback often leads to broken workflows, imperfections, and reworking the design process throughout the SDLC. Design tools help to overcome these issues and increase employee productivity by enhancing the efficiency and stakeholder experience through the SDLC. Employees of global companies like Zoom, GitHub, and IBM are increasing their productivity by using design tools for effective collaboration, communication, prioritization, and performance tracking
Scalability: Using design tools makes it easier to create design systems that designers or stakeholders getting added to the workstreams can leverage. These design systems can include design principles and tokens, user experience (UX) development guidelines, user interface (UI) patterns, page templates, and user flows. This approach reduces the dependency on any stakeholder while scaling up or down
Following the lead of consumer-facing enterprises
Consumer-facing industries are taking a lead in investing in design tools that business-to-business companies (B2B) should follow.  
When we think about software product design, we instantly connect with software applications from the business-to-consumer (B2C) domain, where good design makes the product easy to use and delivers an enhanced user experience.
The same outcomes can apply to B2B software products. While consumer-facing industries have greater design tool adoption, enterprise-product companies like SAP and Salesforce have also increased their focus on design to reduce cognitive load and improve efficiency and experience.
The exciting news: Design tools are evolving from a project-centric UI-UX development tool to an organization-wide design workflow mechanism to drive standardization, productivity, and scalability.
Design tools are seeing increased traction from enterprises across industries with particularly high adoption in the technology, media and entertainment, and retail sectors. With digital transformation initiatives in industries such as manufacturing, utilities, and others, the investment in design tools will only rise.
Market players like Figma, InVision, Sketch, Adobe XD, and others currently offer industry-focused design templates, user flows, and reusable kits that designers can leverage as a base template instead of building from scratch.
Exhibit 1: Enterprises investing in design tools for long-term benefits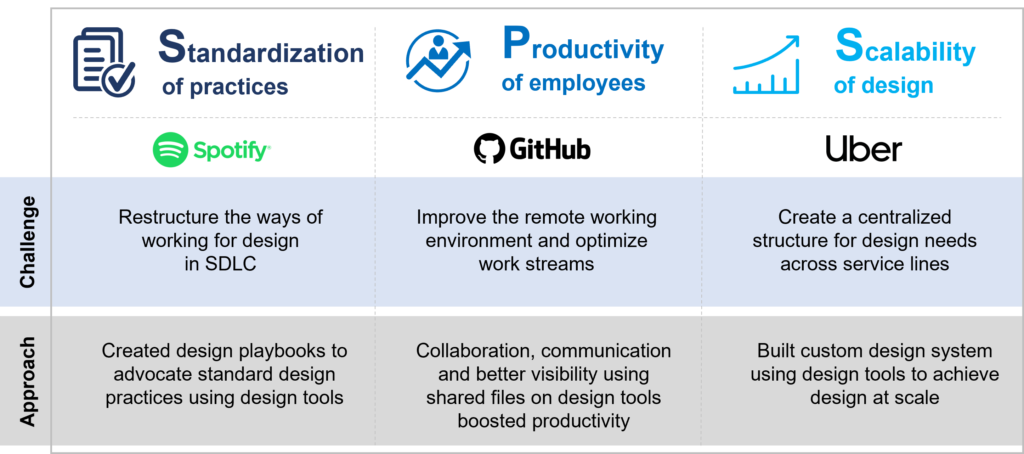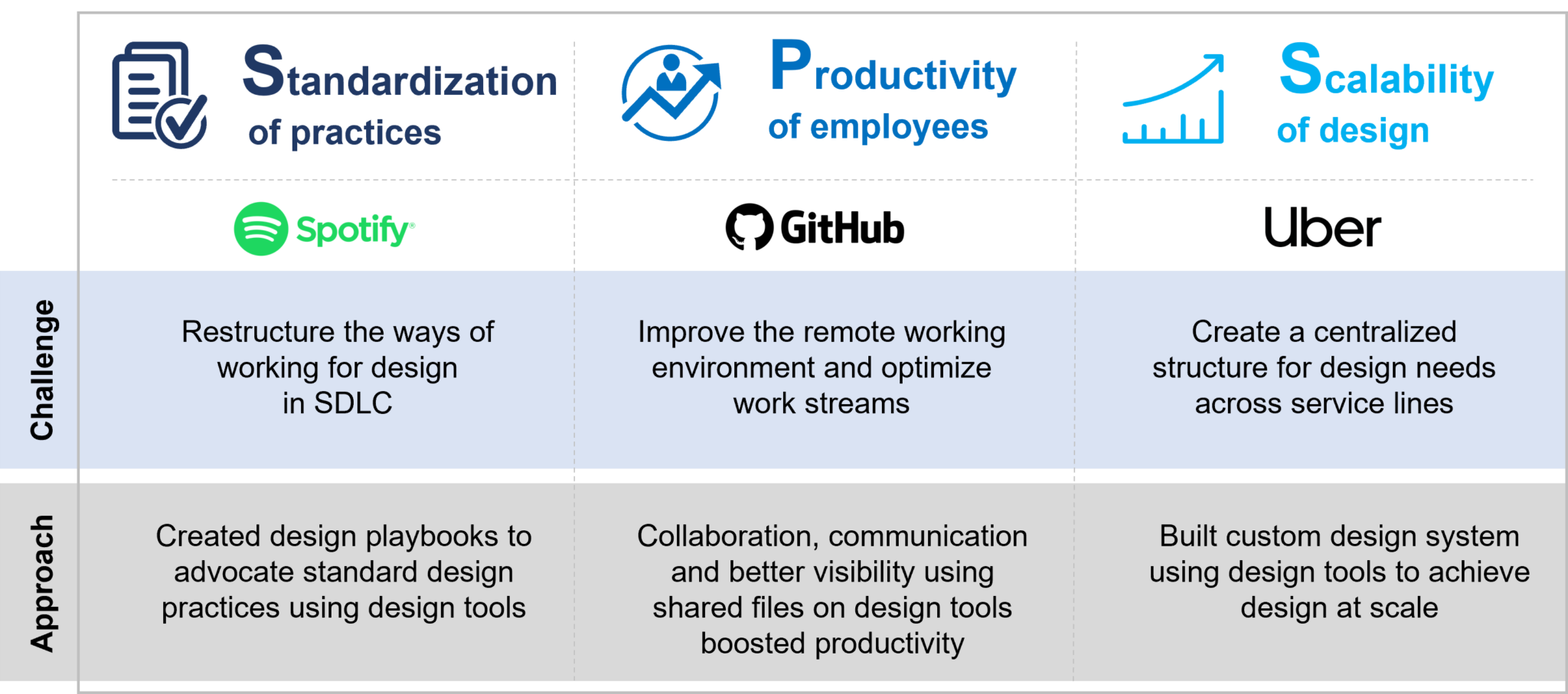 The bottom line: End-user experience is only one of many factors to consider when purchasing design tools. Enterprises need to start thinking more broadly about how investing in design tools can improve efficiency and agility throughout the SDLC.
Stay tuned for our updates on this fast-growing space of design and prototyping tools. To share your thoughts on the benefits of design patterns in software development, please contact Ankit Gupta, [email protected], or Swati Ganesh, [email protected].
You can also discover more about the end-user experience in the gaming industry in our LinkedIn Live event, Gaming! What It Takes to Reach the Next Level.